Fig 21.1 Patients often present with an adequate bone volume in the anterior as well as posterior regions of the maxilla and mandible to insert adequate number of implants with adequate size without performing any grafting procedure to provide full mouth fixed prosthesis. (A–J) Panoramic and CT scan cross-sections show adequate bone dimensions to insert adequate number of implants with ideal dimensions to support a full mouth fixed ceramic prosthesis.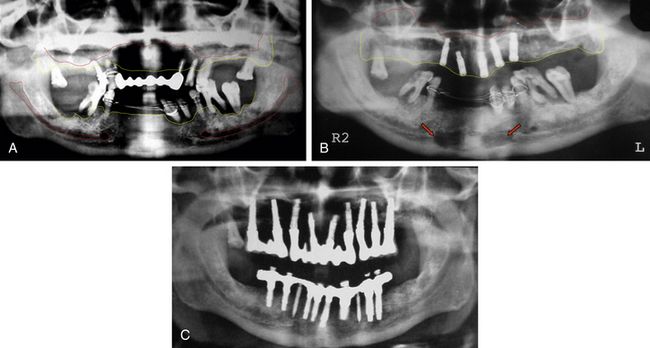 Fig 21.2 Many patients present with inadequate bone dimensions to insert adequate number of implants with adequate dimensions and thus need minor to major bone augmentation procedures to rehabilitate the patient with full mouth, implant-supported fixed prosthesis. (A) Panoramic radiograph shows inadequate bone height under the maxillary sinuses to insert implants. (B) The bilateral sinus grafting is performed using autogenous bone harvested from the mandibular symphysis (red arrows) mixed with bone substitutes to regenerate new bone dimensions in the sinuses. (C) The implants are inserted 10 months after the sinus grafting and restored after further healing period of 4 months. Thus, the case is completed in 14 months.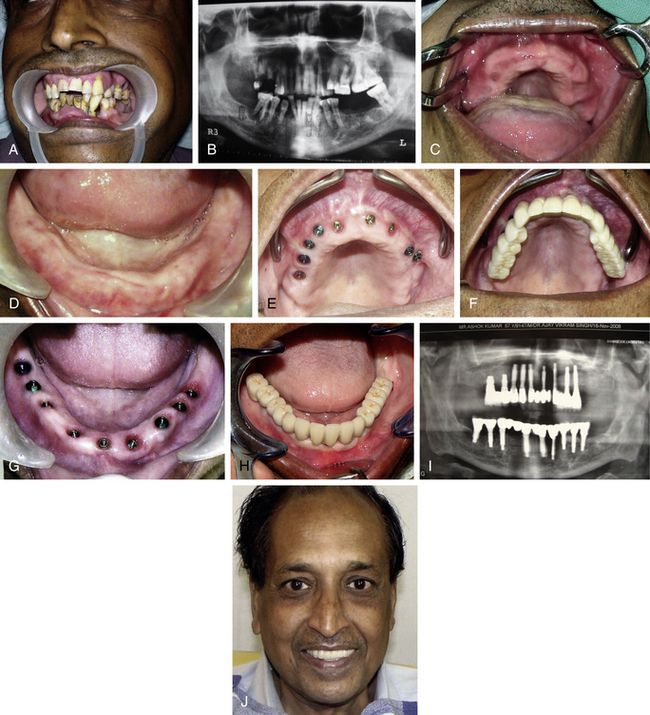 Fig 21.3 Traditional full mouth rehabilitation using implant-supported fixed ceramic prosthesis also requires placement of several implants with or without augmentation procedures. (A and B) Patient with all periodontally compromised teeth, which need extraction, and implant-supported prosthesis. (C and D) All teeth are extracted and soft relined dentures are given to the patient for 6 weeks, till all the soft tissue is healed. (E–J) Multiple implants are inserted in the upper and lower jaws to support fixed implant-supported cement-retained ceramic prosthesis.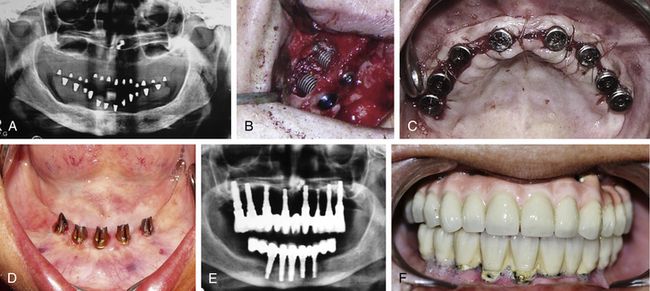 Fig 21.4 (A) Edentulous patient who has been wearing soft tissue supported dentures for more than 10 years, has lost vertical bone height in the upper and lower posterior regions. (B and C) Sinus grafting procedure is performed in posterior maxilla to insert implants in the upper full-arch. (D and E) Five implants are inserted between two mental foramina and fixed cement-retained prosthesis with distal cantilevers is fixed on lower implants. It took a complete year to give a fixed ceramic prosthesis to the patient. (F) Poor maintenance of the prosthesis by the patient lead to large amount of calculus which can be seen around the lower implants, causing various problems like frequent bleeding, soft tissue recession, and crestal bone resorption.
Advantages of full-arch fixed prosthesis
Disadvantages of full-arch fixed prosthesis
1. Expensive, because of the need for more implants.
2. Often needs expensive and more invasive bone augmentation procedures.
4. More specific implant placement needed.
7. More and continuous forces on the implants cannot be avoided in patients with parafunctional forces (bruxism).
8. Less support to the perioral muscles when compared to overdentures.

CASE REPORT-1
Step by step procedure for mandibular implant-supported fixed prosthesis (< ?xml:namespace prefix = "mbp" />Figs 21.5–21.10).