Fig. 15.1
Average facial shape in adult patients with unilateral complete cleft lip and palate compared with a non-cleft sample (Courtesy of Dr. E. Dahl, University of Copenhagen)
The pattern of growth is different from that in non-cleft individuals. Semb (
1991a
) found only a small increase between 5 and 18 years of age in the length of the maxilla measured to the anterior outline of the alveolar process in a mixed longitudinal study of 257 subjects with complete UCLP. There was a concomitant reduction in maxillary prominence at the dentoalveolar level, as seen in Fig.
15.2
. The excessive lower face angulation changed little over time in the UCLP sample (approximately 3° greater than the Bolton standards at age 5 years), whereas it was reduced by 5° in the non-cleft sample. The gradual reduction of maxillary prominence over time and increased lower face height has also been described in several long-term studies (Enemark et al.
1990
; Paulin and Thilander
1991
; Smahel et al.
1993
; Friede and Enemark
2001
; Brattström et al.
2005
; Nollet et al.
2008
; Meazzini et al.
2008
; Friede et al.
2011
).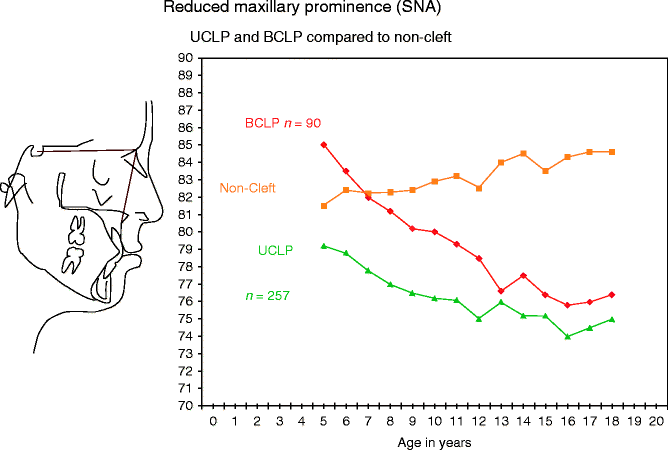 Fig. 15.2
Changes in maxillary prominence (SNA) for 257 patients with complete unilateral cleft lip and palate (UCLP) and 90 patients with complete bilateral cleft lip and palate (BCLP) compared with a non-cleft sample
15.1.2

BCLP

A mixed longitudinal study of 90 patients with complete BCLP from 5 to 18 years (Semb

1991b

) found the maxilla in BCLP to be relatively prominent in early childhood (4° more prominent at 5 years), but it steadily receded so that by 7 years, it was similar to the value for non-cleft subjects (Broadbent et al.

1975

) and by 18 years, it was 6° less (see Fig.

15.2

). Throughout the period of observation, the mandible was less prominent (4° less at 5 years and 6° less at 18 years). Vertically, lower facial angulation remained higher in BCLP (2° at 5 years and 9° at 18 years). Similar findings have been reported (Heidbüchel et al.

1994

; Gnoinski and Rutz

2009

).

Thus, the growth pattern is different between UCLP and BCLP groups in one obvious respect. In comparison with UCLP patients, subjects with BCLP displayed greater maxillary prominence in early childhood (SNA was 5.3° larger at 5 years), but this difference reduced with time so that by 18 years, the maxilla was only slightly (1.4°) more prominent on average. In other respects, facial growth patterns were similar in both conditions, although the gonial angle was somewhat greater (3°) in BCLP throughout the period of observation.
15.1.3

Late Deterioration

Impairment of maxillary development continues into the late teens and early adulthood while mandibular growth continues (Enemark et al.

1990

; Paulin and Thilander

1991

; Semb

1991a

,

b

; Friede and Enemark

2001

; Brattström et al.

2005

; Gnoinski and Rutz

2009

; Myklebust et al.

2009

; Friede et al.

2011

; Semb et al.

2011

). Thus, the anteroposterior jaw relationship worsens over time and with it the occlusion.

Since there are few publications of longitudinal follow-up beyond age 20, it is not possible to say when this growth differential ends. Enemark et al. (

1990

) followed 57 patients with UCLP from birth to 21 years of age. The cephalometric study showed that from 16 to 21 years, the maxillary prominence reduced by 1.1° while the mandibular prominence increased by 1.0°. The same was found in a longitudinal cephalometric study of 60 patients with UCLP from Oslo studied at 16, 18 and 21 years of age (Myklebust et al.

2009

). Maxillary prominence (SNA) is reduced by 0.3° from 16 to 18 years and by 0.3° from 18 to 21 years; maxillary length (condylion to A-point) is increased by 0.6 mm from 16 to 18 years and by 0.5 mm from 18 to 21, while the mandibular length is increased by 2.3 mm from 16 to 18 years and with 1.1 mm from 18 to 21 years. A deterioration of the occlusion in the late teens/early adulthood has been reported by Lilja et al. (

2006

), Marcusson and Paulin (

2004

), and Semb et al. (

2011

).
15.2

Intrinsic Facial Differences Not Attributable to Surgery

It would be surprising if the catastrophic events leading to failed union of the facial processes were not associated with dysmorphology beyond the cleft site. Some indication of the extent to which the variations in facial form in UCLP and BCLP described above are intrinsic can be obtained by comparing individuals with unrepaired clefts and normal controls.
15.3

Surgical Iatrogenesis
15.4

Clinical Uncertainty

Considerable ingenuity has been applied in the development and modification of primary surgical protocols for closing UCLP and BCLP. And if one takes the technique, timing and sequence of operations into account, the variations in practice between centres can be extreme. One survey funded by the European Union found that 201 cleft teams employed a total of 194 different protocols in the closure of UCLP (Shaw et al.

2001

). The total number of primary operations to close the cleft varied from 1 to 4; a total of 17 possible sequences of operation for closing the cleft were practised; lip closure was performed at all possible points between birth and 12 months; the timing of hard palate closure ranged from birth to 13 years. Almost half the centres used presurgical orthopaedics. In fact, all of the 201 teams would have differed in their protocols had not seven of them previously agreed to participate in a randomised trial.
15.5

Theories That Have Influenced Surgical Management

In general, developments of new or modified ­surgical protocols have been founded on one or other theoretical premise, and disappointment with current results. Examples of these would include assumptions concerning the underlying mechanisms of maxillary growth, the presence and location of growth centres (to be avoided during surgery) or the role of muscular function in optimising growth potential. However, present understanding of the controlling mechanisms of facial growth is incomplete and derives from observational work and speculation in earlier decades.

However, this field of research no longer seems popular with craniofacial biologists, and understanding of the mechanisms of facial growth has not advanced in recent years. Current research mostly focuses on genetic causation, on gene environment interaction and on Hox genes, growth factors and signalling molecules that influence facial embryogenesis, providing, at this stage, few options for surgical manipulation.

Examples of

theories

that have influenced surgical management in a quest for better maxillary growth include:
Delaying closure of the hard palate.

"Later" lip repair may reduce early growth impairment.

Designing flaps to minimise denuded bone, for example, avoiding pushback techniques and using minimal lateral releasing incisions.

Avoiding use of the vomerine flap in order to safeguard septal and the vomero-premaxillary suture development and in turn growth.

Performing extensive facial muscle dissection to optimise function and, in turn, growth.

Reducing the extent of trauma at any one time by performance of surgical closure in small incremental stages, such as three or four operations rather than one or two.

Assuming early benefits of repairing the alveolar cleft by bone grafting or other osteogenic technique in infancy would not harm growth.

Assuming that presurgical orthopaedics/soft tissue moulding would facilitate surgery and improve the long-term result in better or equal growth.

Assuming that concentrating surgery on high-volume surgeons would achieve better growth.
As we shall see below, however, most of these theories and assumptions have proved unreliable in actual practice, except possibly in the case of the last. The following appraisal is based upon earlier reviews (Semb and Shaw
1996
,
1998
), three more recent comprehensive reviews (Liao and Mars
2006
; Friede
2007
; Yang and Liao
2010
) and reports of additional studies that set out to make explicit intra- or intercentre comparisons of different surgical protocols using cephalometry and/or indices of dental arch relationship.
15.6

Clinical Evidence to Support or Refute Theories Concerning Surgery and Growth