(1)
Canberra, ACT, Australia
Summary
Accurate diagnostic information leads to better clinical outcomes. Radiographic examinations will always form the backbone of a diagnostic workup confirming clinical signs and symptoms. Conventional plain film radiography and digital radiography have been proved to be invaluable tools in the modern endodontic practice. The technology of cone-beam computed tomography has evolved in recent times with previous astronomical costs no longer prohibiting the purchase of machines for the modern endodontic practice. The technology has been embraced by endodontists to aid in the diagnosis of endodontic pathosis and canal morphology, assessment of root and alveolar fracture, resorptive defect analysis, identification of non-endodontic pathology and pre-surgical assessment. The question still remains regarding possible medicolegal issues pertaining to the acquisition and interpretation of CBCT data. An alternative arrangement is to refer the patient to an imaging centre where the CBCT scan can be reported by a radiologist preventing the possibility of missing any additional pathology or life-threatening lesions.
Clinical Relevance
Endodontic diagnosis, treatment planning and outcome assessment are dependent on radiographic examinations. Peri-apical radiographs captured on conventional plain films or digital sensors provide limited information due to their two-dimensional nature and distortion from surrounding anatomical noise. Recently cone-beam computed tomography has been proposed as a viable alternative to overcome the disadvantages of conventional peri-apical radiography in the dental surgery. The clinician should be aware of not only the advantages and disadvantages of all techniques but also the radiological principle of doses as low as reasonably achievable (ALARA), thereby minimising any risk of ionising radiation to the patient.
12.1

Overview of Radiology and Endodontics
12.2

Standard Equipment

X-ray source

Intra-oral x-ray units can be used for both conventional radiography using plain film and digital radiography.

Film selection

For conventional intra-oral radiography, film speeds available are D-speed, E-speed and F-speed, with F-speed being the fastest. The use of a faster film results in up to a 50 % decrease in exposure to the patient without compromising diagnostic quality. Film speeds slower than E-speed should not be used for dental radiographs. Digital radiography consists of image plates or sensors, which are available in exactly the same sizes as conventional film.

Collimation

Collimation limits the amount of radiation, both primary and scattered, to which the patient is exposed. A rectangular collimator decreases the radiation dose by up to fivefold as compared to a circular one, so radiographic equipment should provide rectangular collimation for exposure of peri-apical and bitewing radiographs. The use of a long source-to-skin distance up to 40 cm, rather than shorter distances of 20 cm, decreases exposure to the patient by 10–25 %.

Beam filtration

The operating potential of x-ray machines affects the radiation dose and backscatter radiation. Higher voltages produce lower contrast images that allow for better separation of objects with differing densities. The operating potential of dental x-ray machines should range between 60 and 80 kVp.

Patient protection equipment

Lead aprons are patient protective equipment that minimises exposure of scattered radiation. If all radiation protection recommendations are implemented, then theoretically a lead apron should not be used. To prevent cracks from occurring in the leaded shield, practitioners should ensure that all leaded aprons are hung and not folded.

Film holders

Film holders that align the film precisely with the collimated beam are recommended for both peri-apical and bitewing radiographs reducing geometric distortion. Heat-sterilisable film-holding devices are recommended for optimal infection control. Dental practitioners should not hold the beam-aiming device during exposure. By eliminating the patient's finger from the x-ray field and any potential for displacement of the film, these devices help to minimise retakes, reduce radiation exposure and make it easier for both the patient and clinician to properly position the film (see Fig.

12.1

).

Fig. 12.1
Photographs demonstrating parallel film holder devices available commercially. Note (
a
) posterior (
yellow
), anterior (
blue
) and the endo-ray film holder (
brown
and
green
). (
b
) The XCP-ORA One ring and arm positioning system convenient for anterior (
blue
), posterior (
yellow
) and bitewing (
red
) radiographs
A number of commercial devices are available that position the film parallel and at various distances from the teeth including the Dunvale Snapex System, the EndoRay II endodontic film holder, the Uni-Bite film holder, the Snap-A-Ray film holder and the Snapex System film holder with aiming device. The EndoRay has been designed to help the clinician secure parallel working films with the rubber dam clamp in place. Generally these holders all have an x-ray beam-guiding device for proper beam/film relationship and a modified bite block and film holder for proper positioning over or around the rubber dam clamp.
Film exposure and processing
Exposure settings and film processing procedures affect the quality of the radiographic image. The operator must set the amperage and time settings for exposure of dental radiographs for optimal quality. The darkness of the resulting image (density) depends on the quantity and quality of radiation delivered, the size of the subject (thickness) and the developing and processing procedures.
Conventional plain film radiography requires strict processing according to manufacturer's instructions regarding time, temperature and chemistry (developer and fixer solutions) (see Fig.
12.2
). For the sake of expediency in the production of working films in endodontics, rapid-processing methods are available to produce relatively good films in less than 1–2 min. The contrast (degree of density) in using rapid-processing chemicals is lower than that achieved using conventional techniques; the radiographs have sufficient diagnostic quality to be used for treatment films that are obtained in less time. Rapid-processing solutions are available commercially, but they tend to vary in shelf life, in tank life and in the production of films of permanent quality.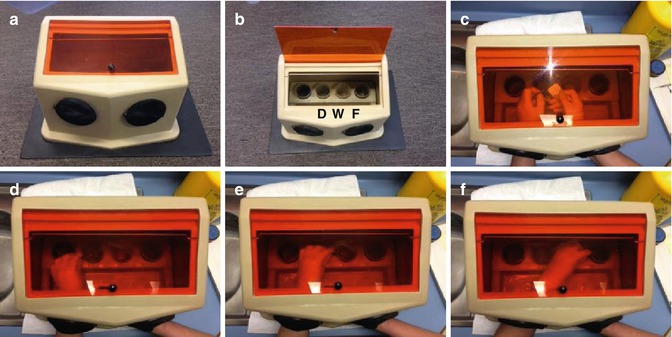 Fig. 12.2
Clinical photographs demonstrating film processing procedure using conventional plain film radiography. Note (
a
,
b
) manual chair-side film processing box with
ruby red
filter to ensure x-rays are developed under normal light safely. Plastic-covered cups hold developer, fixer and water inside (
D, W, F
). (
c
–
f
) Film processing procedure carried out according to time/temperature method. Manual film processing according consists of development, rinsing, fixing, washing and drying
It is recommended that after an image has been evaluated, it be returned to the fixer for 10 min more and then washed for 20 min and dried. This is to ensure that all radiographs taken during the course of endodontic treatment are preserved as a part of the patient's permanent record.
Both lead foil from the film packet and film processing solutions (fixer solution) may contain hazardous waste, which must be disposed of appropriately.
Infection control
Universal standardised infection control policies must be adhered to when exposing dental radiographs. Prior to exposing the film, all equipment should be set out and the patient adjusted according to ideal chair and head position. During exposure of the film and handling of contaminated items, gloves should be worn at all times. Barrier-protected film and heat-sterilisable film holders should be used at all times. Digital sensors or plates should be covered with appropriate barrier protection. The film packet should be dried after exposure of the film. The protective barrier used in either conventional or digital radiography should be removed carefully to avoid further cross-contamination. The uncontaminated contents of the film packet or film sensor can then be handled without gloves or other precautions.
Image viewing
Clinicians should view the radiographs under suitable viewing conditions. An illuminated viewer is recommended for optimisation of high- and low-density areas on a conventional plain film radiograph. Magnification is recommended when needed.
Additional equipment in relation to digital radiography
A computer and high-resolution monitor are necessary to process and view digital images acquired. Often software bundled with the digital radiography system installed has basic image processing tools to allow for adjustment as well as annotation and measuring tools. It is recommended to ensure that the digital radiography software is compatible with the in-house practice management software used and whether integration of the radiographic images is feasible without causing network conflicts.
It may be necessary to purchase additional image receptor holders or positioning devices that have been adapted for a particular brand of digital image sensor used. For phosphor plate systems, conventional film-positioning devices such as Rinn XCP film-holding devices (Dentsply Rinn, Elgin) may be used. Devices such as the Snap-A-Ray film holder (Dentsply) or haemostats may damage the plates resulting in further expense and replacement.
12.3

Plain Film Radiography

Radiographs are an integral component to all phases of endodontic therapy. They aid in the diagnosis and the various treatment phases and help evaluate whether the treatment provided has been successful or failed. Root canal treatment relies on the clinical ability to obtain accurate radiographs; it is therefore necessary to master radiographic techniques that produce films that yield maximum diagnostic quality. Expertise in radiographic interpretation is obligatory for understanding both the limitations inherent with specific techniques and for the recognition of deviations from the norm, specifically non-odontogenic pathology that may mimic an endodontic lesion.

Conventional intra-oral radiographic film detects, stores and displays the radiographic image representing the x-ray shadow of patients' internal structures. This is based on the interaction of x-ray photons with electrons of silver bromide crystals in the film emulsion. When the film has been exposed to x-ray photons, the silver halide crystals are sensitised producing a latent image. During the developing phase, the sensitised silver halide crystals are rendered black transforming the latent image into a visible one. The radiographic film produced may have a continuous density distribution, limited by the maximum and minimum values of density (black and white). Each optical density in between the maximum and minimum is related to the amount of light that passes through the film at a certain site. Based on this continuous density scale, conventional radiographic film-based images are known as analogue images.

Peri-apical radiography

Peri-apical radiography describes intra-oral techniques to show individual teeth and the surrounding structures around the apices and has been considered the primary radiograph of choice when carrying out endodontics. The paralleling and bisecting angle are two techniques commonly employed when using peri-apical radiography. The former is the preferred method of choice providing less image distortion, ensuring a high degree of reproducibility and reducing excess radiation to the patient and should always be attempted first. The latter can be reserved for patients unable to accommodate the positioning required for a true paralleling technique including patients with low palatal vaults and children. This technique is prone to image distortion and excessive radiation due to increased angulations resulting in unnecessary exposure of adjacent head and neck structures such as the eyes and thyroid gland.

Bitewing radiography

Parallel bitewing radiographs are also a useful adjunct in the initial endodontic workup providing additional information depicting the crowns of teeth, interproximal contacts and the height and relationship of the alveolar crest. Further diagnostic information such as the status of restorations, extent of caries, presence of pulp calcifications, external cervical root resorptive defects and coronal pulp chamber anatomy can be revealed. This information is helpful in not only determining the pre-endodontic assessment of the tooth and overall restorability but also aiding any future planning and correcting execution of any proposed root canal procedure (see Fig.

12.3

).