(1)
Canberra, ACT, Australia
Summary
The periodontal tissues and pulp–dentine complex form an intimate continuum through which pathological changes of either one may lead to infection of the other. The management of such lesions can be fraught with diagnostic and therapeutic difficulty requiring a methodical multidisciplinary approach. Traditional classifications of endodontic–periodontal lesions are largely academic and based inappropriately on an attempt to identify the primary source of infection. Treatment and prognosis of endodontic–periodontal lesions depend on the cause and the correct diagnosis of each tissue. It is critical to determine whether the lesion is primarily endodontic or periodontal in origin since this will determine which treatment plan is instigated. True combined lesions require a staged approach with endodontic treatment initiated followed by a 2–3-month review to reassess outcome. Appropriate periodontal therapy can then be initiated followed by further review to assess outcome. The long-term prognosis for such cases will be guarded requiring not only careful clinical management but also patient motivation.
Clinical Relevance
A peri-apical lesion of pulpal origin may simulate the radiographic appearance of advanced periodontal disease and drain through the sinus tract originating from the apex, lateral or furcal accessory canal along the root surface. This condition is not a true periodontal pocket and must be distinguished from those of periodontal origin. Accurate diagnosis is usually attained through careful diagnostic testing including pulp vitality, periodontal probing and radiographic examination. In addition to lesions of endodontic origin, palatal grooves, fused roots, enamel pearls and vertical root fractures can cause narrow probing defects as well. The long-term success of a true combined endodontic–periodontal lesion depends on a number of crucial and key factors including the severity and extent of the initial peri-apical and periodontal infections, the correct treatment planning and decision-making, the skill and experience of the clinician(s) and the motivation of the patient, particularly with long-term periodontal care
16.1

Overview of Endodontic–Periodontal Interrelationship

When an endodontic infection drains through a pre-existing periodontal pocket (periodontal disease), the pre-existing periodontal pocket appears more extensive because of the draining endodontic lesion. Whilst endodontic treatment results in periodontal healing at the base of the pocket, periodontal treatment will be required to treat any residual pocketing.

Primary endodontic lesions occur when an endodontic infection causes periodontal destruction. This may be caused by drainage of an endodontic infection through a periodontal pocket. Overall, these lesions have a good prognosis if the endodontic cause can be addressed. A primary endodontic lesion can also arise due to communication between the pulp and periodontium following endodontic perforations, resorptions and root fractures. The prognoses of these types of lesions can be questionable.
16.2

Diagnosis of Endodontic–Periodontal Lesions

The diagnosis of periodontal–endodontic lesions is based on a thorough history correlated with clinical examination and radiographic findings encompassing pulp sensitivity tests, percussion, transillumination, probing pocket depths, mobility assessment and identification of bleeding and/or suppurating pockets.

It is important to determine if the periodontitis is generalised or limited to one site or tooth. The pocket morphology can also provide a clue as to the likely origin of the infection. A narrow periodontal pocket suggests an endodontic cause or tooth fracture. Conversely, pocket formation due to periodontitis is broad at the gingival margin and narrows towards the apex as the periodontal lesion advances. When a narrow pocket is found in a tooth with a vital pulp response, it is important to consider that narrow pockets may also be associated with developmental grooves, fused roots or cervical enamel projections into furcation areas.

Pulp vitality tests can be used although the results need to be interpreted carefully. Sensibility tests determine the response of the nerve but do not evaluate the state of the pulp's blood supply, which is of greater importance. Furthermore, the results may be inaccurate in multi-rooted teeth where the pulp status may vary between roots. This highlights the importance correlating sensibility tests with the examination and radiographic findings.

Radiographic assessment confirms the provisional diagnosis based on history, examination and special tests. The radiograph will provide information on the location of the lesion (apex, crest or furcation area) and will also determine the presence of factors that may contribute to pulpal death, such as the presence of a deep restoration. Radiographic change at the apex can be a good indicator of an infected pulp, but may not be visible until 2–4 months after pulpal infection. Apart from a peri-apical radiolucency, there may also be signs of a widened periodontal ligament or loss of the lamina dura.

Primary endodontic lesion

A tooth with a necrotic pulp draining through the periodontal ligament into the gingival sulcus is termed chronic apical periodontitis with suppuration. Although this condition mimics a periodontal abscess in reality, pulpal testing will confirm a nonvital tooth. Clinical examination will reveal a narrow pocket as a result of a sinus tract from pulpal origin that opens through the periodontal ligament area. From a diagnostic perspective, the insertion of a gutta-percha point into the sinus tract and radiographic evaluation should confirm the origin of the lesion (Fig.

16.4

). When the pocket is examined, it should be narrow, lacking width and isolated. A similar situation may arise if the drainage from a necrotic pulp extends into the furcation area from the lateral canals.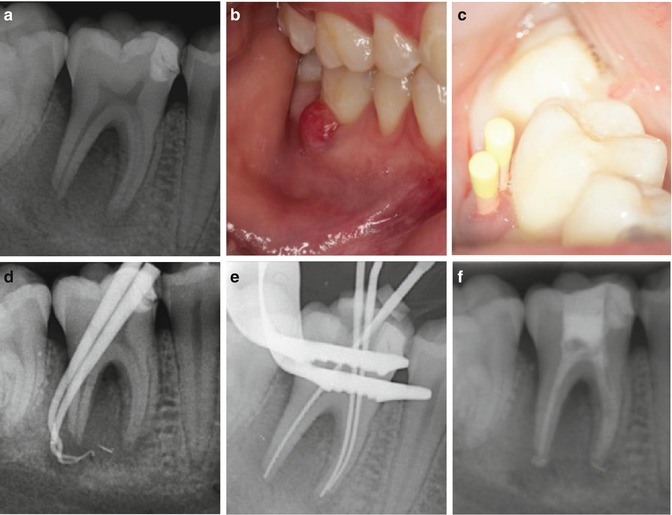 Fig. 16.4
Clinical photographs and radiographs demonstrating tracking of draining sinus and periodontal pocket associated with a necrotic tooth 46. Note (
a
) preoperative radiograph demonstrating an extensive mesial restoration overlying the mesial pulp horn, (
b
) a gingival swelling and draining sinus with associated narrow probing profile of 10 mm +, (
c
) gutta-percha points placed in the overlying sinus and pocket, (
d
) gutta-percha tracing radiograph confirming suppuration and pocket associated with distal necrotic root of tooth 46, (
e
) master apical file radiograph following chemo-mechanical preparation and (
f
) intra-canal calcium hydroxide medicament
Primary endodontic lesions will usually heal following adequate root canal treatment. The sinus tract extending into the gingival sulcus area will disappear following chemo-mechanical instrumentation and intra-canal medication placement. Often the patient can be reviewed 4 weeks later and resolution of the false pocket indicative of diagnosis. Completion of endodontic treatment to an acceptable standard will prevent any further infection.
The astute clinician must also be aware that there are a number of narrow sinus tract type of probing defects associated with a tooth with a vital pulp (see Table
16.2
). Pulp testing procedures are critical to accurate diagnosis, and one must bear in mind that the same clinical situations outlined may invariably be associated with a nonvital tooth further confounding an accurate diagnosis.
Table 16.2
Clinical situations resulting in a narrow probing defect associated with a normal vital pulp
| Situation | |
| --- | --- |
| Sinus tract draining through the periodontal ligament of a vital tooth | The sinus tract may originate from an adjacent nonvital tooth or pulpless tooth several teeth away. Such a sinus tract could also be related to advanced periodontal disease |
| Developmental grooves | Developmental grooves commonly break down as a narrow sinus tract probing defect. The probing contours may change over time particularly if an acute infection develops |