Fig. 4.1
Common findings: (
a
) A highly located sinus tract in a mandibular molar. (
b
) A highly located sinus tract and deep probing in midbuccal area of another mandibular molar. The periapical radiograph (
c
) shows a combined bony lesion in the bifurcation area and along the lateral aspect of the mesial root which is typical for VRF in mandibular molars. The combination of the clinical signs in the endodonyically treated tooth is considered pathognomonic for VRFs
Probing Patterns
These are more diagnostic although not absolute. There is a common assumption that VRFs produce narrow and deep defects on the facial and/or lingual surfaces representing the periodontal breakdown and inflammatory process facing the fracture [
10
,
13
,
14
]. Although this may occur, patterns are not predictable.
Significantly, some teeth with vertical root fractures have normal probing depths
. In a recent clinical prevalence study [
15
], in less than 24 % of the VRF cases was a deep probing defect found. However, most do show significant deep defects with narrow or rectangular patterns (Figs.
4.1b, c
and
4.2
). These also are often indicative of endodontic-type lesions. When present, these deep defects are not necessarily on both the facial and lingual aspects. When they are deep on the facial and lingual, VRF is strongly suspected, but if this is the only clinical sign, it is not pathognomonic. In summary, probing patterns are not in themselves totally diagnostic. However, these deep defects in association with other findings strongly suggest the presence of a fracture. In 2008 [
16
], the Guidelines of the American Association of Endodontists stated that when there is a combination of a probing defect coupled with a sinus tract in an endodontically treated tooth (with or without a post), this is often pathognomonic for a VRF (Figs.
4.1b, c
and
4.3
).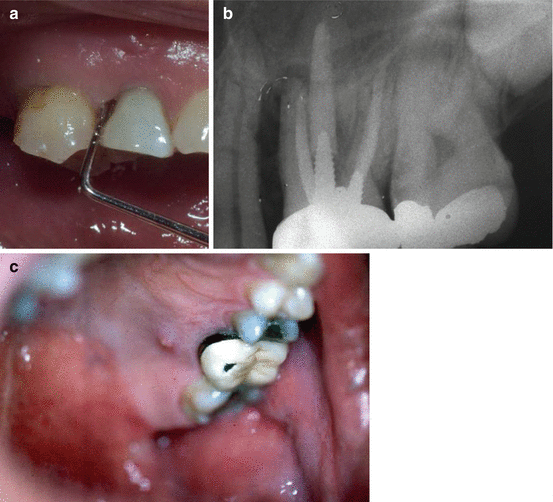 Fig. 4.2
Deep probing defects may occur on different surfaces but mostly in the buccal aspect as the buccal cortical plate is much thinner than the lingual and the palatal ones. (
a
) Mesiobuccal probing defect in a maxillary lateral incisor. (
b
) Periapical radiograph of a maxillary molar, showing the large bone loss along the MB root causing deep probing defects in the buccal as well as in the palatal. (
c
) A sinus tract can be seen as well on the attached gingivae at the palatal aspect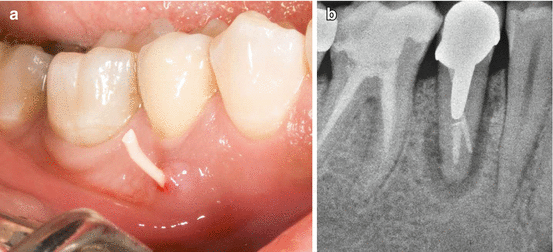 Fig. 4.3
A "pathognomonic combination" for VRF. A deep probing defect on the mesiobuccal aspect of the tooth and gutta-percha tracing cone through a highly located sinus tract (
a
) is directing to a "halo" radiolucency surrounding endodontically treated and restored mandibular premolar (
b
) (Courtesy Dr. S. Taschieri)
Often, this "pathognomonic combination" does not exist, resulting in a high percentage of misdiagnoses [
4
].
Radiographic Findings
Therefore, radiographs (including CBCT) can be helpful in identifying a suspected vertical root fracture but are seldom solely diagnostic except in those few instances when the fracture segment separation is readily visible.
Dental History
Identifying and considering past procedures that impact the root is very helpful in diagnosis. Vertical root fractures do not occur spontaneously. There is a defined history of certain treatment modalities. These procedures have generated lateral wedging forces. All fractured roots have experienced root canal treatment and/or root end surgery as well [
15