Categories
Characteristics
Crown-originating fracture (COF)
Spontaneous fracture originating in the crown and may progress into the root in an apical direction
Vertical root fracture (VRF)
A root-originating fracture that may originate anywhere in the root and occur primarily in endodontically treated teeth
Trauma-related fractures
Tooth fractures of acute nature may involve the crown or the root or both
Dental Fractures
The following is a scheme of categorization based on what can be observed with respect to the various dental fracture situations.
Crown-Originating Fractures (COFs)
These types of fractures typically originate in the tooth crown and are not related to root canal treatment. The fractures progress toward the root; after reaching the coronal area of the root, the fracture lines continue in an apical direction. If not treated, teeth with such fractures will eventually split vertically, or if the fracture line progresses diagonally below a cusp, that cusp may fracture off the tooth. If the cusp fracture does not create a serious periodontal problem, usually this entity can be treated with good prognosis.
Vertical Root Fractures (VRFs)
Vertical root fracture (VRF) is a frustrating complication associated with root canal treatment in teeth and leads to their extraction [
9
,
10
]. With a few exceptions of VRF in vital teeth [
11
], they primarily involve endodontically treated and restored teeth [
12
]; they are longitudinally oriented, thus having an apicocoronal direction. There is an overall prevalence of up to 11 % in endodontically treated teeth [
13
,
14
]. In an incidence study done in a hospital clinic over 1 year [
15
], a total of 87 new cases of teeth had various types of crown and root fractures with 13 % of them VRFs in endodontically treated teeth.
A VRF can originate at any level in the root [
3
] although it appears that they commonly begin in the apical part. If they originate away from the apex, such as in the middle of the root, they can propagate in either direction, either apical or coronal. From the horizontal aspect, the fractures originate in the root canal wall and extend to the root surface over time and may involve either one side—buccal or lingual (incomplete)—or both sides (complete fracture) (Figs.
2.12
,
2.13
, and
2.14
). Both in the incomplete and complete fractures, for the most part the fractures have a buccolingual pattern. Very rarely does a VRF have a mesiodistal orientation (Fig.
2.15
).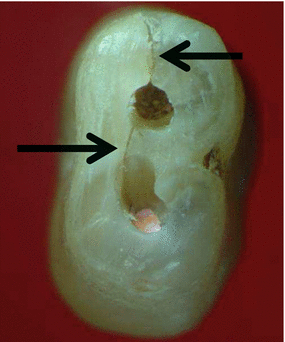 Fig. 2.12
Two black arrows
are pointing at an incomplete VRF in double-canal single-rooted maxillary premolar. The fracture is not extending to the other root surface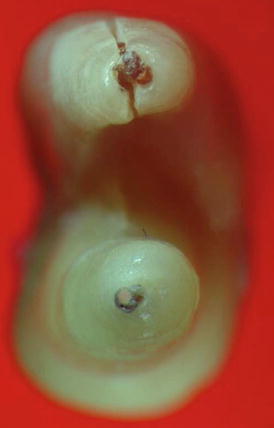 Fig. 2.13
A complete VRF in a buccal root of a bifurcated maxillary premolar