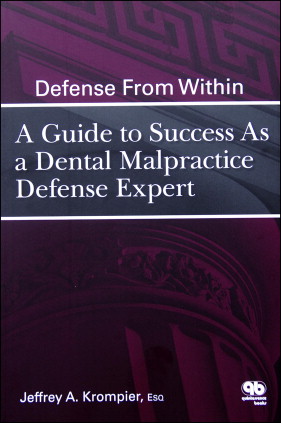 Mr Krompier has been a certified trial attorney for over 30 years and specializes in the defense of dental health care providers in New Jersey and New York. He has been named a New Jersey "super lawyer" and has been certified by the National Board of Trial Advocacy, the National Board of Civil Pretrial Practice Advocacy, and the American Board of Trial Advocates. Mr Krompier has defended over 500 malpractice lawsuits, all of which leads me to conclude that this guy really knows his stuff.
The good news about this book is that it is excellent in several respects. The bad news is that it will appeal to only a few practitioners. For anyone who has ever contemplated becoming a defense expert, this is a must-read tome. It is well written, clear, concise, and to the point. I suggest that even those who already are defense experts should take the time to read this book, because it includes a number of "pearls" just there for the taking. I would go so far as to advise anyone who has testified as a plaintiff's expert, or plans to do so, to get a copy (it's always good to know what your opponents are thinking and doing).
The 11 chapters are well laid out and cover the analysis of a malpractice case from the experts', the attorneys', and the jury's perspectives. Also addressed is the degree of participation required of the expert witness, not only in how his or her opinion should be developed and promulgated, but also the participation at deposition and at trial. It is interesting to read because the author reverses the order of several chapters and gets right into the meat of the subject, and then closes with the information concerning how to get started as an expert, market your services, develop the "expert" persona, define the rules of conduct, determine your fees, and so on. He is frank about the challenges involved in accepting the role of an expert.
As I stated earlier, the downside is that this topic might not interest most orthodontists, since most of us eschew the idea of examining records, writing reports, participating in depositions, and testifying in court. If he had included chapters on risk management techniques, errors he has encountered, and the more common pitfalls that often lead to malpractice suits, I believe that the book would have greater appeal.
Although it does not rise to the level of a true reference text, it is a must-have resource book for anyone who has an interest in the malpractice arena and a must-read for anyone providing expert witness services on behalf of our colleagues.