Fig. 2.1
Back-scatter scanning electron micrograph of polished surface of MTA powder (Reprinted with permission from Camilleri 2007 [
21
]. Copyright ©2007, John Wiley and Sons)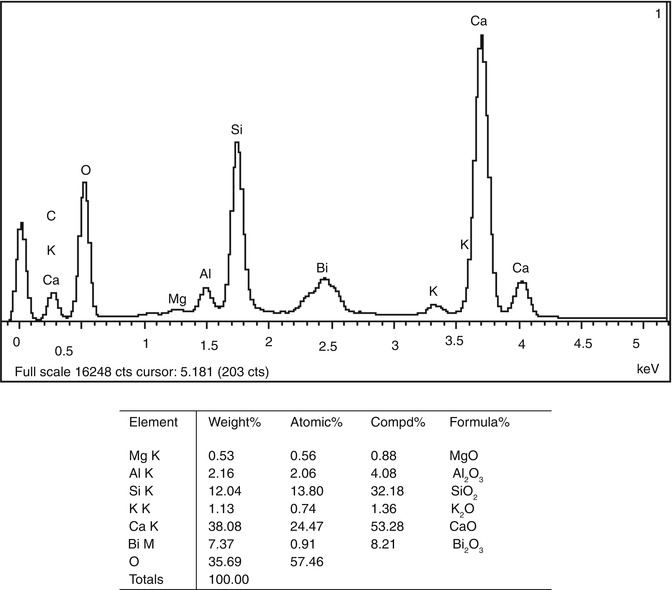 Fig. 2.2
Energy-dispersive spectroscopy of a typical MTA powder and semi-quantitative elemental composition
The phases present in MTA are determined using X-ray diffraction analysis. Using this method of analysis, un-hydrated MTA exhibits peaks for tricalcium silicate, dicalcium silicate and bismuth oxide. Using a copper Kα tube, each phase has a particular pattern as shown in Fig.
2.3
, which can then be searched and matched with data derived from the International Centre of Diffraction Data (ICDD) bank. Bismuth oxide (ICDD: 27-0053) exhibits typical peaks at 25.757, 26.906, 27.386, 28.010 and 33.229°2θ. Tricalcium silicate (ICDD: 86-0402) exhibits peaks at 29.414, 32.193, 32.504, 32.623, 34.355 and 41.298°2θ. Dicalcium silicate, usually exhibits a peak at 32.7°2θ, however such a peak is difficult to discern, due to its superimposition with the peaks present in the tricalcium silicate phase. Tricalcium aluminate is also present in un-hydrated MTA but in minimal quantities. X-ray diffraction analysis of MTA thus eliminates the myth that MTA is composed mainly of oxides. Thus, the term 'trioxide aggregate' is essentially a misnomer.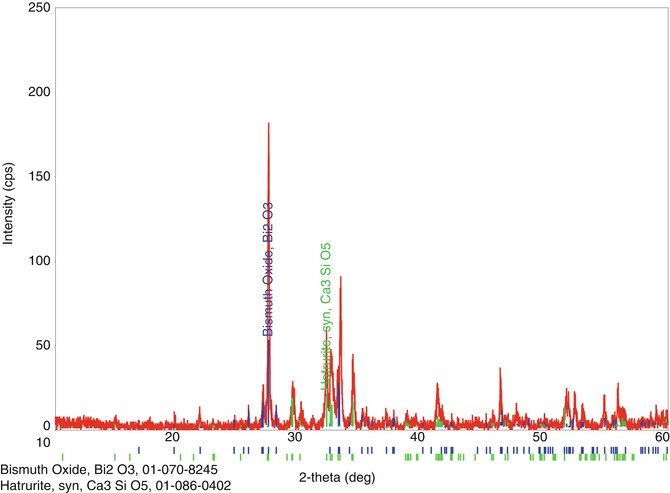 Fig. 2.3
X-ray diffractogram of un-hydrated MTA showing the main phases present
Quantitative phase analysis can be performed by Rietveld refinement using an internal standard such as rutile (titanium dioxide) added to the un-hydrated MTA. The principle of Rietveld analysis is to compare the experimental pattern with a pattern simulated based on the presumed amounts, crystal parameters and equipment parameters of a mixture of known phases. Rietveld refinement enables the amounts of different phases in anhydrous cementitious materials to be determined to a high degree of precision [
71
]. Quantitative assessment of ProRoot MTA (Dentsply Tulsa Dental, Johnson City, TN, USA) and MTA Angelus (Angelus, Londrina, Brazil) is shown in Table
2.1
. Both cements exhibit different quantities of tricalcium silicate and dicalcium silicate when compared to Portland cement. The difference is due to variations in the manufacturing of Portland cement used as a raw material for preparing MTA. Phase analysis of ProRoot MTA has been published by Camilleri in 2008 [
18
] and has been validated by other researchers using Rietveld X-ray diffraction analysis [
7
] (Table
2.1
). The main difference between the two studies is the presence of tricalcium aluminate in ProRoot MTA in the latter study [
7
]. Lack of an aluminate phase was also evident in scanning electron microscopy of polished sections of ProRoot MTA powder [
18
]. The absence of tricalcium aluminate phase, low levels of anhydrite and absence of gypsum may infer that the cement component in ProRoot MTA may not be a commercial Portland cement manufactured in a kiln but a laboratory-made cement. The manufacturer of ProRoot MTA (Dentsply Tulsa Dental Specialties, Tulsa, OK, USA) in fact claims that ProRoot MTA does not utilise a commercial Portland cement but the raw materials are certified for purity by inductively coupled plasma (ICP) spectroscopy. In the same document, the manufacturer also disclaims the presence of phosphate, which was stated to be the main constituent of MTA in the original publication [
78
]. In that publication, MTA was purportedly reported to be composed of 'calcium oxide and calcium phosphate. Further analysis demonstrated that the former appeared as discrete crystals and the latter as an amorphous structure with no apparent crystal growth but a granular appearance. The mean value of the prisms was 87 % calcium and 2.47 % silica, the remainder being oxygen. In areas of amorphous structure, there seemed to be 33 % calcium, 49 % phosphate, 2 % carbon, 3 % chloride, and 6 % silica'.
Table 2.1
Rietveld X-ray diffraction analysis of the phases present in un-hydrated Portland cement, ProRoot MTA and MTA Angelus
Phases identified

Material type in mass %

Portland cement

ProRoot MTAa

MTA Angelusb

Tricalcium silicate

74.7

53.1 (51.9)

66.1

Dicalcium silicate

7.4

22.5 (23.2)

8.4

Tricalcium aluminate

3.6

0.0 (3.8)

2.0

Gypsum

1.1

0.0

0.0

Hemihydrate

1.1

0.0

0.0

Anhydrite

2.7

1.5 (1.3)

0.0

Calcium carbonate

5.0

1.4

0.0

Calcium oxide

0.0

0.0

8.0

Bismuth oxide

0.0

21.6 (19.8)

14.0
Another calcium silicate-based cement, MTA Angelus, was found to contain tricalcium aluminate but no sulphate-containing phase (Table
2.1
). The absence of the gypsum is claimed by the manufacturer to reduce the setting time of the material. In fact, MTA Angelus has been shown to set in less than 50 min [
59
], as opposed to ProRoot MTA which was reported to have a setting time of over 2 h [
9
,
10
,
20
,
25
,
30
,
78
]. Furthermore, 8 % calcium oxide is present in MTA Angelus [
17
]. This calcium oxide is a result of a raw mix with poor combustibility and with an unstable thermal profile. ProRoot MTA exhibits a higher level of bismuth oxide when compared to MTA Angelus (Table
2.1
). This accounts for the higher radiopacity of ProRoot MTA [
15
,
20
].
2.5

Washout

One of the drawbacks of MTA is washout after it is placed in situ. Washout refers to the tendency of a freshly prepared cement paste to 'disintegrate upon early contact with blood or other fluids' [

82

]. Washout can be measured using different methods. Most methods involve immersion of the unset cement in a liquid [

24

,

52

,

58

]. Agitation [

82

] or freeze drying [

52

] is then employed to disrupt the cement; alternatively the cement is sprayed with air from a specified distance [

68

]. The amount of material lost is then determined using photography [

68

] or quantified using a gravimetric method [

52

,

82

]. One of the latest reported methods [

37

] includes a setup based on Specification CRD-C 661-06 [

75

] which was scaled down to allow testing of dental materials. When the results were compared to a metered water spray, they were found to yield quantitative, objective and reproducible results [

37

]. In the same study, MTA Plus and MTA Angelus exhibited washout when compared to Intermediate Restorative Material (IRM, Dentsply Caulk, Milford, Delaware, USA) and dental amalgam. The addition of anti-washout gel manufactured by Avalon Biomed Inc. reduced washout considerably [

38

].
2.6

Setting Reaction

Mineral trioxide aggregate hydrates when it comes in contact with water and undergoes two main reactions. The tricalcium silicate and dicalcium silicate react with water to form calcium silicate hydrate and calcium hydroxide. The tricalcium aluminate reacts with water and, in the presence of calcium sulphate, produces ettringite initially. When the sulphate-containing phases are depleted, a monosulphate phase is formed [

21

]:

(2.1)

(2.2)

(2.3)
The reactions that occur in MTA after hydration are the same reactions that are seen in Portland cement. During the initial stages of reaction, calcium silicate hydrate is formed; coating the cement particles with calcium silicate hydrate prevents further reaction. Tricalcium aluminate dissolves and reacts with the calcium and sulphate ions present in the liquid phase to produce ettringite that also precipitates on the cement particle surface. The initial phase is followed by a dormant period wherein the hydrate coating on the cement grains prevents further hydration. The dormant period lasts for 1–2 h, and is a period of relative inactivity when the cement is plastic and workable. Following the completion of the dormant period, setting of the cement proceeds to the acceleration stage wherein the hydration process accelerates again. The rate of tricalcium silicate hydration increases and more calcium silicate hydrate gel is formed. Hydration of dicalcium silicate also increases at this stage. Sulphate ions are depleted and monosulphate forms from ettringite. Crystalline calcium hydroxide also precipitates from the liquid phase.
The hydration progress can be monitored using calorimetry. The heat flux released by the chemical reaction is monitored over time and enables estimation of the beginning of setting and the rate of increase of the mechanical performance of the cement paste. Both MTA Angelus and MTA Plus present an initial endothermic peak followed by an exothermic peak (Fig.
2.4
). The first 2 h correspond to an induction period followed by initial setting and then hardening of the material. The initial endothermic peak is due to the wetting of the surface. The first part of the exothermic peak is correlated with the very rapid and very exothermic hydration [
13
,
17
]. It is interesting to note that MTA Angelus exhibits a higher exothermic peak, which occurs ahead of that of MTA Plus. This is caused by reaction of the calcium oxide present in MTA Angelus with water [
17
].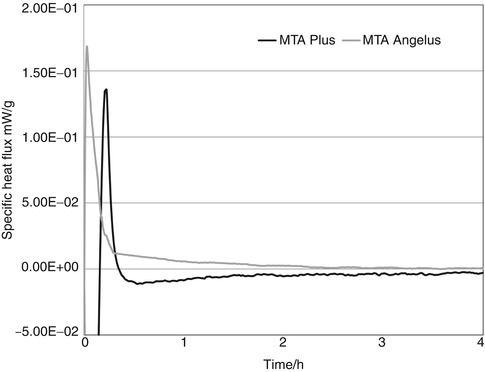 Fig. 2.4
Graphical representation of heat flux generated with time for MTA Plus and MTA Angelus
2.7

Characterisation of Set MTA

A combination of microscopy, elemental analysis and phase analysis has been used to characterise and evaluate the hydration mechanisms of MTA [

13

,

17

,

18

,

21

]. The X-ray diffractograms are useful as MTA materials are mostly crystalline and individual mineral phases can be identified. Scanning electron microscopy allows observation of material microstructure and surface visualisation. Moreover, characterisation by X-ray energy dispersive analysis provides qualitative information of the elemental constitution of the test materials. Other useful methods have been employed for characterisation of MTA, including Fourier transform infrared spectroscopy (FT-IR) and Laser Raman spectroscopy. Laser Raman spectroscopy is largely complementary to infrared spectroscopy, but spectral interpretation is simpler [

8

]. The major components of Portland cement give distinctive Raman spectra [

41

,

44

]. Both FT-IR and Raman spectroscopy have been used to investigate the interaction of calcium silicate cements with physiological solutions [

27

,

47

,

76

,

77

]. These techniques are an adjunct to phase analysis by XRD and aid to verify the phases identified when peak overlap exists; which is the main disadvantage associated with the use of XRD to analyse Portland cement-based materials. This problem may be addressed by using the Rietveld method [

71

], which allows standardisation of powder diffraction analysis through the use of calculated reference diffraction patterns based upon crystal structure models.

Reaction by-products produced upon hydration of the cement are deposited around the periphery of the un-hydrated cement particles. As hydration proceeds, there is evidence of more reaction by-products. The hydration reaction takes several years to complete, although the cement mass would have achieved the final hardening and maximum physical and mechanical properties by 28 days. Hydrating MTA can be observed on back-scatter scanning electron micrographs of polished cement specimens (Fig.

2.5

). The formation of cement by-products can be monitored by scanning electron microscopy in secondary electron mode. Calcium silicate hydrate exhibits a typical honeycomb appearance, while calcium hydroxide is deposited in the form of hexagonal plates (Fig.

2.6