Blepharoplasty, commonly referred to as "eyelid lift," is a widely accepted and performed esthetic surgical procedure. Contributing to its popularity is its relative ease of performance, the fact that it can be done in an office setting with minimal anesthesia, and the lack of a prolonged recovery period. According to a recent survey, blepharoplasty of upper and lower lids was the third most commonly performed cosmetic procedure in the United States in 2005, trailing body liposuction and breast enhancement.
The history of blepharoplasty to correct lid disorders dates all the way back to the first century AD in Rome. Since then, multiple refinements and modifications have been proposed.
Eyes are the "windows to the soul"; attractive eyes are one of the main features of an esthetic and balanced face ( Figure 25-1 ). To achieve an excellent result, blepharoplasty of upper and lower lids demands a clear understanding of the appropriate preoperative diagnosis and regional anatomy, surgical execution, and management of postoperative complications. Perhaps more important than the aforementioned concepts, it is paramount to remember that any cosmetic surgical procedure requires an appreciation of what the patient wants. Discrepancies between what a practitioner wants to treat and what the patient wants to have treated can lead to suboptimal results. Often, a patient presents to the clinician's office with a specific complaint regarding the appearance of the periorbital region. Given the vast amount of information available on the Internet, most patients can be quite focused about their concerns. Considering the complex anatomy of the periorbital region, the clinician must formulate a clear diagnosis and a treatment plan that corresponds to the patient's concerns. For example, a patient may not be satisfied with the appearance of the upper eyelids and may complain that she has difficulty applying makeup to the upper lids simply because they are so sagging. This patient may present for what she perceives as an eyelid issue. Often, however, the patient suffers from brow ptosis and may actually need a brow lift to address the sagging eyelids ( Figure 25-2 ). Therefore, proper preoperative communication and treatment planning are absolutely necessary for satisfactory results and a happy patient. The purpose of this chapter is to familiarize the reader with commonly used nomenclature, surgical anatomy, patient selection, surgical execution, and potential complications associated with upper and lower lid blepharoplasty.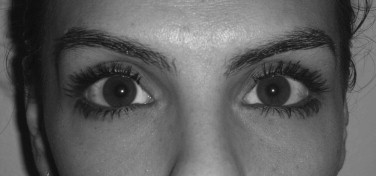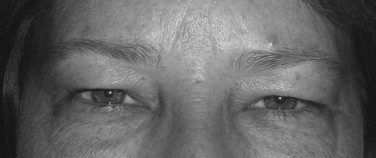 NOMENCLATURE
As is common with many esthetic procedures, multiple phrases and terms are used to describe the appearance of the upper and lower lids. This sometimes can lead to confusion for the novice surgeon. A list of commonly used diagnoses follows:
•

Dermatochalasia: This nonspecific term implies excess skin; it is applicable to any part of the facial skin and typically is due to a weak bony foundation (hypoplastic infraorbital rim in the case of lower lids), the aging process, exposure to sunlight, and environmental causes ( Figure 25-3 ).

FIGURE 25-3

•

Blepharochalasia: This more specific term suggests an inflammatory component to redundant skin of the lids. This condition often is related to angioedema and episodic swelling and edema of the periorbital region ( Figure 25-4 ).

FIGURE 25-4

•

Blepharoptosis: This acquired or congenital condition relates to drooping of the upper lids. It usually follows disinsertion of the levator palpebral aponeurosis from the upper tarsal plate ( Figure 25-5 ). This condition is different from brow ptosis, which often causes excess upper lid skin. Blepharoptosis can occur simultaneously with dermatochalasia and blepharochalasia of lids.

FIGURE 25-5

•

Prolapsed fat pads: Prominent lower lid fat pads or medial fat pad of the upper lid can present as a "bulge" caused by weakening of the orbital septum. The term prolapsed is more accurate than herniated in that the septum is still intact, albeit weak, as opposed to a herniation, which includes a distinct opening through which fat bulges ( Figure 25-6 ).

FIGURE 25-6

•

Hypertrophic orbicularis oculi: This is a distinct and hypertrophic portion of the pretarsal component of the orbicularis oculi in the lower lid. Although it may be considered an esthetic issue in many individuals, in some patients, this condition may exacerbate the bulge in the lower lid.

•

Prolapsed lacrimal gland: This infrequent occurrence is due to weakness of the septum of the upper lid, which causes a unilateral or bilateral fullness in the lateral aspect of the upper lids, which may result from descent of the lacrimal gland.

•

Lower lid malposition: This general term applies to any degree of abnormality associated with the lower lid. This could encompass frank ectropion, entropion, lower lid rounding or shortness, and lateral canthal dystopia ( Figure 25-7 ).

FIGURE 25-7
ANATOMY
Surgical anatomy of the eyelids is rather complex. Numerous structures are present in the upper and lower lids that have similar functions but different names ( Figure 25-8 ). Also, it is imperative to remember that at times, surgical alterations in lid anatomy may involve alteration of the brow or mid-face structures as well; therefore, an understanding of the surgical anatomy of those particular areas is helpful.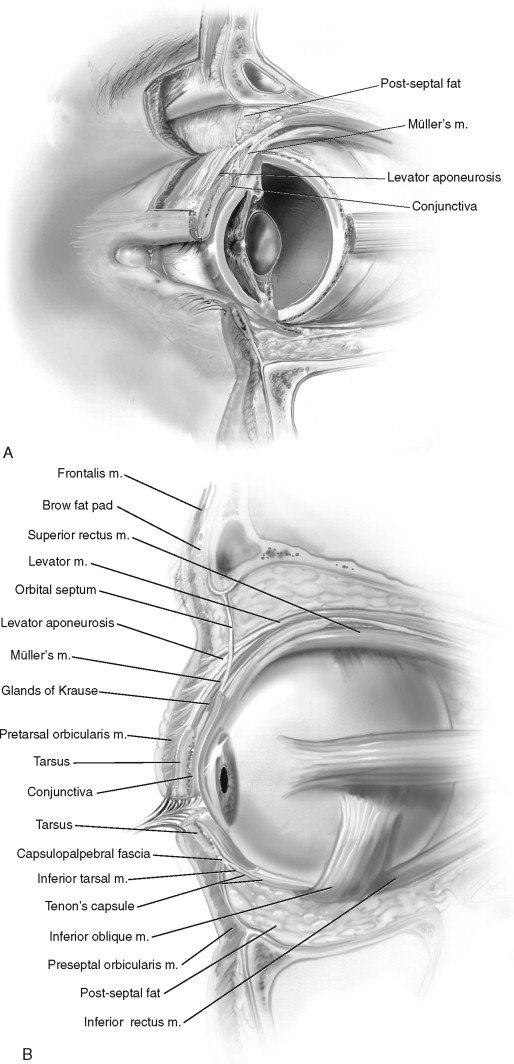 The most consistent way to gain an understanding of the surgical anatomy of the upper and lower lids is to divide each lid into three lamellae: anterior, middle, and posterior. Each lamella has several components that will be discussed individually:
•

Anterior lamella: Skin, orbicularis oculi

•

Middle lamella: Orbital septum, orbital fat pads

•

Posterior lamella: Lid retractors, suspensory system, tarsus, conjunctiva