Armamentarium
#15 Scalpel blade or monopolar electrocautery

Appropriate sutures

Army/Navy retractors

Autogenous bone grafting source with instrumentation

Dingman bone clamps

Freeze-dried bone allograft

Large rake retractors

Local anesthetic with vasoconstrictor

Nerve stimulation unit

Rigid fixation set with appropriate (2.3 or greater) locking and nonlocking plates, screws, and instrumentation

Vessel loops
History of the Procedure
Although it is estimated that 8% of the U.S. population is edentulous, atrophic edentulous mandibular fractures are relatively uncommon, representing 1% of all facial fractures. These are generally associated with long periods of edentulism and denture wearing. Although usually associated with advanced age, mandibular atrophy is related more to actual time in dentures than actual age. As people retain their teeth longer (as a result of fluoride and other preventive measures), the prospect of edentulism and dentures should be delayed, so that encountering this particular fracture in the rapidly expanding elderly population of the future will become less likely.
Atrophic edentulous mandibular fractures present unique challenges. Patients are often elderly or infirm. The bone has less osteogenic potential and diminished healing capacity. It is usually entirely cortical in nature, the character of porcelain. To be classified as atrophic, the remaining bone height must be 15 mm or less. Severely atrophic mandibular fractures are less than 10 mm in height. Less bony height translates into less surface area for bony healing and buttressing. These factors lead to an increased incidence of complications in the form of nonunion, malunion, recurrent fractures after repair, hardware failure, poor function with prolonged convalescence, and postoperative infection, osteomyelitis, and the need for additional reconstructive procedures. The incidence of these complications is 10% to 20%.
Historical forms of treatment have all been directed toward fracture immobilization. Past techniques may be viewed as unnecessary or obsolete due to newer, more predictable techniques; however, there may be rare indications for their use. If a patient is unable to undergo general anesthesia or a long operative procedure, skeletal pin fixation techniques remain reasonable alternatives.
Gunning Splints
The Gunning splints technique is credited to Thomas Gunning, who used these splints to treat dentulous mandibular fractures as early as 1863. G.V. Black used maxillary and mandibular splints for edentulous patients. Impressions first are made of the patient's maxillary and mandibular ridges. The mandibular cast then is cut and realigned to correct the fracture displacement. Splints (one- or two-piece) are constructed that align the jaws in their correct position. As an alternative, when the patient has existing dentures, the dentures can be modified to function as splints. An opening is always made in the anterior region for food to be ingested. The splint or splints (or modified dentures) are retained with circummandibular/circumzygomatic/piriform aperture wires, which have significant comorbidities of their own. Later variations of these techniques used screws to retain the splints. Experience has shown that elderly, infirm patients do not tolerate maxillomandibular fixation (MMF) very well, and they deteriorate rapidly ( Figure 68-1 ).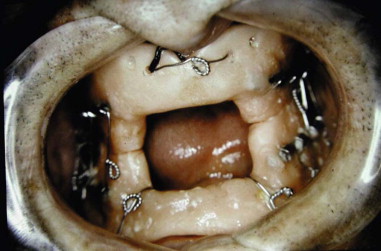 Monomandibular Fixation/Circummandibular Wires Around a Preexisting Denture
When an existing mandibular denture that spans the fracture is available, it may be used with 22- or 24-gauge wire for fracture reduction and stabilization. An awl is passed percutaneously on the lingual surface of the mandible and introduced into the floor of the mouth. A wire is then introduced into the eyelet, and the awl is passed around the inferior border of the mandible and advanced into the buccal vestibule. This technique may be performed at several sites. The wire then is twisted down over the denture to immobilize the fracture. Caution must be exercised to avoid placing a wire into the fracture site, which would result in poor healing. This technique is easier in principle than in practice and has generally less-than-optimal results ( Figure 68-2 ).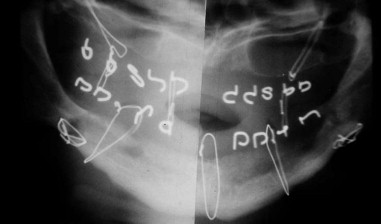 External Fixator: Skeletal Pin Fixation
The most often cited external fixator is the biphasic connector described by Morris. This technique relies on the placement of fixation pins in sound bone. After satisfactory reduction of the fracture with a first-phase metal frame, the pins are splinted with an acrylic bar that is placed over the fixation pins and metal framework and allowed to cure. The metal frame is removed, resulting in a simple, lightweight appliance. Pitfalls of the procedure include blind placement of the pins in the inferior alveolar nerve and inadequate pin stabilization due to fracture comminution or inadequate bone stock for pin placement ( Figure 68-3 ).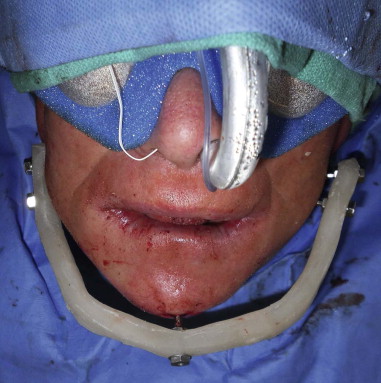 K-Wire Shish Kebab
For the K-wire shish kebab technique, a K-wire is driven into the medullary space while the fracture is held reduced. The fracture is exposed extraorally, and a K-wire 2- to 4-mm in diameter is driven through the distal fragment and out through the skin overlying the chin. The fracture is held in reduced position, and the K-wire (protruding through the skin) is driven back across the fracture into the proximal fragment. This procedure is done with essentially no periosteal dissection and could be considered a conservative approach. However, placement of the K-wire does not prevent rotational movement of the fracture segments and is extremely technique sensitive ( Figure 68-4 ).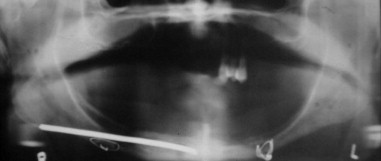 Split Ribs
Various approaches to gain increased buttressing or support of the bone at the fracture site have been advocated. Obwegeser used split ribs medially and laterally across the fracture, which were held in place with circummandibular wires. As rigid internal fixation was developing, the approach to both fracture management and mandibular reconstruction with either autogenous or freeze-dried rib grafts supplemented with autogenous marrow was advocated. This technique had some success, but the postoperative complications of pneumothorax were potentially devastating in elderly patients.
Mesh
Both Vitallium and titanium mesh have been used for fixation of the fracture and as part of the reconstructive technique. After initial fracture reduction and stabilization, this technique has been used to gain rigid fixation and bulk. Generally, a titanium mesh is placed around the inferior and lateral borders of the atrophic mandible. Particulate (typically autogenous) bone from either the iliac crest or tibia is then placed under the mesh. More recently, this technique has been described using a resorbable mesh. The advantage of the newer technique is that it should eliminate the need for a second surgery to remove the mesh once the graft has consolidated.
Wire Open Reduction
Before the use of plates and screws developed, this technique likely was the most common approach to fracture stabilization. In most cases it was used in addition to MMF with splints or dentures. The inferior border was approached, and stainless steel wires were passed through the inferior cortex and twisted to immobilize the fracture. This technique may still be used to temporarily immobilize the fracture while rigid internal fixation is placed with plates and screws ( Figure 68-5 ).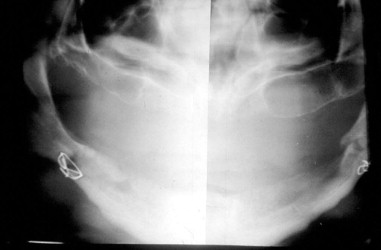 Conservative Approach: No Treatment
Although it does not seem like a reasonable option, minimally displaced fractures that are grossly stable on clinical examination may be managed nonoperatively. A dependable patient who is willing to adhere to a liquid diet and minimal function of the mandible would be a candidate for this approach. Likewise, this should be considered in patients unable to undergo a major surgical procedure.
Rigid fixation has resulted in improved fracture management and simplified convalescence. Although the treatment of atrophic mandibular fractures is not easy, rigid fixation has shortened the course of treatment, and outcomes have improved.