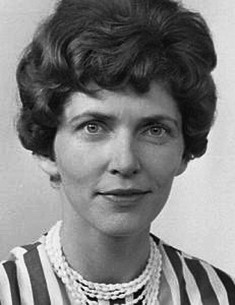 Anna-Marie Gron, a retired professor and research orthodontist at Harvard University and The Forsyth Institute, Boston, died on April 9, 2010, of complications of multiple myeloma at her home in Conway, Arkansas. She was 81. In her now-classic research studies, Dr Gron contributed significantly to the understanding of tooth emergence and osseous development as applied to the facial growth patterns of children.
She was born Anna-Marie Kondrup in Aarhus, Denmark, on September 25, 1928, and grew up in Tonder on the Danish-German border, where her early life was shaped by the German occupation during World War II. She earned her degree in dentistry in 1952 from the Royal Dental College in Copenhagen and, 2 years later, married Poul Gron, a Danish dentist. They came to Boston soon afterward, and both became interns and then research fellows at the Forsyth Dental Infirmary for Children, now known as The Forsyth Institute. Anna-Marie specialized in orthodontics. Her positive experience at Forsyth changed the direction of her life. She and Poul decided to remain in the United States.
In 1959, after her residency in orthodontics, Dr Gron was awarded a faculty appointment at Forsyth. During that era, professional life was not particularly easy for a woman in the medical and dental specialties in the United States, compared with the equalities in Anna-Marie's native Denmark and much of Europe. Dr Gron told her family that, when she attended professional meetings around the United States, she was often the only woman there, with the exception of wives of other doctors. Anna-Marie Gron, a trailblazer for women in orthodontics in America, overcame barriers to her career with her characteristic quiet dignity and "a backbone of steel," colleagues said. Her daughter Anne recalled that, when her mother was pregnant in 1960, Harvard officials terminated her Forsyth appointment, although she eventually returned. Her daughter related a telling incident that happened about a year after her mother's forced academic withdrawal at Forsyth. "Another female professional at Forsyth became pregnant," Anne said. "Her boss called our mother's former boss to ask for advice," she said. "He asked, "Should I fire her?" and the prompt response came, "No! No! You cannot do that. You have no idea how much trouble that causes."
As a research associate at Forsyth and Harvard, Anna-Marie Gron immediately became a key investigator in a 2-decades-long study of the growth and dental development in identical and fraternal twins. She and her coworkers, Coenraad F. A. Moorrees, the study's principal investigator, and Laure Lebret, enlisted twins from several mothers of twins associations in the Boston suburbs. She concentrated on this important project for nearly 20 years, annually constructing orthodontic diagnostic records and collecting anthropometric data related to the facial and somatic growth and dental development on over 400 twin pairs and their families. For most, complete longitudinal records from ages 6 to 16 years were assembled. In many cases, records for parents and nontwin siblings were included. The Forsyth Twin Sample stands today as the largest biological database of its kind in the world. Such growth studies are invaluable in the discovery of predictors of abnormalities and new cause-and-effect associations. Today, such longitudinal samples are nearly impossible to duplicate because of institutional restrictions on human research. The 3 principals in this remarkable research undertaking are gone now: Dr Moorrees died in 2003 and Dr Lebret in 2009. With Dr Gron's death, we witness the passing of the last of the inspiring, visionary research orthodontists at Harvard University and Forsyth.
In 1969, Anna-Marie Gron was awarded a Doctor of Dental Medicine degree from Harvard. She earned election as an active member of the Edward H. Angle Society of Orthodontists (Eastern Component) in 1982, the first woman to achieve that distinction since the 1930s. She spent the remainder of her professional career as an Associate Professor of Orthodontics at Harvard with a concurrent faculty appointment at Forsyth, until she retired in 1990. During her academic years, Anna-Marie authored several seminal research articles of continued use to orthodontists and other specialists in need of pediatric skeletal and dental growth guidelines. In addition, she was a prized teacher to dozens of orthodontic residents. One of her early students and colleagues, Dr Jack Dale of Toronto, remembered Dr Gron the teacher fondly, "She always helped direct postgraduate studies along useful lines of research. She gave freely of her skills to her students."
Anna-Marie and Poul Gron lived and traveled the world together for 53 years until his death in 2007. She is survived by her sister, Beth of Odense, Denmark; 2 daughters, Liz Gron of Conway, Arkansas, and Anne Gron of Chicago, Illinois; and 5 grandchildren, Erik and Bryan Urban of Conway, and Michael, Emma, and Sarah Polson of Chicago.