Species
Advantages
Limitations
Mice
Ease of genetic manipulation
Lack of intracortical remodeling
Small size for surgical manipulation
Rats
Most widely used model of OVX-induced bone loss
Lack of intracortical remodeling
Large animals (dogs, pigs, sheep)
Intracortical remodeling
Expensive
Large size
Limited/variable response to OVX
Biopsies possible
Nonhuman primates
Intracortical remodeling
Expensive
OVX-induced bone loss
Limited access for many labs
Large size
Biopsies possible
Large Animal Models of Osteonecrosis of the Jaw
The underlying mechanism driving the disconnect between the two large animal models, canine and swine, with respect to producing exposed bone following bisphosphonate/dental extraction is not clear. Doses of bisphosphonates were roughly comparable between the studies in these two models, as was the time post-extraction that the animals were assessed. Yet, out of confusion arises opportunity. The disparate results in these two large animal models set the stage for potentially useful comparative studies, examining either bone/mucosal-specific factors or bacterial profiles in the oral cavity that differ between mini pigs and dogs. Such factors that exist in swine but not dogs may provide insight into key factors involved in the manifestation of exposed bone in the setting of bisphosphonates.
Rodent Models of Osteonecrosis of the Jaw
In 1981, Gotcher and Jee produced, in retrospect, the first animal model of ONJ [
25
]. They treated young, rapidly growing rats with high doses of clodronate for up to 18 weeks and observed bone protruding into the oral cavity that upon histological analysis was found to be void of viable cells and considered devitalized. These studies utilized the rice rat, a model known for developing periodontal disease. Interestingly, the exposed bone occurred in the absence of any dental intervention. Because the animals were young and received high doses of drug, the results were, at the time, considered to have limited clinical relevance.
Nearly three decades later, the first animal model to emerge following the clinical description of ONJ was published. Sonis and colleagues designed their study specifically to try and produce changes in the oral cavity consistent with the clinical and radiographic criteria of ONJ [
8
]. Three-month-old rats were treated with a combination of zoledronic acid and dexamethasone and then subjected to extraction of three molars in the mandible or maxilla. The results were striking (Fig.
15.4
), with many treated animals developing mucosal ulceration at the extraction sites, and those treated with both drugs had persistent ulcerations even 28 days postsurgery. Despite the oral examination showing clear lack of healing in treated animals, most of the other analyses (radiographic, histological) were qualitative. Yet this study is considered one of the most of important preclinical contributions to the field of ONJ as it provided a foundation for future work in animals.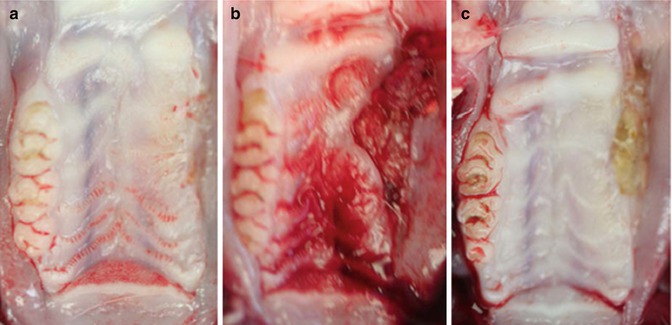 Fig. 15.4
Exposed bone following dental extraction in the first rat model of ONJ. Representative photographs of gross clinical appearance of maxillary ridges in animals with intact epithelium (
a
, day 28 following extraction) or ulcerated mucosa overlying necrotic bone at days 14 (
b
) and 28 (
c
) following extraction. Ulcerative areas were characterized by rolled mucosa, lack of drainage, and, by day 28 post-extraction, central areas of
yellow/gray
necrosis (Reproduced with permission from Sonis et al. [
8
])
Since the work of Sonis and colleagues, over three dozen publications have described how bisphosphonates, with or without dental perturbation or coadministration of other drugs, lead to the manifestation (or lack) of ONJ in rodents (Table
15.2
). The majority of these have utilized the rat as a model although both rats and mice have been shown to develop exposed bone and related oral manifestations. The remainder of this section will highlight some generalizations and key rodent papers, rather than detailing specific strengths/weaknesses about each study. Those interested in specifics are encouraged to use Table
15.2
as a guide to work through the relevant literature.
Table 15.2
ONJ studies in rodents
First author (year)

Species

Bisphosphonate

Dental insult

Exposed bone

Sonis (2009)A

Rat

Zoledronate (SC)

All molars from one maxilla

Yes

Hikita (2009)B

Rat

Alendronate injections in oral cavity

Second molar from one maxilla

No

Biasotto (2010)C

Rat

Zoledronate (IV)

One upper molar plus an additional 4 mm defect

Yes

Hokugo (2010)D

Rat

Zoledronate (IV)

All molars from one maxilla

Yes

Lopez-Jornet (2010)E

Rat

Pamidronate (IP)

All molars from one maxilla

Yes

Maahs (2010)F

Rat

Alendronate (oral) or zoledronate (IP)

All molars from one maxilla

Yes

Senel (2010)G

Rat

Zoledronate (IP) or pamidronate (IP)

None

Yes

Aguirre (2010)H

Rat

Alendronate (SC)

Mandibular first molar

No

Xiong (2010)I

Rat

Alendronate (SC)

Periapical lesion at the mandibular first molar

No

Jee (2010)J

Rat

Alendronate (SC)

First molar from one maxilla

No

Kobayashi (2010)K

Mouse

Zoledronate (SC)

First molar from one maxilla

No

Yamashita (2010)L

Rat

Zoledronate (SC)

Denuded palatal mucosa between the first molar and great palatine canal

No

Kikuiri (2010)M

Mouse

Zoledronate (IV)

First molar from one maxilla

Yes

Bi (2010)N

Mouse

Zoledronate (IP)

First molar from one maxilla

No

Aghaloo (2011)O

Rat

Zoledronate (IP)

Ligature-induced periodontal disease

Yes

Lopez-Jornet (2011)P

Rat

Pamidronate (IP)

All molars from one maxilla or mandible

Yes

Marino (2012)Q

Rat

Zoledronate (IV)

Mandibular first molar

Yes

Aguirre (2012)R

Rat

Alendronate (SC) or zoledronate (IV)

Diet-induced periodontitis

Yes

Abtahi (2012)S

Rat

Alendroante

First molar from one maxilla

Yes

Said (2012)T

Rat

Etidroante (SC)

None

No

Zhao (2012)U