Since the introduction of corrective jaw surgery to oral and maxillofacial surgery, the profession has strived to provide care for patients with skeletal jaw deformities in a comprehensive, efficient, safe, and effective manner. The general requirements of nasal intubation, general anesthesia, and maxillomandibular fixation forced these procedures into the hospital setting. Medical and perioperative management of the patient mandates a comprehensive approach. During the 1960s through 1980s this meant hospitalization at least 1 day before surgery and commonly an intensive care unit stay for the first postoperative night, with 1 to 2 days of recovery in the hospital. The costs of this type of hospitalization were financially challenging for most patients.
The evolution of health care, specifically surgical management, has eliminated the need for day-before admission for most elective procedures. Histories are taken and physicals are performed a week or more before admission, with anesthesia interviews frequently being conducted by telephone. Elaborate routine preoperative laboratory studies, chest radiographs, and electrocardiographs—which were done from the 1960s through 1980s—fell out of favor when evidence-based research showed little yield for the studies and no improvement in the care of the patients.
Improvements in anesthetic drug safety and technique, along with surgical instrumentation enhancements and the predictable use of internal rigid fixation, have made the postoperative period less difficult and thus safer for the patient. Additionally, over the past 25 years more surgeons have been trained in corrective jaw surgery during their residency programs. Surgical experience, aided by the improvement of the surgical techniques and advanced technologies, has led to decreased surgical time and morbidity rates. These factors coming together with an ever-decreasing reimbursement from insurance carriers have encouraged contemporary oral and maxillofacial surgeons to consider the ambulatory setting for select orthognathic surgery patients.
THE PHYSICAL PLANT
The decision to treat an orthognathic surgery patient in an ambulatory center revolves around the facilities available to the practice. Office-based surgical centers, with in-office operating rooms, are becoming more common. Freestanding surgical centers, often with admission agreements with local hospitals, have been available for the past 2 decades. Hospitals are encouraging up to 23-hour stay utilization of their surgical facilities. Each of these options offers opportunities for outpatient orthognathic surgical procedures. Each has its advantages and disadvantages.
The in-office operating rooms have the advantage of total control by the surgical team in terms of scheduling, start time, and discharge decisions. The office-based surgical center should have all the equipment, with backup as appropriate, for the procedures being done. Safety in any surgical environment must be equal to the hospital setting. Therefore redundancy is necessary in electrical power, suction, power instruments, lighting, and operative instruments. Size of the surgical suite is important. A traditional office operatory is inadequate ( Figure 21-1 ). The amount of equipment, including anesthesia machine and drug cart, head lights, overhead lights, suctions, cautery, equipment trays, and tables, requires that the room be adequately sized ( Figure 21-2 ). The extra personnel needed also should be considered. These would include at least as assistant surgeon, scrub nurse, circulator, anesthetists, and possibly others. Adequate surgical preparation areas are required ( Figure 21-3 ). The in-office ambulatory orthognathic surgery should be held to the standard of a freestanding surgical center regarding sterility, safety, back-up equipment, and power sources.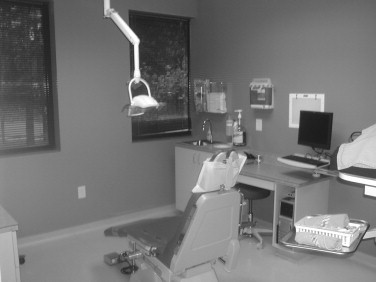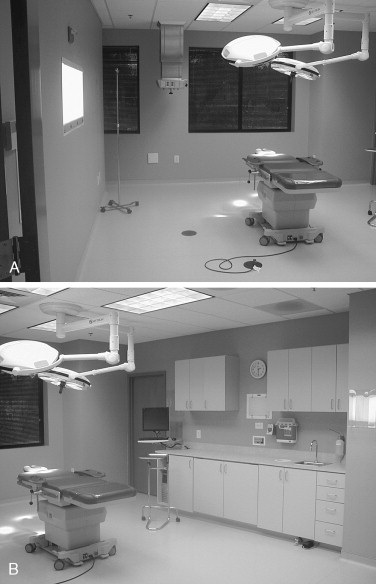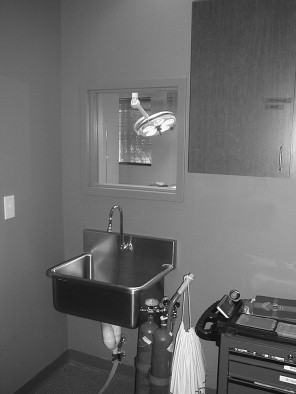 Staff should not be drawn from the routine oral and maxillofacial surgery assistants unless they have been adequately trained in sterile techniques, operating room protocol and surgical-based emergencies and have experience in the procedures planned. Regular drills and in-service education must accompany the in-office utilization of ambulatory orthognathic surgery.
The in-office environment must have adequate recovery facilities. Although recovery in the operating room might save space, it often is intimidating for the family who will be receiving postoperative instructions and caring for the patient while preparing for discharge from an operating room. The office should have a specific recovery area equipped with adequate monitors, suction, oxygen, and resuscitation equipment and staffed with nurses experienced in postoperative management of patients having undergone oral and maxillofacial surgical procedures ( Figure 21-4 ).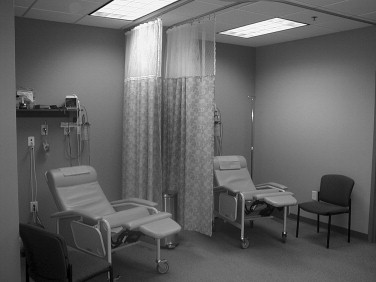 The transfer of patients from the operating room to recovery can be accomplished by wheelchair or stretcher. The size of halls and access to the patient must be adequate to allow safe transfer ( Figure 21-5 ). Retrofitting an existing surgical office may be difficult, but patient safety must be the primary concern.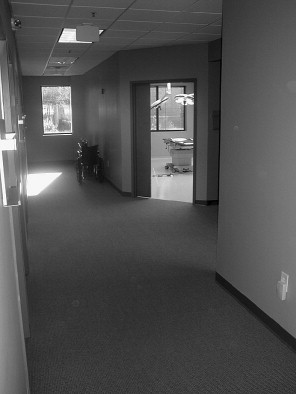 Accreditation by an outside agency is advisable and may be mandatory depending on local regulations. This will help ensure that all the potential needs and requirements are being met. Unusual and unlikely events must be expected, and practice drills should be completed to be sure the team functions smoothly. Fire drills, evacuation procedures, simulated power outages, and medical emergency drills are necessary on a recurring basis. Established regulations are important factors in facility safety and standardization of care. This also can be important in contracting for third-party reimbursement.
The authors recommend an office-based surgical facility enter into agreement with a local hospital for transfer of patients in case of unexpected events. Determining this logistic arrangement in advance makes it less difficult if an event occurs that requires transfer. Also, when establishing an office-based facility, the distance to a hospital should be reasonable. Thirty minutes of travel time in a crisis could be catastrophic. Although no hard data exist regarding how close a facility should be to a hospital, the surgeon should consider this factor when making decisions regarding where to treat the patient.
Freestanding surgical centers and hospital-controlled 23-hour-stay facilities are at least equal to the office-based surgical center. These facilities have undergone an outside agency accreditation and yearly review as well as internal audits of safety. They may not have experience with oral and maxillofacial surgical procedures, so the surgeon must educate the surgical, recovery, and anesthesia staff regarding the needs and expectations for an ambulatory orthognathic surgery patient. In general, the requirements listed for an office-based surgery facility will be met by these units. The surgeon is responsible for making sure they are adequate and up to date. Transfer agreements with the hospital are required for the freestanding surgical unit as well.
PATIENT SELECTION AND EVALUATION
Outpatient orthognathic surgical procedures may be considered for some patients. This option should be considered for the patient to make the procedure and the postoperative care more predictable for the patient, surgeon, and caregiver. The decision to perform office or surgical center orthognathic surgery is based on the safety and efficacy of the procedure given the setting and potential complications. The surgical team must be well versed in the operative technique as well as the management of potential complications.
Regarding delivery of anesthesia, management of surgical events, and immediate postoperative care, no difference should exist between the traditional hospital operating room and ambulatory surgical suite. The difference involves the early discharge of the patient to the care of a family member with no medical or surgical knowledge. With that in mind, the first criterion for patient selection is that the caregiver must have an adequate understanding of the procedure and postoperative care involved. The caregiver must possess an understanding of what an emergency is and the problems requiring a call to the surgeon. Preoperative screening and education of the caregiver allow the surgeon to determine if a patient is appropriate for outpatient surgery.
If an appropriate caregiver is available, the patient must be evaluated for his or her ability to undergo the procedure in this setting. A patient must have minimal medical conditions that are well managed and a surgical procedure planned that is appropriate for the setting. The American Society of Anesthesiologists rating of I or II would be acceptable candidates for the outpatient setting. A patient who is rated III may be appropriate for such a setting if the procedure is sufficiently short, with few postoperative complications anticipated. Additionally, the adverse effects of the patient's medical condition or skeletal deformity may affect the postoperative care, contribute to intraoperative problems or anesthetic complications, and should be evaluated when deciding on the setting for surgery.
AIRWAY
Evaluation of the airway for ease of intubation should be a criterion for selecting patients. Patients with potentially difficult airways (e.g., prior pharyngeal flap surgery) may not be appropriate for this setting. For these types of patients, the surgeon and anesthetist must be prepared for fiber optic intubation or a surgical airway. In addition, will the surgery improve the airway, or could the airway become compromised postoperatively?
Patients undergoing maxillary surgery may require advancement of the upper jaw, which could improve the airway space. A mandibular-deficient patient having advancement surgery also will show opening of the airway after surgery. When a mandibular setback is being done for treatment of prognathism, the procedure is accomplished by intraoral vertical ramus osteotomy (IVRO) or bilateral sagittal split osteotomy (BSSO). In both cases the airway will decrease some. With IVRO the jaws also may be wired shut, and a greater potential risk for airway problems exists postoperatively. That being said, most orthognathic patients are not placed in maxillo-mandibular fixation (MMF), although intermaxillary fixation is possible in any case. If the magnitude of any movement is sufficiently large that harvesting of bone for grafting is essential, the length of surgery could potentially surpass what is appropriate for the outpatient setting.
Genioplasties are commonly performed as outpatient procedures. Postsurgical bleeding in the floor of the mouth could create airway compromise once the patient is discharged. Furthermore, depending on the location of the osteotomy in relation to the genial tubercles, some positive changes can be observed in the airway.
OBESITY
Morbid obesity is a growing problem in America today. A patient is considered overweight if he or she has a body mass index of 25 and obese if the number is 30 or greater. A 5-foot, 10-inch person who weighs 209 lb or more is obese. Anesthetic risks and airway challenges are more common in obese patents. Comorbid conditions such as cardiac failure, hypertension, and diabetes exist with obesity. These problems are not confined to the middle-aged obese population but also can be seen with the obese child and young adult. Being overweight is not an absolute contraindication to outpatient orthognathic surgery, but the situation must be critically evaluated. Moderately to severely obese patients should not be treated in the ambulatory setting.