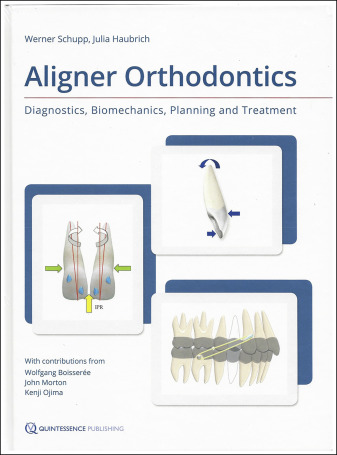 Since the advent of popular clear aligner systems, including but not limited to Invisalign, there has been an increased need for a textbook with good scientific evidence on the topic. This book, written by 2 experienced German orthodontists, Drs Werner Schupp and Julia Haubrich, aims to help orthodontic practitioners plan and execute treatments with Invisalign appliances. This is a decent resource, not only for the experienced Invisalign users but also for orthodontists who have recently integrated the Invisalign system into their practice.
The organization of the book allows the reader to follow the Invisalign treatment sequence. Opening with the diagnostics as chapter 1, the book progresses through 4 more chapters: the biomechanics of Invisalign, treatment planning and execution with aligners, treatment of various malocclusions with aligners (this chapter includes a variety of Invisalign case reports), and, last but not least, the advantages of the Invisalign system. Chapter 4, the longest chapter at more than 200 pages, is broken down into 63 topics, providing Invisalign case examples of various malocclusions with high-quality pictures and illustrations. The examples in this chapter cover most situations that clinicians can possibly encounter. This, I believe, is one of the greatest strengths of this textbook; clinicians can learn how to apply Invisalign even for the treatment of patients with 4 premolar extractions, patients with Class II and Class III malocclusions, and surgical patients. This chapter includes a variety of simple cases with issues such as gummy smile, minor crowding, and black triangles. However, chapter 4 could be better organized and the 63 topics it covers categorized into sections for easier reading.
As concisely written in chapter 2, the force-driven system with power ridges and pressure spots is crucial in modern Invisalign treatments to control torque and angulation properly. In this chapter, the designs of those attachments are usually shown in ClinCheck illustrations for each case; this helps readers to design attachments for their own patients.
Unfortunately, strong scientific evidence is lacking for some claims in the book, especially in chapter 5, where the advantages of the Invisalign are discussed. Many of these shortcomings of this first edition, however, will most likely be remedied in later editions.