Chapter 9
Implants and Surgery to Facilitate Prosthetic Dentistry
Aim
This chapter describes some basic surgical techniques that can be applied to facilitate the functional and aesthetic replacement of missing teeth and the selection of patients for implant treatment.
Outcome
After reading this chapter you should:
have a basic understanding of how surgery can aid, or sometimes hinder, the successful rehabilitation of patients who have lost or are about to lose teeth.

be aware of surgical techniques that can be used to improve the function and aesthetics of fixed and removable prostheses.

appreciate the role that hard and soft tissues play in achieving restoration of the dentition with good aesthetics.

be able to assess patients for implant treatment from a surgical aspect.
Introduction
The majority of our patients expect to keep their natural teeth for life. Trauma, dental disease and congenital abnormalities can result in the loss of teeth and the need for their replacement. The support of an adequate residual alveolar ridge is helpful for the stability, retention and appearance of fixed and removable prostheses. Following tooth loss, alveolar resorption begins and continues throughout life. Many patients with removable prostheses can adapt to this situation. Others will benefit from a variety of surgical techniques to 'turn back time' and restore the supporting tissues. Dental implant systems and techniques developed in the latter half of the 20th century enable dentists to replace missing teeth and predictably improve masticatory function. The scope and need for conventional 'preprosthetic' surgery has changed with this revolution in dental care. This chapter will define techniques that still have a place in the 21st century to modify the hard and soft tissues of the mouth in order to improve the provision and patient acceptance of dental prostheses and facilitate the use of dental implants.
Rehabilitation of Patients who are Undergoing Exodontia
Surgical planning undertaken prior to the removal of a tooth or teeth should take into account the consequences for prosthetic replacement and how this might be accomplished. It is unusual to plan the removal of a functional tooth in isolation; the majority of patients will require careful consideration of how their dentition can be preserved and rehabilitated in the light of their future functional and aesthetic needs.
Details of tooth form, aesthetics, soft-tissue contour, appearance, symmetry and smile line together with jaw relationship (if appropriate) should be recorded using clinical photographs, shade guides and study casts (Fig 9-1a–d). This information, together with a diagnostic wax up of the proposed restoration, can prove invaluable to both the dentist and technician in planning care and explaining the proposed treatment to the patient. It is also important to ask the simple question as to why exodontia is required. This will inform preventative measures. It may lead to strategies to avoid further tooth loss and aid preservation of existing hard and soft-tissue topography.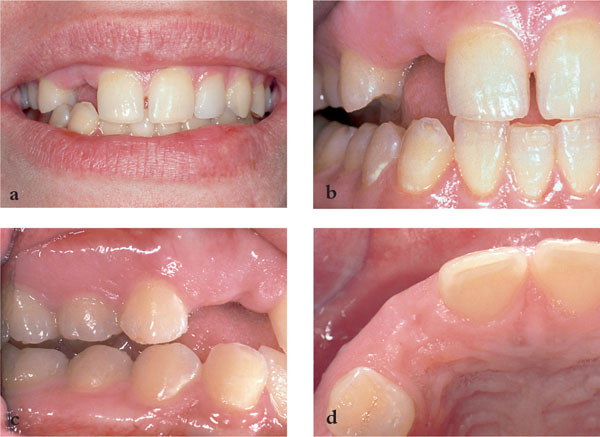 Strategies to Facilitate Prosthetic Rehabilitation at the Time of Exodontia
The following should be considered at the time of extraction:
analysis of the reasons for exodontia

prevention of further unplanned tooth loss

preservation of existing dental information by making good historical records

preservation of soft tissue topography by temporary support by:

retaining tooth roots in the absence of pathology

using socket fitted dentures (Fig 9-2) or placement of correctly contoured bridge pontics

placing immediate implants to support gingival papillae

preservation of existing hard tissues by:

retaining healthy tooth roots to preserve bone volume and ridge shape – roots can be used as over-denture supports or submerged to act as ridge maintainers

immediate placement of dental implants

atraumatic extraction techniques (use of periotomes to cut the periodontal ligament and deliver the tooth root)

care in post-operative digital socket compression so as not to unduly reduce alveolar width

osteoplastic flaps to maintain the alveolar bone (a composite flap of cortical plate with attached soft tissues giving 'trap door' access to the buried tooth that can be repositioned to restore ridge contour)

grafting of the extraction socket to preserve alveolar bone.

hydroxyapatite cones or granules can be effective at physically maintaining local alveolar bone width and height improving support for a lower denture (Fig 9-3).

if implants are contemplated at a future date, sockets can be filled with material to act as an osteoconductive scaffold to facilitate new bone formation; examples include artificial materials such as calcium carbonate or tricalcium phosphate granules, which are resorbed and replaced by new bone. Osteoinductive agents that act both as a scaffold and to stimulate bone cells locally can also be used, examples being demineralised human bone matrix, freeze-dried deproteinised bovine bone, autologous bone harvested from the patient and genetically engineered bone morphogenic proteins.

Circumspection in the application of techniques to contour the alveolus.


When teeth are lost, resorption of the associated alveolar bone begins and continues inexorably, although at a decreased rate after the first year. There is thus little justification for the unnecessary removal of bone at the time of exodontia. The resorption process also makes predicting the outcome of any surgical intervention difficult. The reduction of bony undercuts should be limited to those essential to facilitate denture insertion. The use of an anterior buccal flange on a denture to aid retention can be difficult where a prominent buccal undercut exists. In such circumstances the situation is usually best dealt with by providing an open-faced or socketed denture and reassessing the situation after a few months. This approach also aids preservation of soft-tissue topography.
Surgical Techniques Facilitating Prosthodontic Rehabilitation
Surgery can be used to correct unfavourable hard and soft-tissue relationships to enable a more stable and retentive prosthesis to be produced. Some of this surgery, such as osteotomies to correct gross skeletal discrepancies in facial form, falls outwith the scope of minor oral surgery. Other operations – for example, simple soft-tissue procedures to reduce muscle attachments and improve the peripheral seal of prostheses – are amenable to outpatient practice. The aim of surgery is to enable the provision of a prosthesis that will:
restore function (mastication, speech and deglutition)

be stable

be retentive

preserve the remaining dental structures

satisfy the patient's aesthetic requirements

give the patient 'dental confidence'.
Surgery has been advocated to build up the alveolar bone and deepen the buccal and lingual sulci to mitigate the effects of alveolar resorption. This restores clinical ridge height, so improving the foundation for denture construction. The techniques used in this type of surgery have, in the main, fallen into disuse due to their high morbidity, requirement for hospital support and the effects of inexorable alveolar resorption negating any temporary improvement in ridge height that could be achieved.
Techniques still in frequent use are covered below.
Specific Factors that Influence Care and Affect Planning for Surgery or Implants
The initial clinical presentation of a patient will determine whether their expectations are realistic and what prosthodontic outcome can be achieved from the baseline position.
The medical status of the patient exerts a major influence. Conditions that affect the patient's capacity to withstand surgical intervention and healing are important. Any specific local or systemic problems that influence the response of the hard and soft tissues to surgery will affect the prognosis. Such factors include sclerotic or osteoporotic bone, local infection and any preexisting pathology.
The occlusion, skeletal relationships and local anatomy (inferior alveolar nerve, maxillary sinus, floor of nose, tongue size) will influence planning. Other factors that affect the management include parafunctional habits, oral hygiene and the use of tobacco. An obvious factor that is important is the degree of cooperation that can be achieved. It is useful, during planning and to inform the consent process, to consider that patients are somewhere on a slope – those who are fully fit with good oral hygiene, adequate alveolar bone and ideal soft tissues being at the top of the slope, with the best prognosis for a successful functional and aesthetic outcome. Factors elucidated during the history taking and examination will determine where a particular patient is on the 'success slope', and by weighing local and systemic factors the clinician and patient will gain an appreciation of the likely clinical outcome. It also enables the clinician to demonstrate to the patient how modification of factors (e.g. giving up smoking, improving oral hygiene, grafting alveolar bone, accepting a removable rather than a fixed restoration) can move them up the slope and improve prognosis.
Procedures to Improve the Peripheral Seal of Complete Prostheses
The following procedures can be used to aid denture retention:
Removal of Undercuts
Contouring of the jaw involves exposure of the bone, taking care to position the mucoperiosteal flaps. Margins should be supported by sound bone to reduce any shrinkage and loss of sulcus depth. Bony excess or irregularity can then be smoothed using a well-cooled bur or a bone file. This procedure is useful to reduce exostoses, tori and smooth irregular ridges or reduce prominent muscle attachments – for example, the mylohyoid ridge. Recontouring of the alveolus is facilitated by planning the desired reduction on a study model and producing a surgical guide – ideally to the predetermined fitting surface of the final prosthesis (Fig 9-4). At the time of surgery, the practitioner should always bear in mind that raising periosteum will stimulate bone resorption and that the main difficulty in placing implants is often lack of alveolar bone. Major recontouring of the alveolus and procedures such as alveolectomy and alveoplasty have fallen into disuse.