Chapter 9
How to Cheat at Dental Dam
Aim
To demonstrate a simple, straight forward method of applying dental dam in the restorative management of children.
Outcome
On completing this chapter the practitioner should feel confident to use the split dam technique during operative dental treatment.
Introduction
All dental restoratives are moisture-sensitive, yet using dental dam is not something that the busy dental operator often considers when managing children. However, mastering a simple "cheat" such as the split dam technique achieves better access in small mouths and avoids cotton wool rolls.
Children often hate cotton wool rolls. They don't like water pooled under their tongue or in the retromolar area. They object to "bits" on their tongue and don't like the taste of many of the dental medicaments. Using dental dam solves these problems. The child who has a dental dam in the mouth is encouraged to keep their mouth open without the use of a mouth prop.
Dental dam is particularly useful for children with retching problems, especially when it is combined with nitrous oxide inhalation sedation. It keeps their tongue away from the operating area, reassures them that they will not choke on the materials and helps them feel more disassociated from the operative procedure. As such, it has a prominent role in the management of these children and should be attempted as an alternative to referral for general anaesthesia.
Advantages of Dental Dam
Dental dam isolation has many positive benefits:
Reduced risk of cross-infection.

Safer airway.

Tongue, cheeks and lips are kept away from the operating area.

No more struggling with wet cotton rolls.

Operator has both hands free.

Reduced child anxiety over choking or inhaling materials.

More effective nitrous oxide inhalation sedation (since it encourages nose breathing).

Reduced environmental contamination with nitrous oxide during sedation.
Dental Dam Myths
There are various reasons why dental dam (Fig 9-1) is not widely accepted in paediatric dental practice in the UK. Examples are as follows:
Difficult to apply.

Needs lots of equipment.

Adds time to treatment.

Not well tolerated.

The child doesn't like it.

Fear of latex allergy.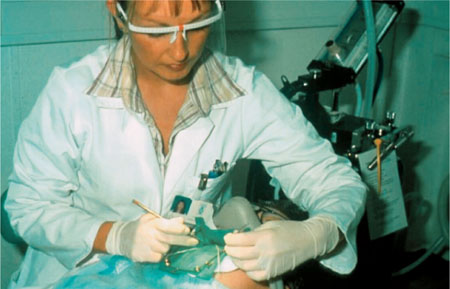 However, with practice, especially using a simple "split dam" technique, dental dam is not difficult to apply and, indeed, saves time in the long run. The simple technique outlined in this chapter requires only basic equipment and very few clamps. Furthermore, if the "tooth raincoat" is introduc/>