Chapter 4
The Caries Prevention Tool Kit and How to Use it
Aim
The aim of this chapter is to equip the dental team to successfully prevent caries in children. The reader will become familiarised briefly with community-based programmes so that these can be more easily identified locally to facilitate linkage between the community and general dental services. Following this, the focus will shift to how preventive care can be individualised and delivered to children and their parents within the dental surgery environment based on the prior assessment of caries risk.
Outcome
On completing this chapter the practitioner should be equipped with contemporary knowledge to provide preventive care for individual children and understand how community-based programmes might complement this effort.
Introduction
There is nothing more soul-destroying than carefully restoring a carious dentition for a child only to find new caries at a subsequent review. Children with carious primary teeth are at greater risk of developing caries in their permanent dentition. Ideally, we would hope that our child patients remain caries free in the first place. But how can this be achieved?
Contemporary research informs us that oral health education is best when delivered to infants. Hence, many community-based schemes are now focussed on nursery schools and linked to antenatal classes and health visitor contact with new mums. But how can the busy dental practice contribute towards this, and what can be done in the dental surgery to prevent caries in high-risk children?
It is already understood that caries is the result of the simultaneous long-term presence of oral commensals (most notably Streptococcus mutans), a carbohydrate substrate and a susceptible tooth surface. Caries aetiology and prevention tools are shown in Fig 4-1.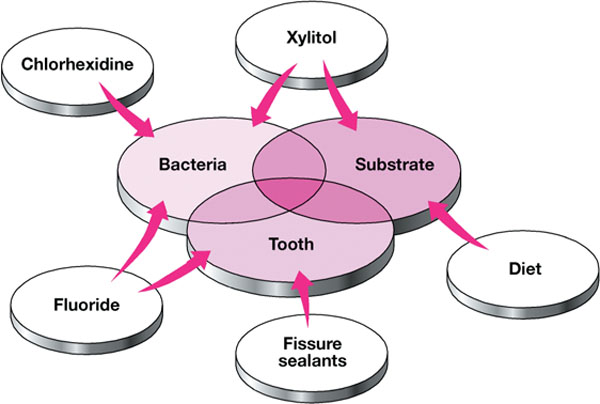 The Caries Prevention Tool Kit
The cornerstones of caries prevention are:
diet modification

fluoride

fissure sealants

chewing gum (Xylitol)

chlorhexidine.
Diet Modification
The cornerstone of diet counselling to prevent dental caries is to:
reduce the amount of sugar consumed

limit sugar frequency to meal times only.
For diet modification to be effective it must be:
personal

pertinent

positive.
Avoid making parents feel guilty
Parents genuinely wish to avoid dental caries developing in their children, so in the event of caries development they can feel guilt. Remember, the selection of less cariogenic food is difficult:
Sugar content is not always clear in food-labelling.

Access to healthy foods can be difficult in socially deprived areas.

Healthy foods can be a more expensive option in socially deprived areas.

Not everyone can cook.

The sugar industry spends more on marketing and advertising (just watch Saturday morning children's TV) than the government has to spend on the provision of dental health services for children.

Few families stick to the "three square meals a day" epithet and favour a grazing/snacking style.

The child may be looked after in a nursery school, by a child minder or by another relative during the day.

School tuck shops are tempting.
Personalised advice using a diet diary
A three-day diet diary can help the dental team and the parent work together to highlight sugar consumption and then to reduce the amount and frequency of cariogenic foods.

The instructions for use are:

use for three consecutive days

give the times and amount, and food brand if possible

one of the days should include a Saturday or Sunday.
When reviewing the diet diary:
Ask the patient or parent (carer) to identify where they feel the problems are.

Offer alternative non-cariogenic foods.

Recommend alternatives that will fit in with the family life-style.

Remember to preserve the child's dignity in front of their peers (e.g. a trendy water container to facilitate the transition from sugared pop to water).
Remember, many diet diaries are not accurate because:
The patient is worried about being reprimanded.

The patient wants to please you, so gives you what they think you want to see.

Be particularly suspicious of diaries written with the same pen.
Non-milk extrinsic sugars
Parents are often confused by food labelling of sugars. Even the best-educated and best-intentioned families can unwittingly consume an otherwise "healthy" diet that has a high sugar content – drinks labelled "no added sugar" being a common trap and culprit.
Foods that cause caries:
sweets

biscuits and cakes

drinks and juices.
Popular misconceptions (foods that DO cause caries):
plain biscuits

some flavours of crisps (e.g. prawn cocktail flavour)

sauces and salad dressings

yoghurts

dried fruits

"low sugar" drinks

"no sugar added" drinks

soya milk

breast milk if continued beyond normal weaning time

access to juice or milk through the night.
Alternative snacks:
crackers

bread

bread sticks

carrot sticks

slices/pieces of fruit (children may not feel able to eat a whole fruit but may eat a slice)

hard cheese.
Fluoride
The benefit of fluoride in caries prevention has been known for half a century. Many cities in the USA have fluoridated water supplies, and other parts of the world have natural fluoridated water. In the UK, parts of Northumbria and the West Midlands have been fluoridated for over 30 years.
How does Fluoride Prevent Caries?
Fluoride acts both systemically and topically. Its anti-caries effect can be summarised as follows:
alters the ameloblast

makes fissures more shallow

stabilises the matrix of the hydroxyapatite molecule within enamel, making it more resistant to acid dissolution

interferes with glycolysis, slowing down bacterial acid production

has direct anti-bacterial effect

its principal anti-caries action is to alter the balance of remineralisation v. demineralisation in favour of remineralisation.
Fluoride gives greatest protection to smooth surfaces
Prescribing Fluoride
The simple rule of thumb to prescribing fluoride is:
select only ONE systemic method

select ANY NUMBER of topical methods (Table 4-1).
Table 4-1 Systemic vs. topical fluoride prescribing

| | |
| --- | --- |
| Systemic Fluoride | Topical Fluoride |
| Water | Toothpaste |
| Tablets | Varnish |
| | Mouth rinse |
Fluoride Toothpaste
Caries rates have been falling gradually around the world over the past few decades. This fall can be almost solely attributed to the introduction of fluoride toothpaste. Indeed, toothpaste is bettered only by water fluoridation as the most effective method of delivering the preventive benefit of fluoride. When asking a patient to brush more frequently or teaching them to brush more effectively, we are reinforcing practice of an already social norm. Therefore, this is often an easier behaviour modification to achieve than dietary change.
As well as toothbrushing being an effective method of delivering fluoride, when performed properly it reduces the build-up of plaque, thus helping to eliminate one of the aetiological causes of caries. It has been suggested that one of the reasons the occlusal surface of erupting molars are particularly caries-prone is that plaque builds up on these surfaces and is not removed by mastication because the teeth are not in occlusion. The emptive process can take over a year. This problem is compounded by the difficulty in effectively brushing these teeth.
Fluoride Dose and Caries Reduction
The magnitude of the/>