8
Instrumentation for Abutment Modification and Guidelines for their Use
Washington Hospital Center, Department of Oral and Maxillofacial Surgery, Washington, DC; and American Institute of Implant Dentistry, Washington, DC
Introduction
Titanium and zirconia abutments are currently the most commonly used prosthetic parts used to support the final prosthesis. Whether a clinician or laboratory technician uses a stock abutment or a CAD/CAM-generated abutment, it is sometimes necessary to adjust the abutment to idealize the contour, emergence profile, and location of finish line.
Adjusting implant abutments requires specific rotary instruments. When these are being used it is important to follow the instructions for use and procedure manual. This prevents any damage to the implant abutment, especially zirconia.
Zirconia is very reliable and durable, yet difficult to work on. The grinding and adjusting of zirconia abutments constitutes a real challenge for dentists and dental technicians. Because zirconia is so hard, it is important to use instruments that have particularly strongly bonded diamond grains and a higher operating life than usual.
In this chapter adjustment sequences for titanium and zirconia abutments will be discussed.
Extra-Oral Adjustment Techniques for a Titanium Abutment
The Vitality Laboratory rotary instruments kit for titanium abutment adjustment has been designed for adjusting titanium abutments (Figure 8.1). Instruments should be mounted on an electric or air-driven straight handpiece with an rpm (revolutions per minute) adjustment feature. To maximize the performance of these instruments, your handpiece should be capable of providing a range of 5000–50,000 rpm. No irrigation or coolant is required for use.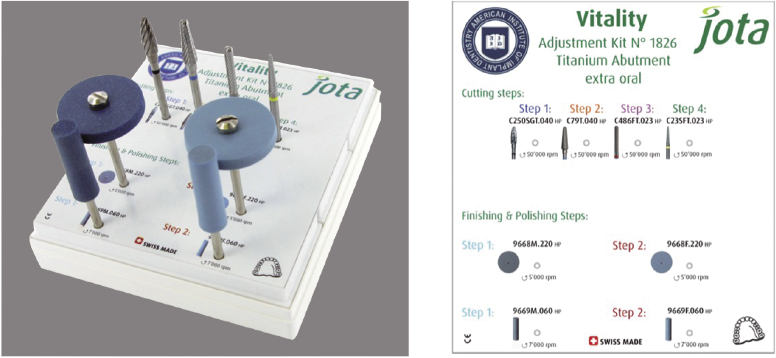 Cutting Instruments
Vitality cutting instruments are made of highly compressed, fine grain carbide (Figure 8.2). Each instrument is application specific.
Black: This should be used for major gross reduc­­tion of the incisal and lingual surfaces of a tita­­nium abutment. This instrument helps in the rapid reduction of metal volume. It should not be used for defined reduction.
Blue: This should be used for more defined reductions of the labial, lingual, mesial, and distal surfaces.
Red: This should be used to define a chamfer finish line.
Yellow: This should be used to finalize the taper angle between the mesial and distal surfaces, as well as reducing any scratches left by the other instruments.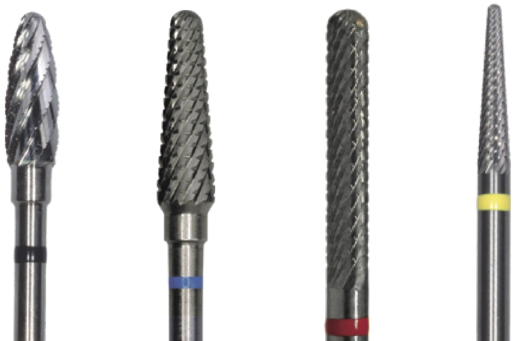 Note: All of these instruments should be used at 50,000 rpm. These instruments will not be as effective with other metals due to the specific angulations of the blades. They should be replaced after 10 abutment adjustments.
Finishing and Polishing Instruments
The silicone-based polishing instruments make up a two-step polishing system (Figure 8.3) using the two types of rubbers.
Dark blue pre-polisher: This reduces and smoothes all the scratches left behind during the cutting step.
Light blue fine polisher: This polishes the surface of the titanium abutment to a high lustre.

These hard polishers have excellent removal capabilities for commercially pure titanium and titanium alloys. The unique combination of abrasive particles and specifically matched synthetic rubber bonding results in an excellent removal rate with reduced heat. Because of their unique composition, they minimize heat development during the polishing process.
Note: To maximize performance of these instruments, they should be used at between 5000 and 7000 rpm.
Adjustment Steps for a Prefabricated Titanium Abutment
Gross Reduction
Step 1. Mark the labial or lingual surface of the abutment before starting gross reduction. If you are adjusting a solid abutment, with more than 2 mm titanium thickness, use the black carbide to reduce the height and the lingual surface (Figure 8.4). If the abutment has thin walls, skip the black carbide and start with the blue one.
Step 2. The blue carbide should be used to define the labial surface as well as performing less aggressive reduction of the lingual surface. For gross reduction of interproximal surfaces using a thick titanium abutment, use the blue bur.
Step 3. Use the red carbide to create a defined chamfer finish.
Step 4. The yellow carbide is used to define the re­­quired taper between the interproximal surfaces. This instrument is also used as a finishing instrument to smooth scratches left from the first three steps.

Note: These instruments should be used at 50,000 rpm with light pressure when grinding.
Finishing and Polishing
Step 1. Use the dark blue wheel to remove scratches from the entire abutment surface except for the finish line (Figure 8.5). Use an abrasive stone to sharpen the tip of the dark blue cylinder polisher. Use the tapered tip to remove any scratches or roughness on the finish line.
Step 2: Use the light blue wheel to create a luster shine on the entire abutment surface except for the finish line. Use an abrasive stone to sharpen the tip of the light blue cylinder polisher. Use the tapered tip to create a luster shine on the finish line.
Note: These instruments should be used at 5000 rpm. Do not apply pressure while using these instruments. It is important to establish a light contact between the instrument and abutment surface to optimize its function. The strokes should be either away from you or toward you to maximize the finishing result (Figure 8.6).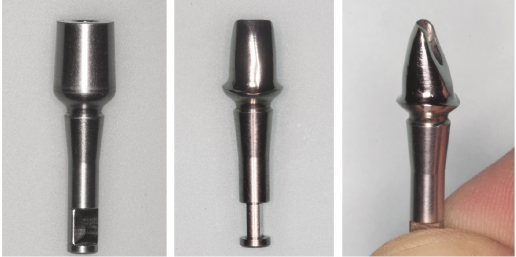 Extra-Oral Adjustment Techniques for a Zirconia Abutment
The Vitality Laboratory rotary instruments kit for zirconia abutment adjustment has been designed for adjusting ceramic materials such as sintered z/>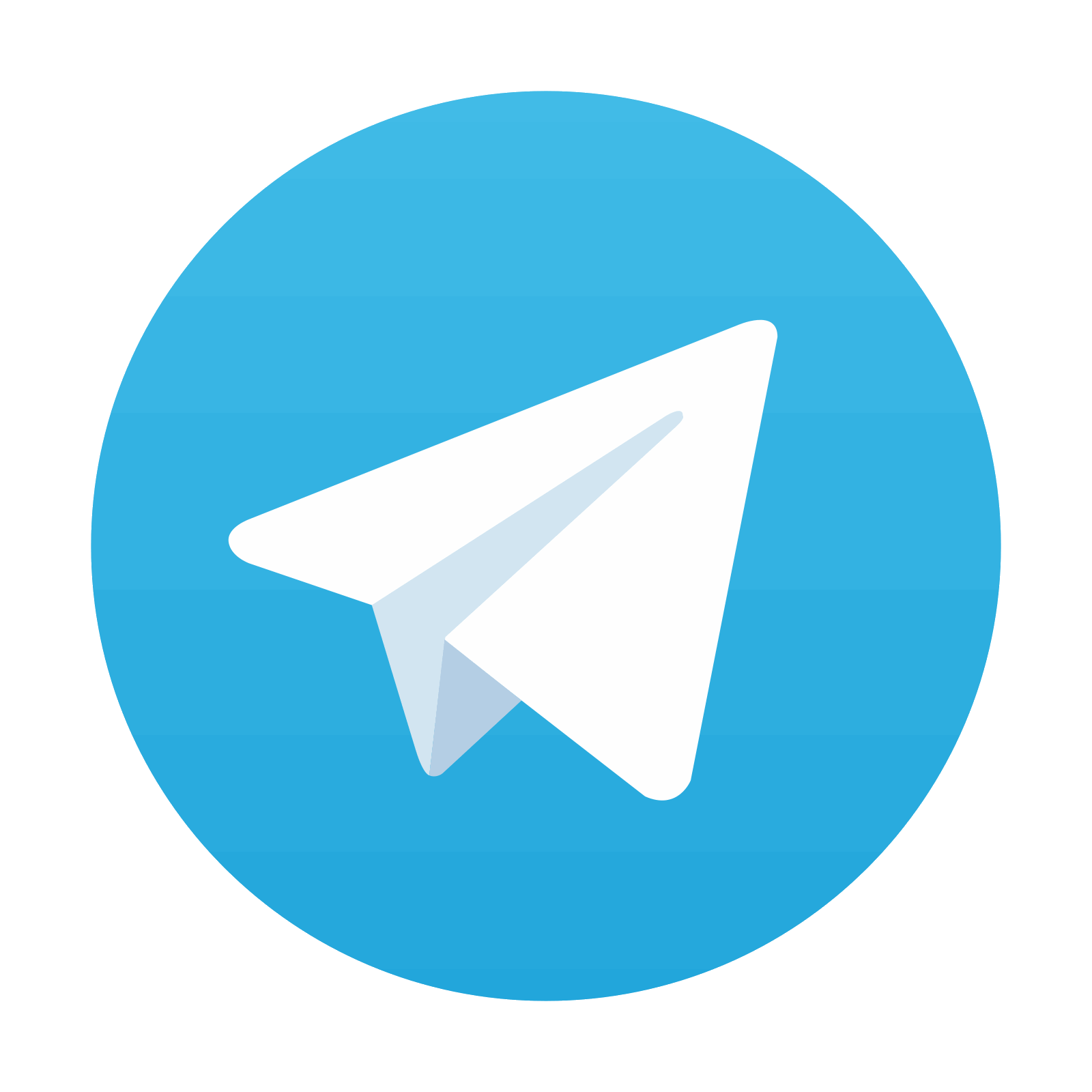 Stay updated, free dental videos. Join our Telegram channel
VIDEdental - Online dental courses