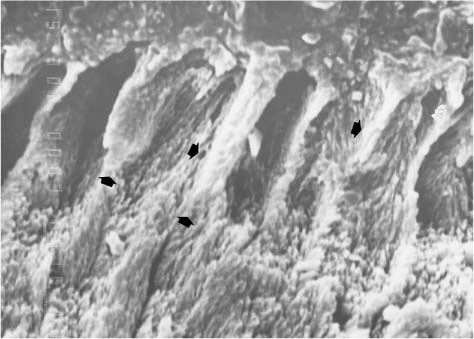 Effects of Important Variables on Bond Strength
Type and Concentration of Acid
Use of Pumice with or without Fluoride
Measurement of Debonding Force and Bond Strength
Bond Strength Measurement by Shear and Tensile Testing
Experimental Models for Evaluating Bond Strength
Bonding to a Standardized Substrate
Bonding of Brackets to Enamel – in vitro Studies
Bonding of Brackets to Enamel – in vivo Studies
Chemically Cured vs. Paste-Primer vs. Light-Cured Resin Composites
Glass-Ionomer Cements vs. Chemically Cured Resin Composites
Hybrid Ionomers vs. Chemically Cured Resin Composites
Direct bonding and indirect bonding of orthodontic brackets typically utilize a resin composite adhesive and require that the enamel be etched, whereas orthodontic bands are usually cemented with glass-ionomer cement without etching of tooth structure. Bond failure of brackets or bands is one of the most frustrating occurrences in an orthodontic practice. Consequences of bond failure can include increased treatment time, additional costs in materials and personnel, and unexpected additional visits by the patient. Understanding various characteristics of human enamel assists the orthodontist in the proper preparation of the tooth surface, and in selection and application of appropriate orthodontic cements/adhesives. Knowing the location of a bond failure allows the orthodontist to modify his or her bonding technique and to counsel patients on care of their appliances. This chapter will describe the characteristics and preparation of enamel for bonding of brackets and the results of laboratory and clinical testing of debonding force and bond strength for current adhesives.
The composition, properties, and applications of zinc phosphate, zinc polycarboxylate, glass-ionomer, hybrid ionomer, compomer, and resin composite orthodontic cements/adhesives will be discussed at length in Chapters 10 and 11. In this chapter, bond testing and bond strengths of these materials for the retention of brackets and bands to enamel will be discussed; included in this discussion will be the effects of metal, ceramic, and plastic brackets on bonding to enamel.
Differences in bond strength are generally not observed among central incisors, first premo-lars, or third molars. Likewise, no differences in bond strength are observed between lingual and buccal surfaces. One study recommends a 15-second etch for premolars, canines and anterior teeth and a 30-second etch for first molars. Older permanent teeth tend to produce slightly higher bond strength than younger permanent teeth.
The presence of fluoride ions is the main factor associated with mottled enamel. The ingestion of fluoride can damage both the ameloblast and the matrix. Fluorosis is revealed as a diffuse bilateral white opacity that covers the enamel. Long-time ingestion of fluoride accentuates the appearance of the perikymata and is associated with changes in color, depending on dose, timing, and duration of fluoride ingestion. The characteristic brownish color of the enamel in severely fluorosed teeth occurs after eruption. Surface enamel fluorosis differs from non-fluoride-induced opacities, which are generally well demarcated and asymmetrically distributed. Fluorosed enamel shows various degrees of hypomineralization.
Teeth with a higher concentration of fluoride are generally considered more resistant to acid etching than normal teeth and may require an extended etching time. Bond strengths to a group of severely and moderately fluorotic teeth, even with additional time for acid etching, were about 40% lower than bond strengths to normal teeth, although a group of mildly to moderately fluorotic teeth from young adults showed similar bond strengths when compared to normal teeth.
Clinically, the etching of enamel creates microporosity within the enamel (Fig. 5.1) and reduces surface tension that allows the resin to penetrate and polymerize within the etched enamel rods. Standard 37% phosphoric acid typically dissolves about 5–10 μm of enamel surface and creates a zone of etched enamel rods for about 15–25 μm. The etching process creates calcium monophosphate and calcium sul-fate by-products that must be removed by a vigorous water rinse. Care must be taken to lightly dab the enamel surface with the acid etchant to avoid polishing or fracturing the exposed enamel rods. After bond failure, teeth can be prepared for rebonding. Scanning electron microscopic observations have revealed retained fragments of composite adhesive on the enamel (Fig. 5.2).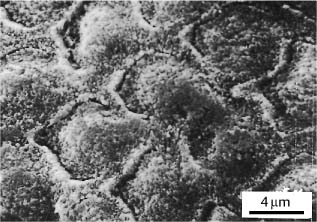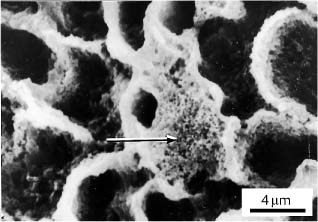 In restorative dentistry the highest possible bond strength to tooth structure is desirable. In contrast, the orthodontic bond strength must be sufficient to retain the brackets but low enough to allow easy clean-up of adhesive when the case is completed and the brackets are removed. Some factors that influence acid etching of enamel include the type and concentration of the acid and the time of etching.
Etching with 10% or 37% phosphoric acid produces the highest bond strengths (28 MPa) to enamel. The use of 10% maleic acid for etching results in a lower bond strength (18 MPa), and no etching yields a very low bond strength. No differences in bond strengths are observed when enamel is etched with phosphoric acid ranging in concentration from 2% to 37%. One study reported that 2% phosphoric acid etchant was adequate for bonding, whereas another recommended 10–30% phosphoric acid.
No differences in bond strength are detected between 15-second and 60-second etching with 37% phosphoric acid; however, shorter etching times cause less enamel damage on de-bonding. Decreasing etching time between 30 and 10 seconds does not affect bond strength (11 MPa) or location of failure site, whereas etching for 0 or 5 seconds reduces bond strength (less than 3 MPa) significantly. Scanning electron microscopy shows that etching with 37% phosphoric acid for at least 30 seconds produces more optimal etching patterns than etching for 15 seconds.
Resin composite does not bond well to unetched enamel; however, hybrid ionomer orthodontic cements have bond strengths to moist, unetched enamel ranging from 8 to 25 MPa. Hybrid ionomer orthodontic cements presently bond better to moist, unetched enamel than to sandblasted metal brackets. Once their bond strength to metal brackets is improved, these cements could be used in a non-acid-etching bonding technique. Tables 5.1 and 5.2 show the performance of resin composite adhesive and hybrid ionomer cement.

Pumice or a prophylactic paste is often used to clean the enamel surface before acid etching and bonding. However, bond strength appears to be unaffected whether pumice is used or not. Use of a fluoridated pumice or paste with varying fluoride concentrations also does not affect bond strength or location of bond failures.
While most clinicians accept acid etching of enamel as a routine technique, there are some possible iatrogenic effects (Table 5.3). Acid etching of enamel removes about 10–20 μm of enamel. Etched enamel is porous, making it susceptible to retention of stains, although the porosities are filled by precipitates from saliva over time. Even the most careful debonding technique causes fracture of small enamel fragments and cracks. An additional 6–50 μm of enamel is estimated to be lost on debonding. Another concern is that the resin tags that remain in the enamel after debonding may change color with time.
Table 5.3 Possible iatrogenic effects of acid etching of enamel
• Fracture and cracking of enamel upon debonding
• Increased surface porosity – possible staining
• Loss of acquired fluoride in outer 10 μm of enamel surface
• Loss of enamel during etching
• Resin tags retained in enamel – possible discoloration of resin
• Rougher surface if over-etched
A proposed alternative to etching enamel for retention of an adhesive is to grow crystals on the enamel surface. This technique is called crystal bonding. Potential advantages of crystal bonding include easier debonding, less residual adhesive left on the tooth and less damage to enamel. Crystal bonding involves application to enamel of a poly (acrylic acid) solution containing sulfate ions, which causes growth of calcium sulfate dihydrate crystals on the enamel surface. These crystals in turn retain the adhesive. Since crystal bonding produces bond strengths of 60–80% of the bond strength obtained with acid etching, it is not yet considered a practical technique.
Another alternative to etching enamel with phosphoric acid is to use an acidic primer of the type used to bond restorative composites to enamel and dentin. Although these primers are expensive, comparable bond strengths are found.
Air abrasion, also referred to as micro-etching, is a technique in which particles of aluminum oxide are propelled against the surface of enamel or another substrate by high air pressure, causing abrasion of the surface. Some manufacturers of commercial units have suggested that air abrasion could eliminate acid etching; however, bond strengths to air-abraded enamel are only about 50% of those to acid-etched enamel. As will be discussed subsequently in this chapter, air abrasion or micro-etching of metal brackets or bands is an effective technique for improving bond strength to these air-abraded substrates. Air abrasion could be an alternative to pumicing the teeth before etching.
The application of laser energy to an enamel surface causes localized melting and ablation. Removal of enamel (etching) results primarily from the micro-explosion of entrapped water in the enamel. In addition, there may be some melting of the hydroxyapatite crystals. Laser etching of enamel by a neodymium-yttrium-aluminum garnet (Nd:YAG) laser typically produces lower bond strengths than does acid etching. Satisfactory in vitro bond strengths were obtained in one study only when the Nd:YAG laser was used for 12 seconds at maximum power (3 W). Studies of CO2 laser (pulsed mode) etching of enamel have shown that bond strengths of 10 MPa can be obtained reliably. The thermal effects of laser etching on the enamel substructure require further research.
An alternative to bonding to dry enamel is to apply a moisture-resistant primer (Transbond MIP, 3M/Unitek, Monrovia, CA, USA) to etched enamel that has been contaminated with moisture or saliva. This type of primer is a hydrophilic methacrylate monomer that will wet enamel contaminated with saliva or moisture. The bond strength of a resin composite adhesive applied to enamel primed with the moisture-resistant primer is similar to that of resin composite adhesive applied to etched, dry enamel. Adhesives that are reported to have acceptable performance in a moist environment and recently introduced moisture-active adhesives that require the presence of moisture for proper polymerization are discussed in detail in Chapter 10.
Chlorhexidine can be applied on the teeth and over orthodontic appliances during treatment to reduce bacterial colonization. Bond strength is not affected if the chlorhexidine is applied after bonding has been completed or as a prophylactic paste on enamel before etching. Bond strength is reduced to an unacceptable level, however, if the chlorhexidine is applied as a layer on etched enamel or on the sealant before the adhesive is applied. A chlorhexidine-containing primer did not significantly affect bond strength.
Teeth recently bleached have been observed to have significantly lower bond strengths to resin composites. The bleach produces oxygen, which inhibits free radical polymerization of resin composites. Research has shown that orthodontic brackets can be placed after use of carbamide peroxide bleaching with no adverse effect on bond strength.
With numerous adhesives and orthodontic band and bracket materials available, in vitro measurements of debonding force and bond strength play an important role in characterizing the bonding potential of new systems. The first goal of bond testing is to measure the force of debonding. The second goal is to observe the location of the bond failure.
The debonding force for brackets has been reported in the research literature in units of newtons (N), kilograms (kg), or pounds (lb). If the average force transmitted to a bracket during mastication is between 40 and 120 N, then a desirable level of bracket adherence to enamel would require a force greater than 120 N (12.2 kg or 5.6 lb) to cause debonding. The reporting of force for bond failure can be misleading if there are substantial differences in the bonding areas of the brackets tested. To properly compare brackets with bases of differing geometries, it is necessary to determine the bond strength, as described in Chapter 2.
Bond strength, which is the force of debonding divided by the area of the bonded interface, is commonly reported in the orthodontic literature. Publications have reported the bond strength in units of megapascals (MPa), kilograms per square centimeter (kg/cm2), and pounds per square inch (lb/in2 or psi). If a typical bracket has a nominal bonding area of 16 mm2 and the force of debonding is 120 N, then the bond strength will be 7.5 N/mm2 or 7.5 MPa, as previously described in Chapter 2.
An adhesive-bracket system should be able to withstand a stress of at least 6–8 MPa. To improve retention through a larger bonding area, a larger bracket or band should be selected or the bracket/band should be micro-etched before placement.
Adhesive failures are those that occur between the cement and the tooth or between the cement and the bracket or band (Chapter I). Cohesive failures can occur within the tooth, within the cement or even within the bracket. Often, bond failures are a mixture of adhesive and cohesive failures. The percentages of the types of bond failure can be measured using a scale such as the Adhesive Remnant Index. This index specifies the amount of cement remaining on the tooth and bracket or band.
For example, a hypothetical bond strength experiment (Table 5.4) found that cement A had 100% adhesive failures at the enamel/cement interface, whereas cement B had 100% cohesive failures in the cement. In this experiment, the bond strength of cement A was lower than its cohesive strength and the cement separated cleanly from the tooth. The relatively low bond strength of cement A might suggest that this cement bonds poorly to enamel or that the enamel surface was contaminated, resulting in an inferior bond. In contrast, there was cohesive failure in cement B, and the relatively high value of bond strength demonstrated that this cement bonded well to enamel. However, under clinical conditions high bond strength with cohesive cement failure means that increased effort must be expended to remove the retained cement from the enamel surface.
Bond strength testing is typically performed in shear or tension, using a screw-driven or servohydraulic universal testing machine (Chapter 2), although torsional testing has been reported. In shear testing, the bonded bracket is loaded by a blade in tension or compression or by a wire loop in tension, so that the bracket slides parallel to the enamel surface. Pure shear loading is difficult to achieve, and most shear testing also includes components of peeling, tension, and torsion. In tensile testing the bracket is pulled perpendicularly from the enamel substrate. Both shear and tensile loading modes are valid tests for studying bond strengths of orthodontic materials. The goal in bond testing should be to achieve a coefficient of variation [(standard deviation/mean) × 100%] in the range 20–30%. Typically, tensile testing produces a lower coefficient of variation than the most common shear tests.
Bond testing using teeth involves many variables that can affect the measured bond strength. These variables include: (1) type of tooth (e.g., incisor, molar, human, bovine); (2) fluoride content of tooth; (3) disinfection and storage media of tooth before bond/>