Good to very good long-term prognosis for initial endodontic treatment has been demonstrated in controlled clinical studies. Retrospective as well as randomized clinical studies have demonstrated healthy periapical conditions after an observation time of 4 or more years in more than 90% of all cases of teeth treated endodontically (Strindberg 1956; Molven et al., 2002; Farzaneh et al., 2003). Periapical periodontitis is a significant factor that influences prognosis. In teeth with periapical disease at the start of retreatment procedures, the Toronto study demonstrated that after 4–6 years, almost 80% of the retreated teeth exhibited a healthy periapical condition (Farzaneh et al., 2004).
On the other hand, epidemiologic studies have shown that the aforementioned good treatment results are only seldom achieved in general dental practice. Overall, 25%–35% of teeth treated endodontically in a general dental practice will have persisting apical periodontitis. The quality of the root canal filling was determined to be a criterion that significantly influenced the overall clinical result (De Moor et al., 2000; Kirkevang and HorstedBindslev, 2002).
If it is not possible to reduce the level of microbial infection of the complex root canal system to at least below a clinically relevant level, the periradicular lesion will not heal or will only heal incompletely. Common causes of failure of the root canal treatment are: inadequate asepsis, inadequate access cavity preparation, undetec ted (missed) and therefore unfilled root canals, insufficient instrumentation and root canal filling technique, as well as coronal leakage.
Nonsurgical retreatment remains the treatment of choice in cases of persisting periapical periodontitis. In contrast to a surgical procedure, it offers a minimally invasive approach to the cause of the problem without the danger of damage to adjacent anatomic structures; it is also associated with significantly lower postoperative discomfort for the patient (Friedman, 2002). But even carefully carried out endodontic treatment can end in failure when the extremely complex root canal system can be only partially cleansed and filled three-dimensionally using the treatment techniques currently available.
Additional causes of the persistence of periapical radiolucencies include the so-called extraradicular infections, e.g., Actinomyces, foreign-body reactions (e.g., filling materials, presence of cotton fibers, food particles, etc.), infected cysts, or the scarred healing of the periapical tissues (Nair, 2006). In such cases, a microsurgical approach is recommended. On the basis of a meta-analysis, Friedman (1998) demonstrated that surgical root canal therapy in combination with orthograde retreatment led to significantly better results.
If endodontic retreatment is deemed necessary, several—some very complex—factors must be considered during treatment planning. The clinician must have a clear understanding of the etiology and pathology of the periapical lesion, the microbiology, as well as the technical possibilities and limitations of the retreatment procedure. It is important to note that the success of the endodontic retreatment procedure is highly dependent on the degree of training/education of the clinician. As this may be out of the scope of experience and expertise of the general dentist, referral of such cases to a specialist with appropriate experience and knowledge may be appropriate.
No less important is the participation of the patient in the discussion of retreatment possibilities, with all due consideration of the costs and risks.
When Should Retreatment be Considered?
If endodontically treated teeth exhibit persisting or acute clinical symptoms, lesions of endodontic origin (Kvist, 2001), or periodontal disease as a result of endodontic problems, retreatment should be considered.
Also restorative problems, such as reinfection of the root canal system because of coronal leakage or the necessity for additional restorative treatment in the face of inadequate root canal therapy, represent indications for endodontic retreatment. On the other hand, orthograde retreatment may be contraindicated if no pathology is present or if the patient is unwilling to accept the risks of retreatment or the higher costs that are often associated with necessary prosthetic retreatment.
Alternative treatment strategies including consultations with other specialists (prosthodontist, periodontist, implantologist, orthodontist) should be a part of the treatment planning, and should be openly discussed with the patient.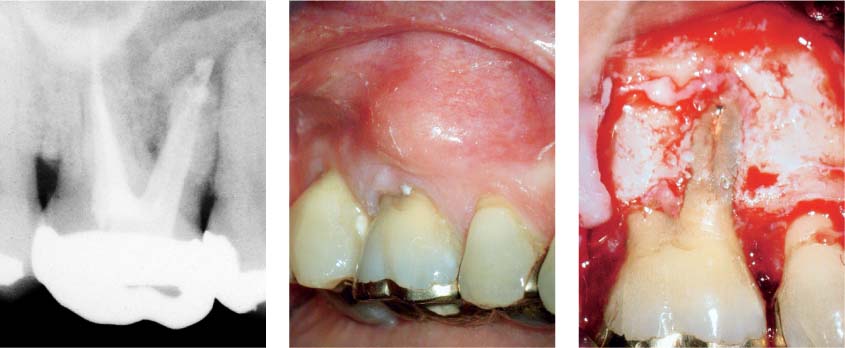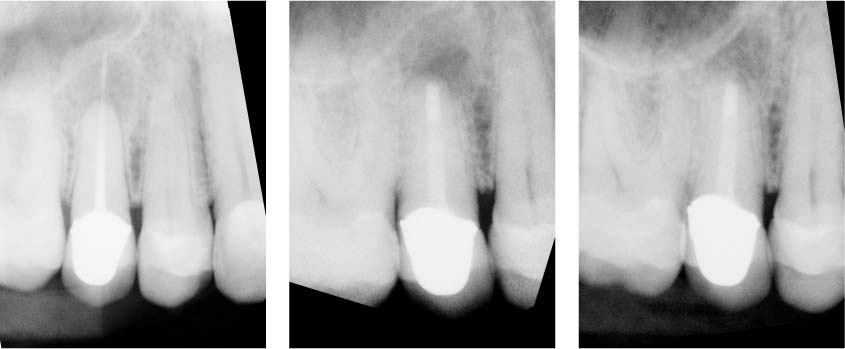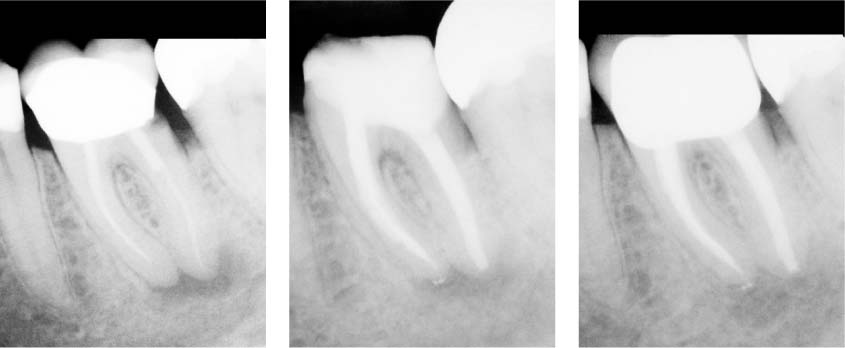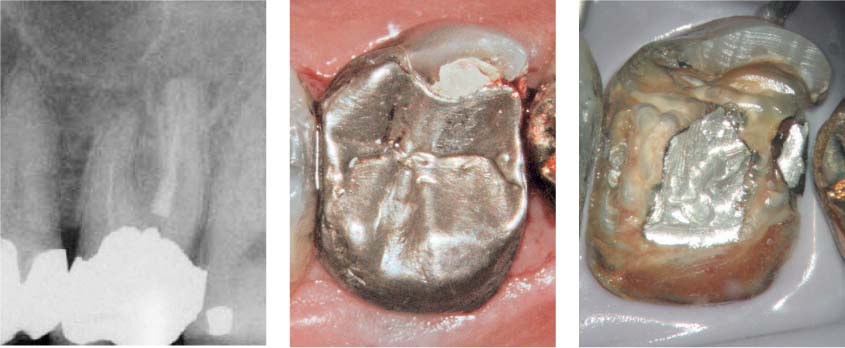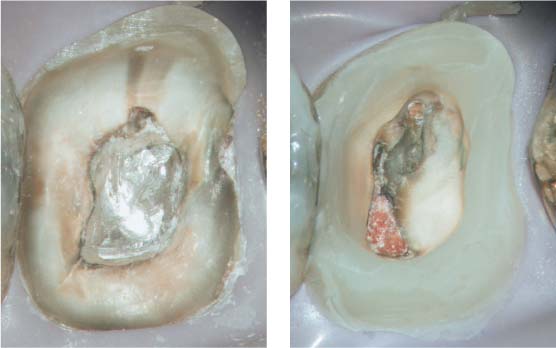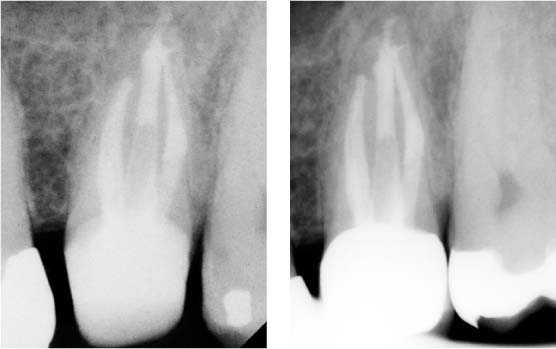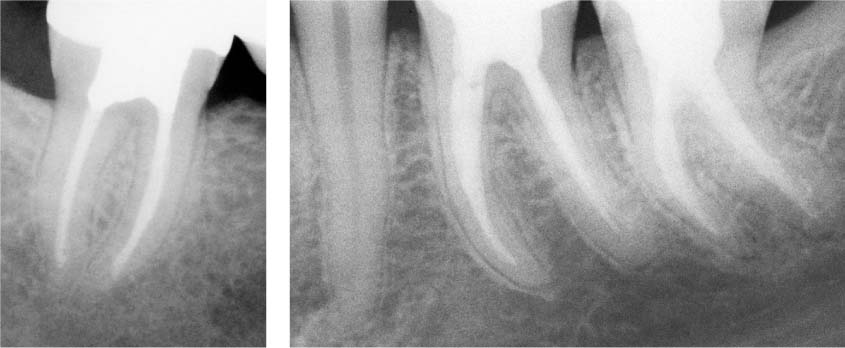 The prevention or the healing of apical periodontitis (AP) as well as the long-term retention of the tooth in a functional and symptom-free condition is the goal of any endodontic treatment. On this basis, endodontic therapy can be termed "successful" when the tooth remains healthy without any radiographic evidence of periapical inflammation or destruction and when there are no clinical symptoms or other signs of inflammation.
On the other hand, a clinical "failure" is characterized by the persisting presence of periradicular inflammation and/or the occurrence of clinical symptoms and signs of inflammation. In this regard, one must differentiate between such cases and those that exhibit typical signs of periapical inflammation but are nevertheless in the healing phase.
Apical periodontitis can take up to 4 years or more to completely heal, but in 89% of cases radiographic signs of healing can be observed after only 1 year (Orstavik, 1996).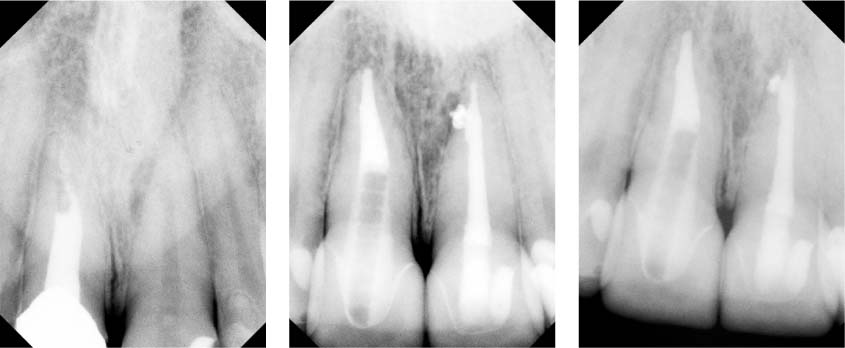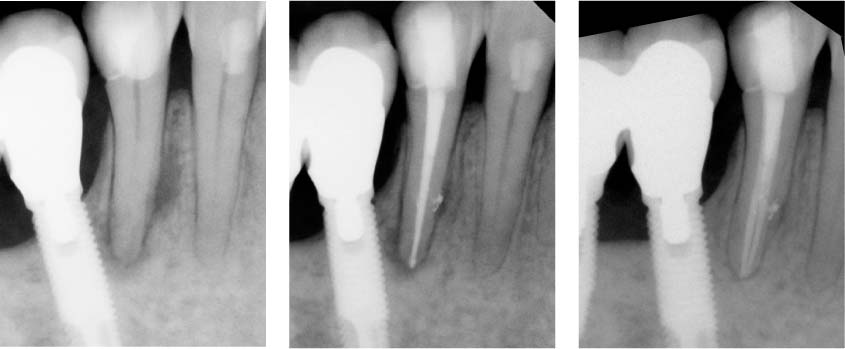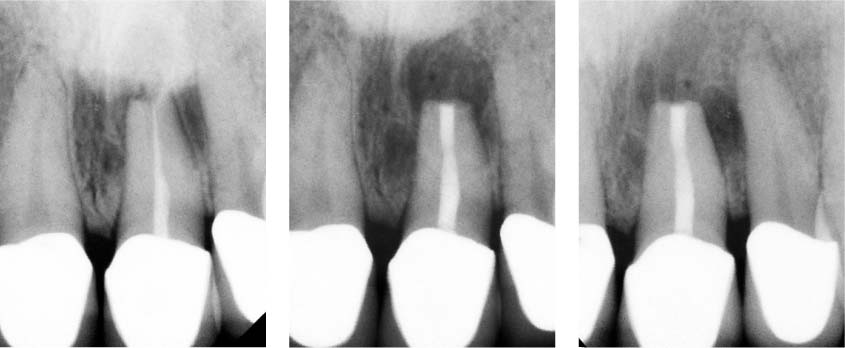 Teeth being considered for endodontic retreatment must be carefully examined with regard to their periodontal integrity. Deep probing depths, mobility, furcation involvement, unfavorable crown–root ratio, bone loss, and mucogingival problems can negatively influence the long-term prognosis of the tooth (Kois, 1996). Teeth requiring endodontic retreatment often exhibit pronounced loss of tooth structure, subgingival caries, or perforations at the level of the alveolar crest.
For a good, long-term prognosis of the subsequent prosthetic treatment, sufficient dentin for the "ferrule effect" (Sorensen, 1980) and an intact biologic width must exist (Ross and Garguilo, 1982). In addition, purely endodontic problems such as external root resorption can negatively influence the longevity of any tooth (Heithersay, 2004).