Daniel Clifford
Department of Oral and Maxillofacial Surgery, Naval Medical Center San Diego, San Diego, California, USA
A procedure performed to reduce excessive soft tissue from the maxillary tuberosities.
Excessive soft tissue tuberosity
Interference with prosthetic rehabilitation
Infection, ulceration, and/or pain
Masticatory dysfunction or trauma
Adequate topography for a retentive and stable prosthesis
Adequate space for prosthetic fabrication
The tissue to be excised is marked with a sterile marking pen based on the prosthodontic treatment plan (see Figure 3.1 in Case Report 3.1).
Local anesthesia containing a vasoconstrictor is administered via posterior superior alveolar and greater palatine nerve blocks. Additional local anesthesia containing a vasoconstrictor is injected directly within the fibrous tuberosity to aid in hemostasis.
A full-thickness elliptical incision is initiated over the posterior alveolar ridge in the area of desired tissue reduction. The intervening wedge of tissue is removed (Figure 3.2, Case Report 3.1). If additional tissue reduction is necessary after the initial wedge resection, additional tissue may be removed from the buccal and/or lingual flaps until the desired reduction is accomplished (Figure 3.3, Case Report 3.1).
The area is checked for adequacy of reduction and for hemostasis. Tension-free primary closure is performed utilizing 3-0 resorbable sutures (Figure 3.4, Case Report 3.1).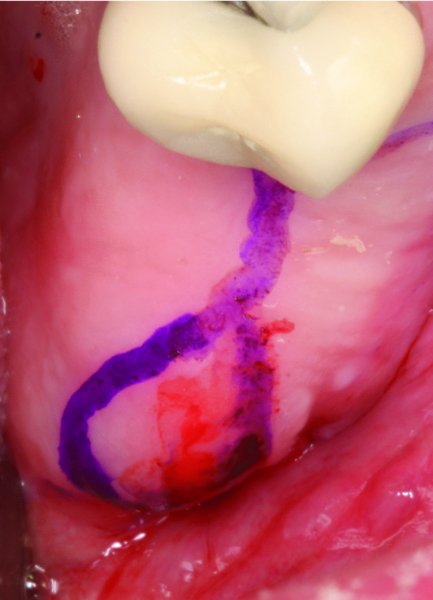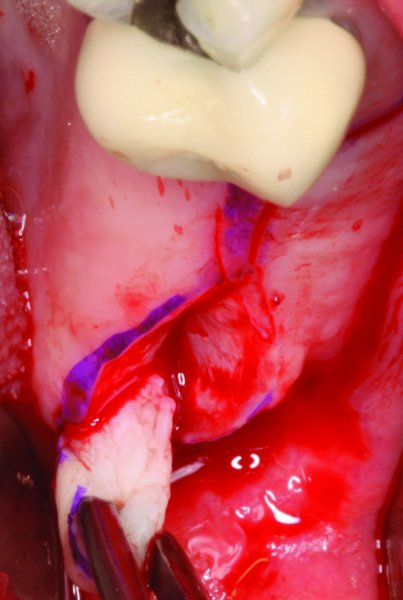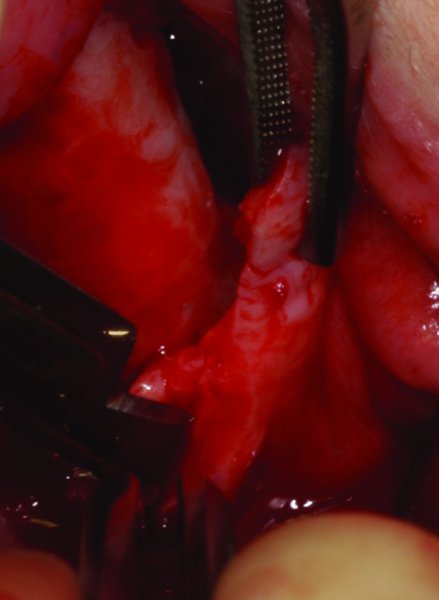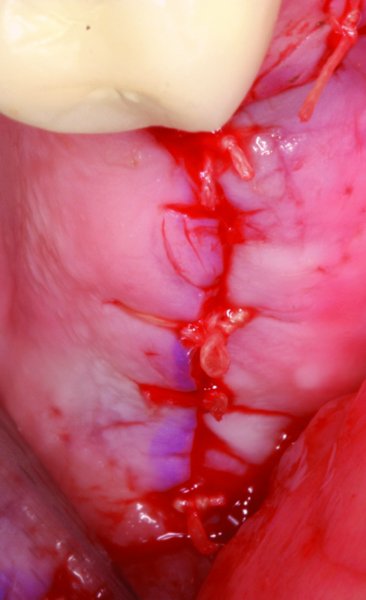 Analgesics are prescribed based on the amount of tissue removed.
A clear liquid diet is recommended for 24 hours, with the patient advancing to a regular diet as tolerated.
Saltwater rinses are begun three times a day beginning the day of surgery.
For patients receiving an immediate prosthesis, denture adjustments or relines to the prosthesis are initiated within 72 hours of surgery.
Hemorrhage: Arterial bleeding from the greater or lesser palatine arteries is controlled with constant, direct pressure.
Infection: Occurs from poor oral hygiene, food impaction, and necrotic tissue resulting from an ill-fitting prosthesis. Treated with improved oral hygiene, chlorhexidine gluconate 0.12% oral rinses, and oral antibiotics.
Tissue necrosis: Typically occurs from a poor-fitting maxillary prosthesis. Treatment involves the relining or removal of the offending prosthesis and the debulking of necrotic tissue.
A procedure performed to reduce or recontour a bony protuberance, or torus, of the mandible.
Interference with prosthetic rehabilitation
Infection or ulceration of overlying tissues due to trauma
Pain or impingement of the lingual frenum
Masticatory dysfunction
Negative impact />