Timothy J. Halligan1 and Kelly A. Halligan2
1 United States Air Force Dental Corps, Colorado Springs, CO, USA
2 Private Practitioner, Colorado Springs, CO, USA
Introduction
In 2010, Americans aged 65 and older numbered over 40 million (approximately 13% of the US population). Since 2000, this age group has increased almost twice as fast as those aged under 65. By 2030, 20% of the US population is expected to be over the age of 65. The fastest growing age groups of Americans are those over the age of 85. From 2010 to 2020, this population will increase 19%, more than any other age group. This growth of the older adult population has been spurred by the aging of the baby boomers and the increased longevity of the elderly due to improved medical care, more availability of community services, and improved quality of care in long-term living facilities (US Department of Health and Human Services, 2011).
As mentioned in previous chapters, growth in the elderly population is growing at an astounding rate. This growth impacts present and future housing markets through development of more living communities that cater to seniors' lifestyles and values. Housing options for the elderly include: (a) independent living/age in place (including unassisted elderly communities); (b) shared housing; (c) assisted living facilities; (d) board and care facilities; (e) continuous care communities; and (f) nursing homes. This chapter will highlight the various options for living facilities for the elderly, describe factors to consider when choosing a particular arrangement, and explain why people prefer certain arrangements over others. Understanding these available options prior to time of immediate need will help seniors and their family members make informed decisions for future living arrangements.
According to the 2010 US Census Bureau Report, 22% of Americans aged 65 and over currently live alone, 63% live with a spouse, 13% live with other relatives, and 2% live with nonrelative caregivers, in self-owned, single-family, detached houses in mixed-age, higher-income neighborhoods. Three-fourths of the elderly live in metropolitan areas, with a majority living in the suburbs (US Census Bureau, 2010). Living arrangement choices are affected by multiple factors, including preference, proximity to family, cost, need for medical care, desire for more social interaction, etc. However, fragility, or the need for assistance to perform Activities of Daily Living (ADLs), usually determines which living situation is the best option. The six ADLs assessed when determining level of independence are: (a) walking; (b) dressing; (c) bathing, personal hygiene; (e) eating; (f) getting in and out of bed; and (g) toileting. Failure to independently perform any of these ADLs increases fragility (McDowell & Newell, 1996). Additionally, Instrumental Activities of Daily Living (IADLs), including, but not limited to, ability to independently perform housework, prepare meals, shop for groceries, use the telephone or other technology, take medications, manage finances, or use transportation within the community, are not necessary for fundamental functions that can be supplemented with assistance from family, friends, or outside agencies to enable the individual to live independently in a community (Bookman et al., 2007; McDowell & Newell, 1996; Schafer, 1999). IADLs can also be helpful in deciding which living arrangement option is best, and failures in ability to independently perform IADLs could potentially be overcome with in-home services.
Most people believe seniors' living arrangements of choice are assisted living communities. However, almost 90% of people aged 65–74, and over 95% of people aged 85 and older would rather stay in their homes. Figure 3.1 summarizes the results of a 1996 American Association of Retired Persons' (AARP) survey on seniors' choices for living arrangements (AARP, 1996).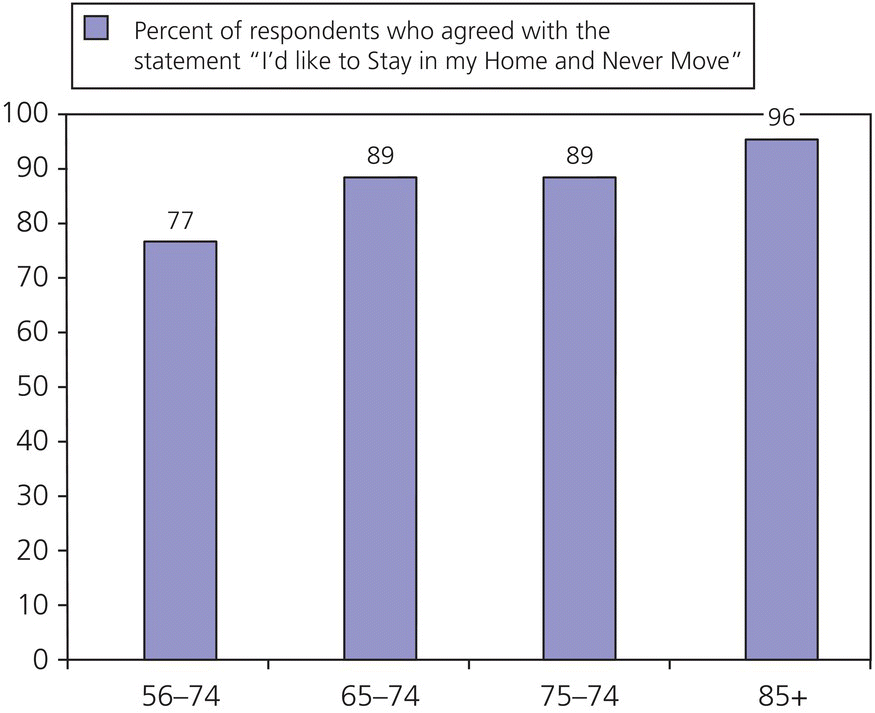 Knowing these statistics, seniors and their family members must consider home design, level of needed care, the seniors' desires, and cost when choosing the appropriate living arrangement for themselves or loved ones. Below, are descriptions of living arrangement options for seniors to consider.
Independent living/age in place
Building or designing a home that is modifiable as ADLs levels deteriorate is an ideal choice for those seniors who plan to age in place. This design requires preplanning a single-story building to include minimal outside grade and stairs for access, wider door openings for wheelchair passage, and/or creating a bedroom with a full bath off the main living area. If the home was not selected or designed for future needs, simple alterations in an existing home may allow the senior to stay at home for many more years. As the senior's ADLs and IADLs levels deteriorate, they can implement various home care options. These options include: (a) home management assistance (assistance with household chores and shopping); (b) home meal delivery (e.g. Meals on Wheels); (c) personal nonmedical assistance (assistance with ADLs); (d) personal medical assistance (home health aide); and (e) licensed home health care (registered nurse, physical therapists, and occupational therapists). A rapidly growing profession, geriatric care managers, specializes in assessing living arrangements for the elderly and can give objective recommendations. Services provided include conducting home care assessments (recommendations to meet resident's needs), conducting interviews to hire and manage home health care, providing counsel on legal issues, determining fragility, recommending best housing options; and transition support for seniors and their family members.
Geriatric care manager agencies are often expensive for seniors not enrolled in a senior managed care organization (SCO). The monthly cost of retaining a geriatric care manager agency is in addition to the cost of the required service personnel. SCOs are managed care groups for Medicaid recipients who receive a capitated payment per individual per month to manage all the enrollees healthcare needs – acute, chronic, inpatient, and outpatient.
Congregate housing/retirement communities
Ambulatory seniors who can perform most of their ADLs but desire more social interaction should consider congregate housing or retirement communities. Often, these communities provide a variety of social and recreational activities for their residents. Seniors live in their own apartment units, share some meals in a central dining room, and are eligible to receive some housekeeping services (Fig. 3.2). Typically, these communities do not require entrance fees. Some of them, however, receive public subsidies that help keep rental fees down. Therefore, rental fees vary widely, and meals and other services may cost extra. Unfortunately, many of these facilities have years long waiting lists and stringent income requirements, catering to lower income individuals.

The option to stay at home may become unreasonable due to a medical complexity, physical fragility, or the development of a disability. In 2010, 37% of older persons reported some type of disability (i.e., loss of function in the following areas: hearing, vision, cognition, ambulation, self-care, or independent living). Although some of these disabilities may be relatively insignificant, others could force seniors into some form of assisted living (US Department of Health and Human Services, 2011). Typically, a spouse, family member, physician, or other trusted source determines the need for changing the living arrangement from independent to assisted living. Sometimes the other party (spouse, family member, clergy, etc.) may realize the need for a change in living arrangements before the senior does. This can often lead to discussions between and among the parties over an extended period of time before a />