2
Risk Assessment
Implant dentistry requires the execution of a thorough treatment plan to obtain an ideal result for the patient. Although a proposed implant site may initially appear straight­forward, the clinician should be aware that there is nothing "simple" about outcomes with dental implants. This is certainly true regarding treatment plans in the esthetic zone and especially valid with regards to immediate implant placement. The clinician's primary goal should be to provide the patient with the highest level of outcome possible with the least degree of risk or complications (Dawson, Chen, et al. 2009). With this as the endpoint, several primary factors should be evaluated. These include the judgment and experience of the dentist, the local and systemic factors of the patient, and the biomechanics of the chosen implant system and grafting materials (Figure 2.1). Together, comprehensive evaluation of these factors will empower the dental team toward obtaining an ideal outcome.
SURGEON
It is clear that implant dentistry is not "easy." Not only is the dental team responsible for achieving a perfect esthetic, functional, and phonetic outcome, but it is also often responsible for the reconstruction of the alveolar bone and peri-implant soft tissues. This is often the case with immediate placement procedures (Figures 2.2–2.5).
As a mechanism to assist dental teams with their understanding of treatment planning, the Swiss Society of Oral Implantology (SSOI) and the International Team for Implantology (ITI) have adapted the SAC classification for surgical and prosthetic applications for implant dentistry with S = Straightforward, A = Advanced, and C = Complex (Dawson, Chen, et al. 2009) (Tables 2.1–2.4). From discussions in this classification system, immediate placement is to be considered "complex" and treatment should be limited to those surgeons with significant experience in implant procedures, hard and soft tissue grafting, extractions, and handling early and late complications. This increased level of surgical knowledge and expertise will complement the actual physical assessment of the patient from a medical, dental, and psychological viewpoint. The complex nature of immediate placement represents a challenge to the most experienced clinicians, requiring significant skills, competence, and knowledge should a complication arise.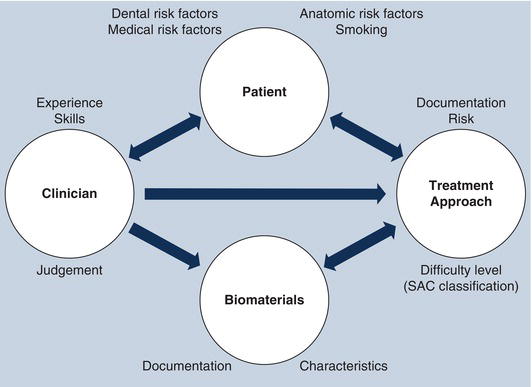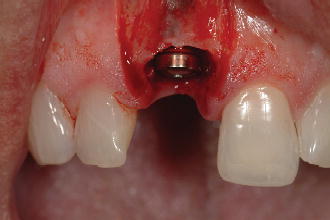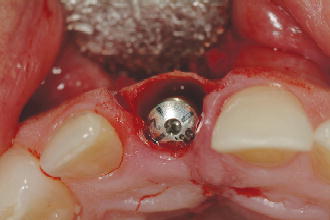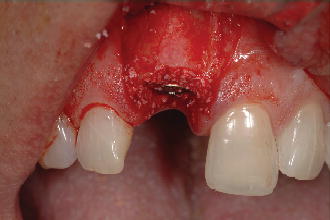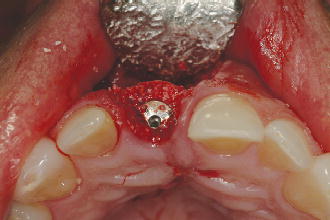 Surgery—Straightforward
Simple surgical intervention
No anatomical risk
No surgical risk
Low complications
Sufficient bone quantity
Sufficient vertical/horizontal dimensions
Surgery—Advanced
Challenging surgical intervention
Anatomical risk
Little surgical risk
Possible complications
Single tooth esthetic gap in maxilla
Osteotome sinus lift
Simultaneous membrane technique
Surgery—Complex
Complicated surgical intervention
Anatomical risk
High surgical demands
Expected complications
Edentulous maxilla
Bilateral sinus grafting
Vertical augmentation
Graft harvesting
Complex soft tissue grafting
High esthetic demands
Immediate implant placement/loading
PATIENT
Assessing the individual risk profile of a patient is critical when developing a dental treatment plan for both conventional and implant dentistry. There are many situations that arise that will direct a seemingly straightforward implant treatment plan into a non-implant approach for a patient. This stems from the fact that the assessment of a patient for implant treatment is multi-factorial, involving two basic concerns: systemic risk and local risk (Dawson, Chen, et al. 2009). Systemic risk includes the medical and physiological well-being of a patient, while local risk involves dental and anatomic-related issues. Appropriate evaluation and assessment of these risk factors or indicators will help the clinician avoid unnecessary post-treatment complications and assist in providing the patient with the desired outcome.
SYSTEMIC RISK
Much has been written in the literature regarding the medical health of a patient who is being evaluated for implant surgery. It is important to recognize those diseases or conditions that negatively impact the wound healing, bone remodeling, and long-term maintenance of osseointegrated implants with which a patient presents. Systemic contraindications for dental implant surgery have been divided into two main groups: very high-risk (group 1) and significant risk (group 2) (Buser, von Arx, et al. 2000). Very high-risk patients are those who present with serious systemic diseases (rheuma­toid arthritis, osteomalecia, osteo­genesis imperfecta); immunocompromised patients (HIV, immunosuppressed medications); use of intravenous bisphosphonates; drug and alcohol abusers; and non-compliant patients (including psychological and mental disorders) (Table 2.5). Significant risk patients include those who have irradiated bone (­radiotherapy); severe diabetes; bleeding disorders (hemorrhagic diathesis, drug-induced anticoagulation); and heavy smoking habit (Table 2.6). It is important that risks for implant failure and risks for medical complications should be differentiated and evaluated. In some instances, medical conditions and their treatments may pose an increased risk for implant failure, whereas the risk for the patient may be minimal.
Very High Risk
Rheumatoid arthritis
Osteomalecia
Osteogenesis imperfecta
HIV
Immunosuppressed medications
IV bisphosphonates
Drug and alcohol abuse
Psychological disorders
Mental disorders
Significant Risk
Radiation therapy
Severe diabetes
Hemorrhagic diathesis
Drug-induced anticoagulation
Heavy smoking habit