Harvey Levy
Frederick Memorial Hospital, Frederick, MD, USA
Introduction
The purpose of this chapter is to offer practical tools, tips, and techniques for establishing and conducting a successful and much needed portable dentistry practice to serve the growing unmet needs of our aging population, especially the frail, medically complex, homebound individuals. In this chapter, we share the "best practices" that have evolved from many years of developing and refining systems that work, both for the patient and the dental team.
We first need to differentiate portable dentistry from mobile dentistry. Portable dentistry is what occurs when the dentist treats patients at locations not outfitted with the needed medical and dental equipment, such as nursing homes, private homes, and institutions. The dentist transports dental supplies and equipment from the office to the location. Mobile dentistry, on the other hand, mostly involves equipment with wheels. At the hospital or surgical center most of the needed equipment is already in the building, and is merely wheeled into the patient's room, the emergency room, or the operating room. Mobile dentistry and working in an operating room are beyond the scope of this chapter. This chapter will discuss the essential elements of portable dentistry.
Radiographs
For an initial evaluation, the most important diagnostic tools are the Aribex NOMAD-Pro® handheld X-ray unit, coupled with the DEXIS® instant digital imaging software and sensor installed on a laptop (Figs 18.1 & 18.2).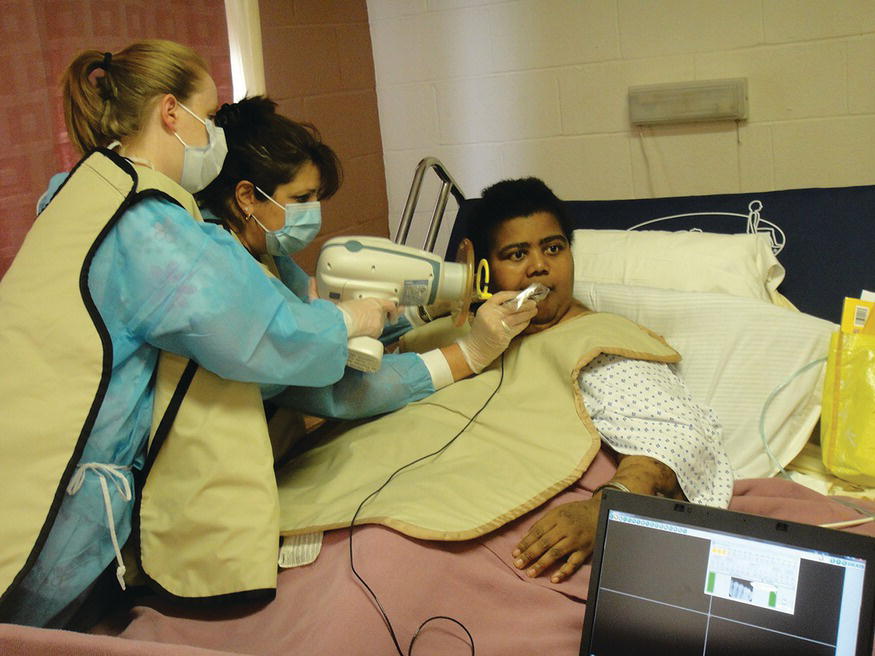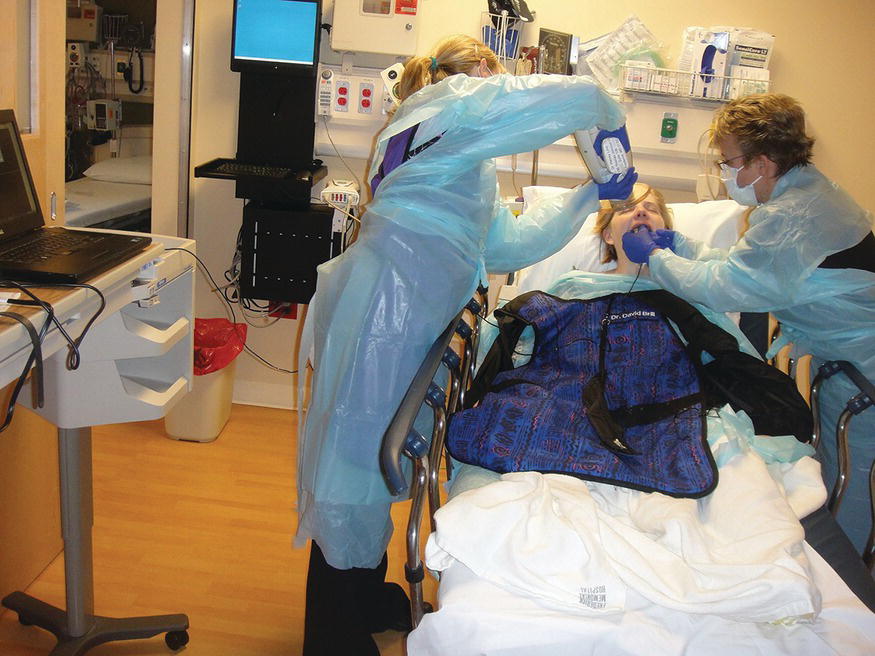 The NOMAD-Pro® handheld X-ray unit is cordless and weighs just over 5 lbs. It looks like a police officer's radar gun, and is practical for taking X-rays in any location. Its battery is capable of exposing 1000 films, and a second battery is provided with the equipment. The NOMAD®, an older unit, weighs just over 8 lbs. The estimate price of under $7000 is cost-effective if used for more than one operatory, eliminating installation construction, ease of relocating, being serviced, or used away from a fixed operatory wall.
DEXIS® digital images are instantly obtained and provide excellent resolution, which enables performing root canals and quickly identifying fractured root tips in a portable setting. Digital images have the further advantage of being readily archived and easily e-mailed.
When a laptop is not available, the backup for portable imaging is the inexpensive Ergonom-X® self-developing Dental Film, which requires between 60 and 90 seconds of processing (Fig. 18.3). It comes with its own in-packet chemicals, and requires no extraneous developing equipment or electricity. Because it contains no tin or aluminum foil, backwards or herringbone pattern errors are precluded.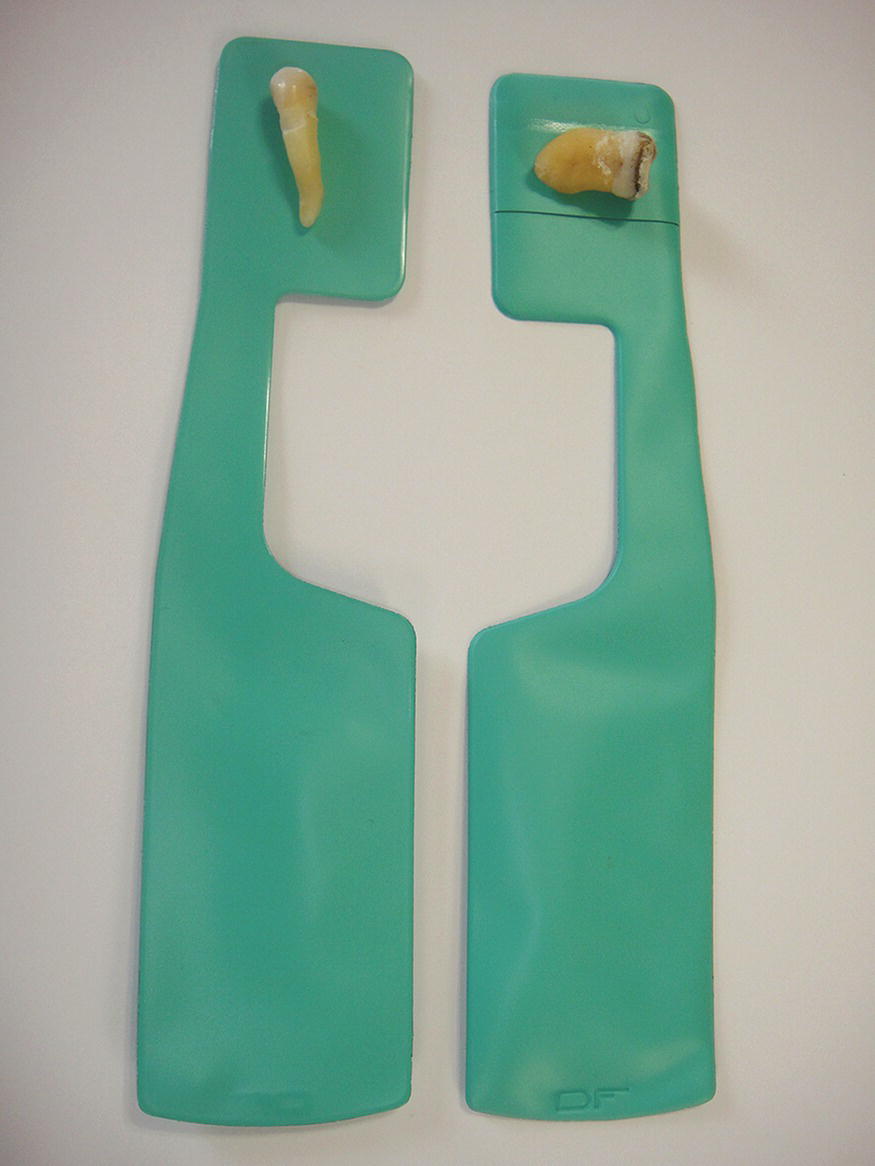 Suction
Operating rooms have better evacuating units than most dental offices. Out in the field, treatment requires suction units with enough capacity to complete all the necessary work on one patient. Such units must be lightweight, portable, and easily cleansable. A single canister unit (Fig. 18.4) fills up quickly and requires halting dental treatment to empty it out, whereas a multiple canister unit allows for a simple toggle switch. This same capacity limitation holds true for the water source. A single one-liter water bottle requires halting the handpiece or scaler while the water is replenished. Dual bottles have double the capacity and generally do not require interrupting use of the handpiece or scaler.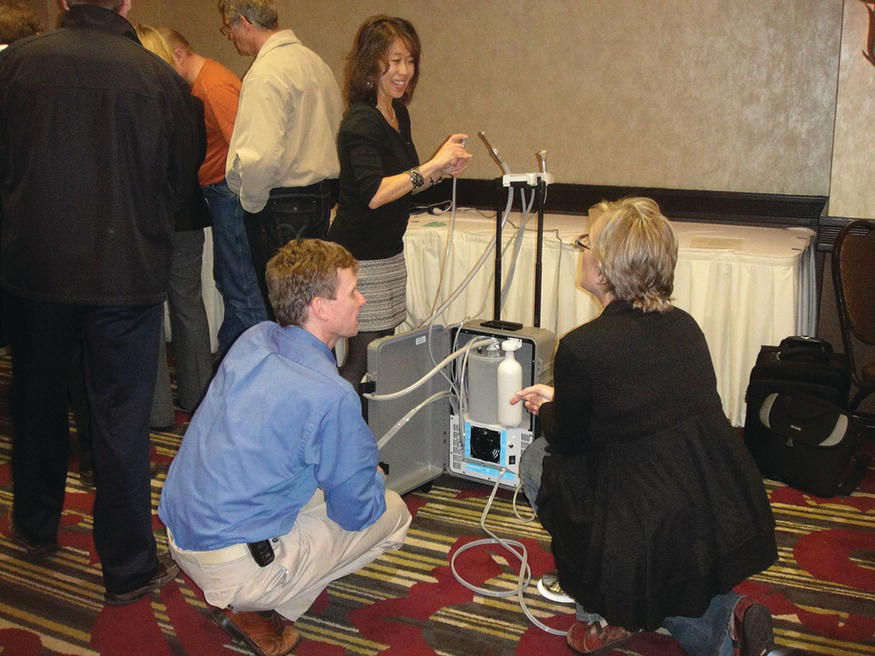 Portable and mobile carts
There are a variety of portable and mobile dental carts that can be quickly assembled/disassembled and transported.
Portable carts
ASI Medical makes the Triton®, which looks like a small suitcase, is plumbing-free, and easy to transport in a car or van. Just as portable and with convenient carrying cases is Mobile Dental Systems' Port-Op III®. Aseptico also provides popular plumbing-free lightweight models that are easily transported, set up and maintained, such as the one in Fig. 18.4. These compact and compartmentalized "set-up and go" units readily pack up to travel in a car across town, or in an aeroplane across the world on mission trips.
For simple prophylaxis cleanings, the small rechargeable portable prophy handpieces are excellent. In states where hygienists can perform off-site exams and cleanings without a dentist present (see Chapter 19), the units are light enough to be carried by the hygienist without an assistant.
It is essential to have a backup prophy unit on hand in the event of a nonfunctioning unit or one where the battery has run down. In its absence, a failed or discharged prophy head is likely to require a second visit to the patient, causing increased expenditure of resources (time and expense for the patient and/or dental professional).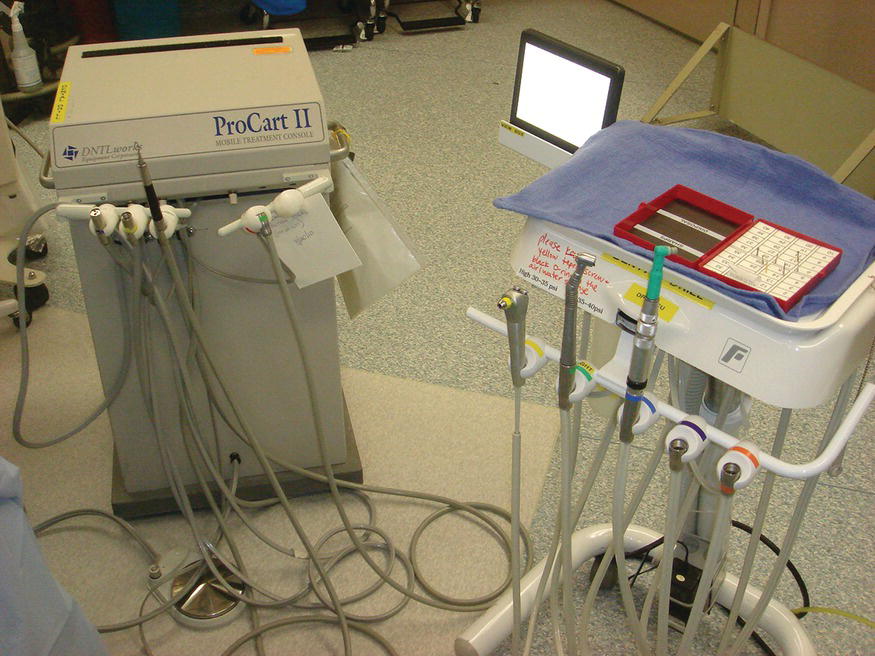 Aseptico's rolling AMC-20® has two water canisters, instead of one, making it ideal when being moved and used within a facility. Another excellent two-canister, four-wheeled mobile cart is DNTL's ProCart III®. These units are designed to be wheeled, rather than disassembled, and hand-carried to a site.
Lighting
Carts may come with a wide variety of light sources. Based on experience with all kinds of lighting – attached vs. free-standing, battery-powered vs. electric – dental professionals generally prefer to selection to those that fit around the user's head without umbilically connecting him or her to the wall (Fig. 18.6).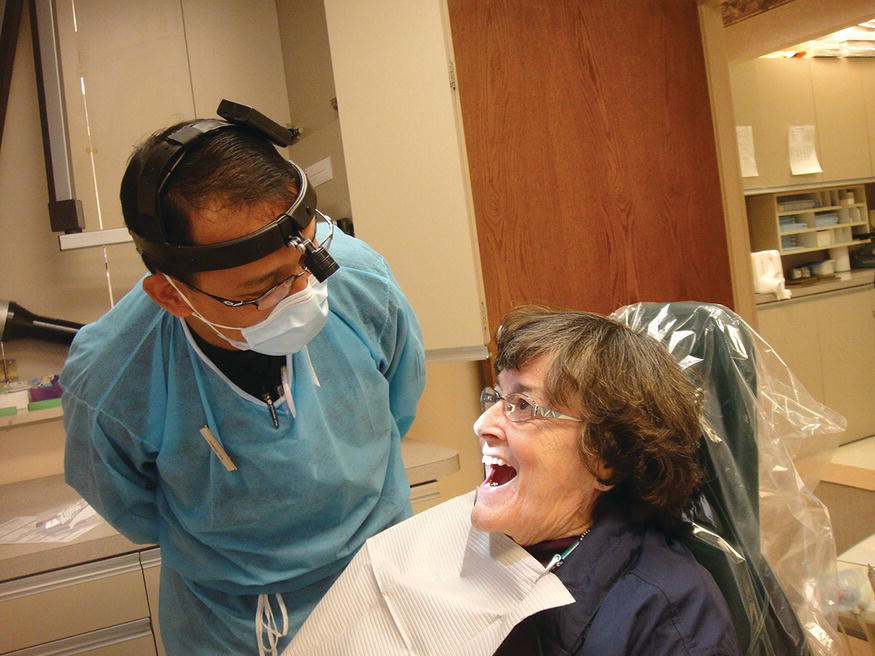 The under-$30 Panther Vision PowerCap® by Lowes has up to three lights shining straight ahead. It allows head movements to follow the patient's moving head, keeping the teeth always well lit. These inexpensive and practical "light hats" are also useful in cars and homes for emergencies. Our favorite of all head lights is the Ultralight Optics lights due to the low cost, light weight, and high multi-use versatility.
Patient chairs (Fig. 18.7a,b)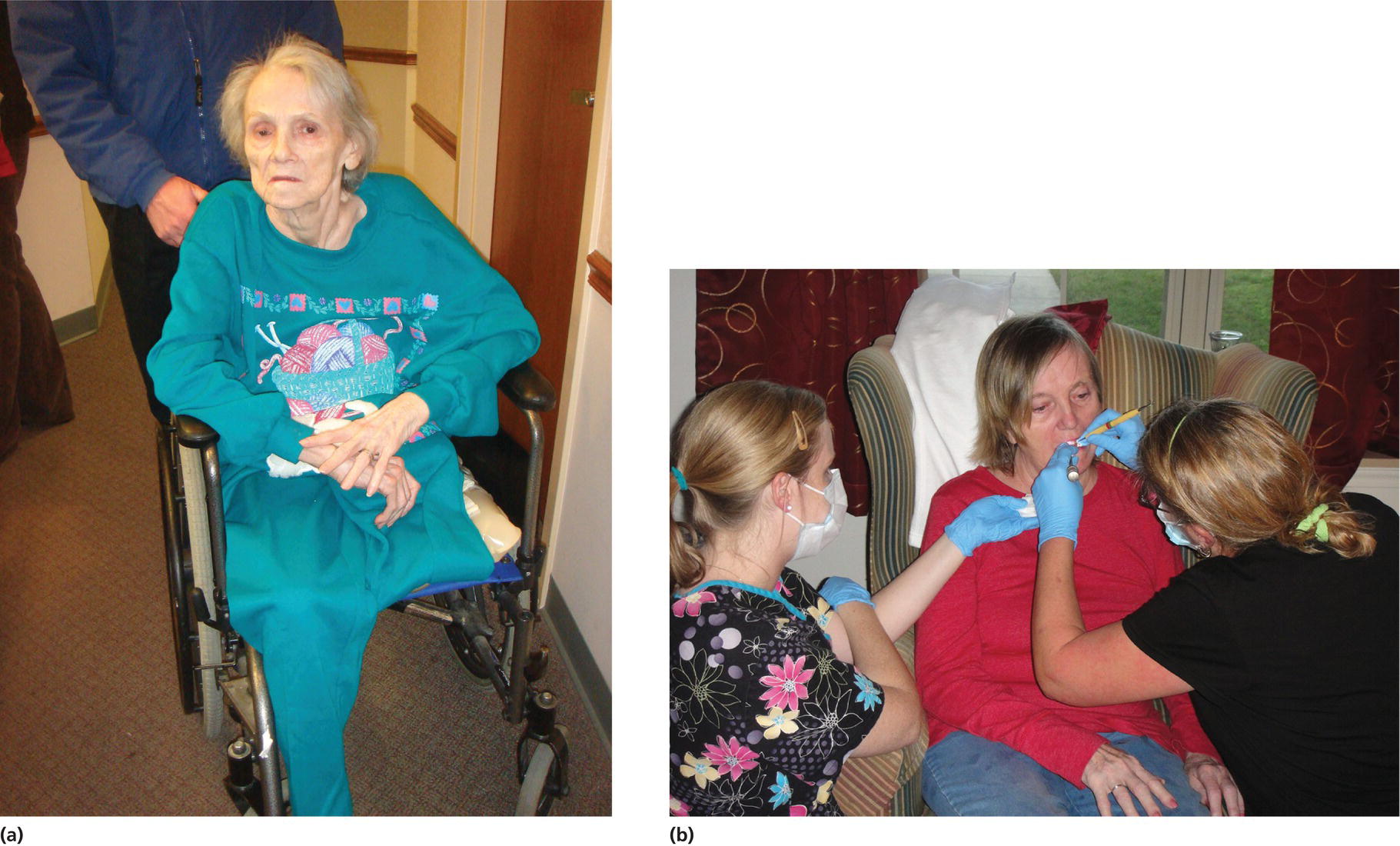 Chairs run the gamut from $5 discount store folding stools to our favorites – the sophisticated and readily movable DentalEZ Airglide® J-chairs or DentalEZ Nu-Simplicity® chairs. In a dental office, these Airglide® J-chairs or Nu-Simplicity® chairs with hovercraft technology move around on a cushion of air, allowing patients to remain in the comfort of their own wheelchair or gurney if they wish. The cost range of $5000–8000 is reasonable when you factor in the unique versatility of movement and transport. Options within nursing homes include the beauticians' chairs. In private homes, the patient or caregiver will make the selection from what is available and comfortable for the patient within the home. It is helpful to always have a portable folding chair in the provider's car, and to bring it in when needed.
Lathe
Denture adjustments are easy with the proper lathe to supplement the handpieces. These are included with some of the portable and mobile carts, and can also be purchased at a hardware store. It is important to carry a second lathe or a backup dremel (such as a Sears portable cordless drill) to be able to adjust removable appliances if the first one fails.
Computer equipment
A paperless workflow is becoming increasingly important, and eventually will become mandatory. Whether you are logged on to your office system via the internet, or make do with a pen/flash/USB drive to upload upon your return to the office, a reliable laptop is essential. You need fast access to your patient database to read their chart, and the ability to upload X-rays and clinical notes to the patient's file. The Dentrix® system integrates seamlessly with all other software and hardware in the practice, including the DEXIS® instant digital imaging software. Of course, individual preferences may vary.
Wraps and props
Wraps and props are often necessary for completing dental care on patients who are unable to cooperative. Velcro® hand restraints are vital in preventing a thrashing hand from causing an accident while the dental practitioner is holding a drill, needle, or other sharp instrument. Whether the hand movements are behaviorally intentional or medically involuntary, they can cause disaster. Specialized Care Company (www.SpecializedCare.com) makes the Rainbow Wrap® stabilizing system, soft hand restraints in conjunction with wraps made of colorful breathable mesh, all of which are adjustable with Velcro® (Fig. 18.8a). They are available in seven sizes and are able to effectively and gently immobilize most patients. Velcro® Rainbow® Knee Belts (Fig. 18.8b) are knee/leg stabilizers, and there are also head/forehead stabilizers, very effective in reducing sudden jerky movements. All these wraps are easy to apply, inexpensive, and readily washable.

Sp/>