Chapter 12
Preprosthetic Ridge Augmentation: Hard and Soft
In 1983, Seibert (1983a, 1983b) classified the different types of alveolar ridge defects that a clinician may encounter while planning a prosthetic rehabilitation. His classification described the following three clinical situations:
Class I alveolar ridge defects have a horizontal loss of tissue with normal ridge height.
Class II alveolar ridge defects have a vertical loss of tissue with normal ridge width.
Class III alveolar ridge defects have a combination of class I and class II resulting in loss of normal height and width.
The reconstruction of a normal alveolar housing, in height and width, is imperative to achieve a harmonious balance between biology, function, and aesthetics.
The indications of alveolar ridge defects occur when the loss of substance compromises the positive outcome of a prosthetic restoration. This is particularly true in the aesthetic zone, and most of the time is caused by periodontal disease, careless tooth extraction, chronic infection, implant failure, congenital diseases, trauma, or neoplasm.
The loss of gingiva or bone can be detrimental to the successful placement of an implant or a fixed partial denture. This loss of substance can be avoided by socket preservation or immediate implant placement, or treated with soft and hard tissue grafting.
When planning treatment for corrective surgery, it is important to inform the patient that a single procedure may not repair the defect, so a second, or sometimes even a third, procedure is sometimes warranted. A Seibert class I defect is easier to treat than a class II, which, in turn, is easier to treat than a class III. A class III defect will require multiple grafting. In addition, the prognosis is better in the case of horizontal defects as opposed to vertical or combined defects.
These defects can be corrected by the following procedures (Table 12.1).
Soft tissue grafts
These are the roll technique (small to moderate class I defects), free gingival onlay grafts (class I, II, and III defects), connective tissue inlay grafts (class I defects), wedge-sandwich grafts (class I and small class II), and soft tissue allografts [AlloDerm (acellular dermal matrix allograft); LifeCell, Branchburg, NJ, USA] for class I, II and III.
Hard Tissue Grafts
These are guided bone regeneration (GBR) with autogenous bone grafts, bone allografts, bone xenografts, synthetic bone substitutes, and block grafts.
Combination of soft and hard tissue grafts
The hard tissue graft used will depend on the extent and severity of the defect and on the type of prosthetic restoration that will follow. When an implant-supported fixed prosthesis is planned, a bone graft is needed with or without a soft tissue graft. However, when a fixed partial denture is planned, a soft tissue graft could be sufficient. It is important to keep in mind that a patient may need more than one surgery to correct a defect. In certain specific cases, procedures such as edentulous ridge expansion (ERE), distraction osteogenesis, and orthodontic treatment can be performed in conjunction with or in lieu of grafting.
This includes a basic surgical kit plus the following:
Polytetrafluoroethylene sutures [Gore-Tex (W.L.Gore, Flagstaff, AZ, USA), suture CV-5]
Barrier membranes: resorbable [i.e., Resolut (W.L. Gore), Bio-Gide (Osteohealth, Shirley, NY, USA), or Ossix (3i, Palm Beach Gardens, FL, USA)] and nonresorbable [i.e., Gore-Tex expanded polytetrafluoroethylene (e-PTFE)]
Bone allograft or substitute [i.e., Regenaform (Exactech, Gainesville, FL, USA), Dembone (Pacific Coast Tissue Bank, Los Angeles, CA, USA), Bio-Oss (Osteohealth), or Cerasorb (Curasan, Research Triangle Park, NC, USA)]
Acellular Dermal Matrix: AlloDerm (LifeCell)
Fixation screws: OsteoMed (Dallas, TX, USA)
Collagen plugs: CollaPlug (Zimmer, Warsaw, IN, USA)
Purified n-butyl cyanoacrylate glue (PeriAcryl) (GluStitch; Delta, BC, Canada)
| | |
| --- | --- |
| Soft tissue graftingc | Hard tissue grafting |
| Midto m oderate defects (3mm–6m m ) | M oderate tosevere defects (> 4mm) |
| Horiontaldefects | Horiontaland vertcaldefects |
| Fixed partaldenture | Implanttherapy |
| Availabity of softtissue | Inadequate soft tissue quantity |
| Q uestonable long-term stabity | Stable withtme |
| May need m ultiple augm entations | |
Technique
The soft tissue graft technique is particularly well suited when a fixed partial denture restoration is planned (Figs. 12.1 & 12.2). After proper anesthesia has been established, a partial thickness flap is elevated (Fig. 12.3). The horizontal crestal incision is slightly palatal or lingual with two vertical releasing incisions when necessary. Whenever possible, the vertical releasing incisions should be away from the external borders of the anticipated graft.
The partial thickness flap is raised and dissected beyond the mucogingival line to achieve coronal mobility. A connective tissue graft is harvested from the palate (Figs. 12.4 & 12.5), or a piece of AlloDerm is used when there is not enough autogenous tissue available. This graft is inserted under the buccal flap (Fig. 12.6) and secured to the periosteum with resorbable sutures (5-0 chromic gut P-3 needle).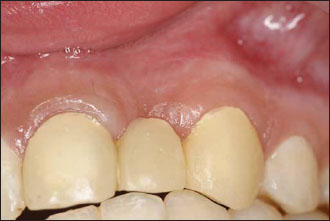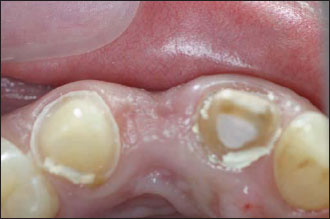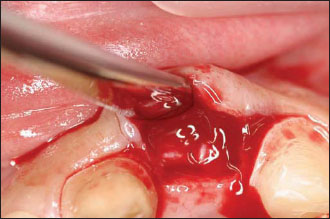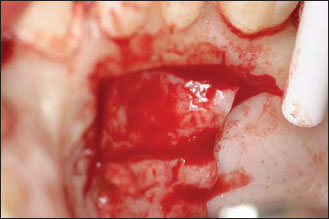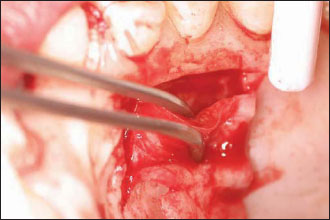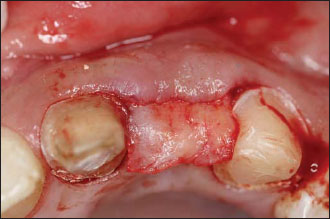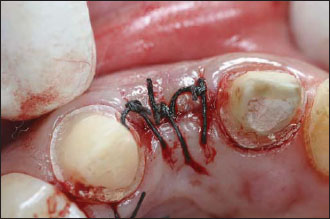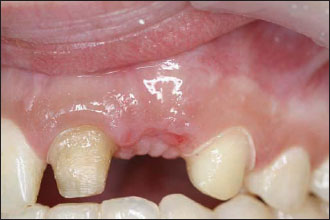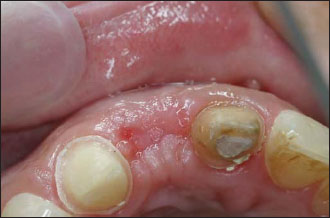 The partial thickness flap is then mobilized and coronally pulled to cover the graft. Single interrupted sutures are used to close the wound by primary intention (Fig. 12.7). It is advisable to keep the sutures in place for 2 weeks to ensure enough healing of the site (Figs. 12.8–12.10).
Use this technique when the crown preparation extends too far apically with or without a lack of attached gingiva (Figs. 12.11–12.20).
Hard tissue grafts are primarily used when an implant-supported restoration is planned. The hard tissue augmentation can be done with block grafts (autografts and allografts), particulate grafts (cort/>