Chapter 12
Management of Dento-alveolar Trauma and Oral Lacerations
Aim
This chapter describes the management of trauma to the hard and soft tissues of the mouth.
Outcome
After reading this chapter you should have an understanding of the techniques used to treat dental and oral soft-tissue injuries.
Introduction
The incidence of dento-alveolar trauma is higher in children than adults (Fig 12-1). In all cases it is important in the first instance to remember that other, more serious injuries may be associated. It is therefore important to bear in mind the principles of ATLS (Advanced Trauma Life Support), which underpin the management of all cases of trauma.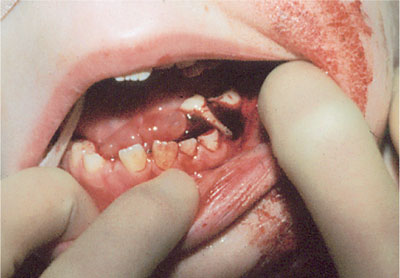 Primary Survey
The degree to which this is carried out will depend on the overall appearance of the patient at presentation. The primary survey may have been performed before the patient attends the dental surgery. The same principles should be borne in mind for all patients. They are given in Table 12-1. The most pertinent example of this is a patient presenting with dento-alveolar injury who gives a history of loss of consciousness. If such an event is not considered fully then potential danger can arise. The Glasgow Coma Scale (Table 12-2) is a useful tool in assessing the degree of head injury and is helpful in describing the patient when referring on for further management.
Table 12-1 Features of the primary survey – identification and management of life-threatening injures
Primary Survey
AIRWAY MAINTENANCE – CERVICAL SPINE CONTROL (UNCONSCIOUS = UNABLE TO MAINTAIN OWN AIRWAY)
BREATHING
CIRCULATION – AND CONTROL OF HAEMORRHAGE
DISABILITY – NEUROLOGICAL DEFICIT (GLASGOW COMA SCALE – BASED ON GRADED RESPONSES TO MOTOR, VERBAL AND VISUAL STIMULI)
EXPOSURE – TO LOOK FOR OTHER INJURIES (AND ENVIRONMENTAL CONTROL)
Table 12-2 Glasgow Coma Scale (GCS) – measures motor responsiveness, verbal performance, eye opening
Motor responsiveness scores (GCS)
6 = obeys commands
□
5 = localises pain
□
4 = withdraws from pain
□
3 = flexor response to pain
□
2 = extensor response to pain
□
1 = no response to pain
□
Best verbal performance scores (GCS)
5 = orientated
□
4 = confused conversation
□
3 = inappropriate speech
□
2 = incomprehensible speech
□
1 = no response
□
Eye-opening scores (GCS)
4 = spontaneous
□
3 = to speech
□
2 = to pain
□
1 = none
□
GCS score <8 = severe injury
GCS score 9–12 = moderate injury
GCS score 13–15 = minor injury
Secondary Survey
This is carried out once the patient's general condition is stabilised and entails a detailed head-to-toe examination. In the dental surgery, the secondary survey may be covered by relevant questions in the history if the trauma has been relatively minor and the primary survey has yielde/>