A WiPics transmitter allows wireless tranfer of images from the camera to the computer as the photos are being shot. This article describes this novel technological approach and its application in orthodontic imaging.
With instant results becoming the norm, the old adage "time is money" never sounded more true. Innovations that can simplify and organize our increasingly hectic workplaces are valuable. One such modern invention is wireless computer networking technology, or WiFi. How does WiFi blend with digital cameras? A wireless digital camera allows you to connect to a network without using cables. This makes it possible to download and save photos directly to a computer as you shoot them, or even connect to a cellular network and share photos, just as you would with a camera phone.
Migrating to a wireless camera is not just a matter of spending money on new equipment; only a handful of wireless cameras are available. One cannot sacrifice the need for essential features—eg, a macro lens—for the sake of freedom from wires. It is more rational to use a wireless transmitter that is compatible with your existing image acquisition armamentarium. This objective is well accomplished by using a WiPics transmitter (WiPics, United Imaging Solutions, Medina, NY). Other wireless image transmitters are also available, including models by Canon and Nikon, but they are compatible with only specific camera models from the same manufacturer.
The WiPics transmitter was the brainchild of Dave Rea, a student at Rochester Institute of Technology, Rochester, New York; he devised it as a part of his thesis project in 2003. It consists of a dummy compact flash card (camera interface card) connected to a belt-mounted unit ( Fig 1 ). The belt-mounted unit has additional slots for a conventional memory card and a hard disk drive. The dummy flash card is inserted directly into the memory slot of the camera, which directs the shot images to the belt-mounted unit. The images are then saved on the memory card or the hard drive, or transmitted wirelessly to a computer via 802.11 g or its Ethernet port. For the different configuration possibilities of WiPics, see the Table .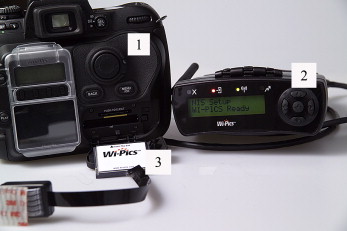 Table
| WiPics configuration type | Components | Function |
| --- | --- | --- |
| 1. WiPics base unit | 2 flash card slots, maximum 64 MB compatible | Flash card 1, storage of original camera file; Flash card 2, storage of data associated file ∗ |
| 2. WiPics with hard drive | 1 hard disk drive, 20 GB, partitioned into 2 drives of 10 GB each | Drive 1, storage of original camera file; Drive 2, storage of data associated file ∗ |
| 3. WiPics with bar-code scanner | Same as base unit and integrated bar-code scanner | Both flash card slots used to enable data association ∗ |
| 4. WiPics with bar-code scanner and hard drive | Same as WiPics with hard drive and integrated bar-code scanner | Data association enabled by partitioning the hard drive into 2 drives of 10 GB each |
Premium Wordpress Themes by UFO Themes
WordPress theme by UFO themes