William Webb Robinson, 79, of Dallas, Texas, died peacefully at home on November 21, 2016.
Bill was born on August 24, 1937, in Fredericktown, Missouri, the only child of Walter J. and Marguerite (Webb) Robinson. His family moved to Natchitoches, Louisiana, in 1945. He graduated from Natchitoches High School and attended Northwestern State University before graduating from Baylor University College of Dentistry in 1961. He married Patricia Pattillo of Dallas on August 22, 1959. After dental school, Bill served in the US Army Dental Corps for 3 years and achieved the rank of captain. He completed an orthodontic residency at Saint Louis University in 1966 and then began a 37-year career as an orthodontist in Sherman, Texas. He was a dedicated and caring professional who helped thousands of patients in north Texas and southern Oklahoma to improve their smiles.
Bill received numerous awards for excellence in orthodontics, served in various professional roles, and was a frequent guest instructor at the Baylor's Department of Orthodontics. Throughout his career he met regularly with his Orthodontic Study Group that included some of his best friends. Professionally, one of his greatest joys was working with his loyal and talented orthodontic office staff.
Bill was involved in the Sherman community and served as a deacon at First Baptist Church, president of Sherman Musical Arts, board member of the Sherman Independent School District, president of the Sherman Rotary Club, director of the Salvation Army, and director of M&P Bank. He was president of the Fourth District Dental Society and a member of the American Dental Association and the American Association of Orthodontists. He was also a diplomate of the American Board of Orthodontics and served as president of the Texas Tweed Orthodontic Study Group and also as president of the Southwestern Society of Orthodontists.
Bill retired and moved to Heritage Ranch in Fairview, Texas, in 2007, where he attended First Baptist Church of McKinney and was a member of the Lamplighter Class. He moved to Dallas in 2014 to live closer to his son. He was passionate about achieving excellence in all things and often quoted the "Five Ps"—proper preparation prevents poor performance. Lifetime hobbies included playing the piano and trumpet, reading, listening to music, playing tennis and golf, snow skiing, traveling, and railroading. He was always interested in supporting persons and organizations that proclaimed his Christian faith. Bill is survived by his 2 children, Scott Robinson and his wife Carla of Dallas, and Angela Vanderlinden and her husband Lambertus, of Powder Springs, Georgia, and 5 grandchildren.
I came to know Bill when he started his orthodontic practice and joined the Texas Tweed Study Group. He excelled in displaying his treatment outcomes. All who knew him keenly remember his intelligence, wit, and large-heartedness. He loved aphorisms and alliterations, and his life manifested as such: affable, appreciative, attentive, approachable, accomplished, attuned, aware. He was all these and more. Few have repaid their debt to their family, their profession, and their faith so extravagantly, but the Apostle Paul's missive to the Corinthians defines Bill better than any essay could possibly achieve: "His grace which was bestowed upon me was not in vain."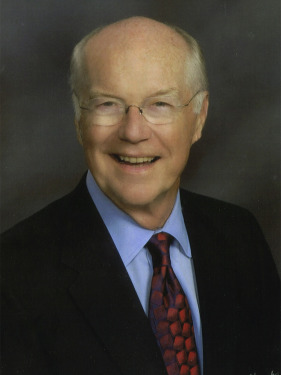 Premium Wordpress Themes by UFO Themes
WordPress theme by UFO themes