Fig. 7.1
Panoramic radiograph showing the allograft remodeling at 3 months. Note its low density similar to the native residual bone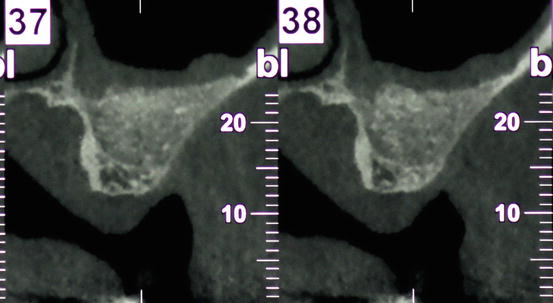 Fig. 7.2
CBCT at 5 months showing heterogeneous density of a composite particulate graft (a mixture of Mineralized Bone Allograft (Puros®, Zimmer Dental, Carlsbad, CA, USA) with mineral bovine bone (Bio-Oss®, Geistlich-Parma AG, Switzerland))
7.5.1.1

Unprocessed Allografts: Freeze-Dried Bone Allograft (FDBA)

FDBA undergoes the steps of freezing, drying, and desiccation, and it always contains its mineralized matrix, which necessitates an osteoclastic activity to liberate bone GF by the mean of "creeping substitution."

FDBA have been also used successfully in SFE.
7.5.1.2

Demineralized Bone Matrix (DBM; e.g., DFDBA)
7.5.1.3

Mineralized Bone Allograft (MBA) Cancellous or Cortical Particles (Defatted Allograft) (e.g., Puros, TBF, Biobank, etc.)

MBA is a human mineralized bone (e.g., Puros®, Biobank®, TBF®) used as an alternative allograft.

Different processing techniques for cleaning and sterilizing allografts influence the bone properties, depending on each company.

The mineralized bone allograft material is associated to type I collagen almost equal to the pristine bone. The matrix structure allows the ingrowth of vascular, cellular, and connective tissue as a critical part of de novo bone formation and remodeling. Because particle surfaces are first to interact with the host tissue, it is important to understand how various processing techniques can affect and perhaps alter the natural structure of the surface as well as the chemical composition of MBA resulting in a deleterious effect on initial healing events.

Data have demonstrated that, after processing the unwanted microbes are destroyed, but the porous bone structure is maintained, including the mineral and collagen components, in contrast to other forms of bone treatment, providing excellent bone matrix and load-bearing capabilities. The natural extracellular collagen matrix proteins are known to be important for cell attachment and bone remodeling.

In addition, animal data have confirmed that the biotolerability of the solvent-dehydrated grafts is comparable with that of cryopreserved bone grafting materials (Minichetti et al.

2004

).

Although its mechanism in bone formation is still unclear, a closed-wound rabbit model experiment demonstrated that the solvent-preserved bone did not elicit a foreign body reaction and that it was the most effective graft material in inducing bone formation among the various graft materials used (Scharf

1990

).

Gamma irradiation is the most commonly used form of ensuring a terminally sterilized BS. Limited-dose gamma irradiation is a key step in MBA process, since it is generally accepted that high-dose gamma sterilization (over 25 kGy) can cause damage to the collagen structure of the bone and cause denaturation of the proteins, including bone morphogenetic proteins (BMP) (Alanay et al.

2008

).

In addition, this method of processing has been shown to inactivate the HIV virus and the agent responsible for Creutzfeldt-Jakob disease (Masullo C.); Taking into consideration the Estimation of the theoretical risk of transmission of Creutzfeldt-Jakob disease by human dura mater grafts manufactured by the Tutoplast® process.

Mineralized cortical bone allograft (MCBA) has biocompatible and osteoconductive potential as demonstrated in a SFE study, (Kolerman et al.

2012

), permitting new bone formation (Figs.

7.4

and

7.5

).

Schmitt et al. (

2013

) used MCBA in SFE and demonstrated comparable results to those of Froum et al. (

2006

) who reported averages of 28.25 and 7.65 % for vital and non-vital bone, respectively.

Other comparisons were similar (Noumbissi et al.

2005

; Wood and Moore

1988

). Grafting with AB or MCBA demonstrated similar outcomes; the use of MCBA tends to result in a slightly lower level of new bone formation compared to AB, but this tendency was not significant in a meta-analysis (Klijn et al.

2010a

,

b

). MCBA can therefore be regarded as a BS that is totally resorbed and replaced by AB, integrating well into the organism (Noumbissi et al.

2005

). Moreover, there is no evidence that the AB transplant is preferable regarding implant survival (Nkenke and Stelzle

2009

).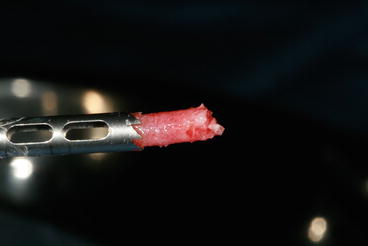 Fig. 7.4
Trephine retrieving a bone core at the implant site for histomorphometrical analysis of the bone augmentation (allograft) 5 months later: note the favorable vascularized aspect of the newly formed bone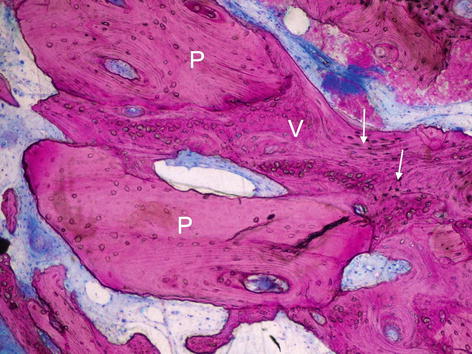 Fig. 7.5
Non-decalcified histological section showing the close contact of the newly formed bone (V) with the MCBA allograft particles (P- Puros®, Zimmer Dental, Carlsbad, CA USA). Giemsa-Paragon stain. The
arrows
indicate the osteocytes.
P
puros particles,
V
vital novo-bone
In conclusion, Allografts revealed the most promising results among BS in SFE.
The main advantage remains in their remodeling properties that are very similar to AB. Nevertheless, in addition to the fact that many clinicians due to their potential risk of infectious disease avoid allografts, a main concern remains regarding the maintenance of the physical dimension of the augmented bone and the long-term peri-implant bone stability.
On the other hand, any bone allograft can be enriched with growth factors (GF or cultured stromal stem cells in order to stimulate vascular invasion of the graft and new bone formation (Delloye and Bannister
2004
; Delloye et al.
2004
; Lucarelli et al.
2005
; Schecroun and Delloye
2004
).
Supplementation with these expensive biological materials appears to promote the incorporation of the bone into the host in experimental conditions, but adverse results have also been observed (Delloye and Bannister
2004
). More experience with these techniques is required before they can be recommended.
7.5.2

Xenografts (e.g., Anorganic Bovine Bone)

The xenogenic grafts are taken from a donor of another species. Commonly used are anorganic bovine bone (ABB, e.g., Bio-Oss® (Geistlich Biomaterials GmbH)) and porous hydroxyapatite (pHA), derived from coral skeletons. The mineral structure and surface of ABB resembles AB. One gram of ABB has a surface of 80 m (Weibrich et al.

2000

) and can therefore act as a suitable osteoconductive material (Browaeys et al.

2007

). ABB contains macroscopic and microscopic structures with an interconnecting pore system that serves as a physical scaffold for the immigration of osteogenic cells (Tapety et al.

2004

) (Figs.

7.6

,

7.7

, and

7.8

). ABB osteoconductive properties, confirmed by numerous studies (Del Fabbro et al.

2008

; Schlegel and Donath

1998

; Schlegel

1996

), derive from its chemical composition as well as macro and micromorphology. Histological studies (Froum et al.

1998

; Wallace et al.

2005

) revealed the presence of osteoblasts and osteoid tissue as well as apposition directly on the surface of the xenografts particles. Vital bone has been observed to bridge the gaps between xenograft particles and has been shown histologically to increase over time (Wallace et al.

1996

).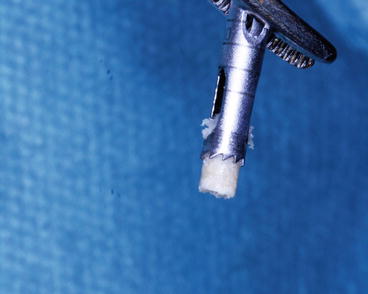 Fig. 7.6
Trephine retrieving xenograft bone core at the implant site for histomorphometrical analysis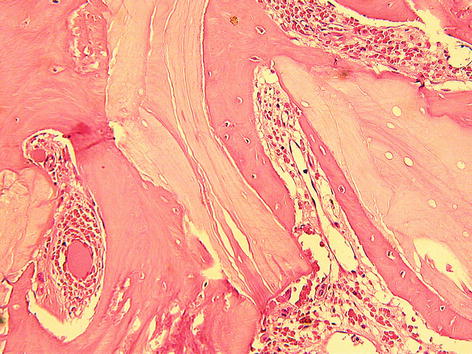 Fig. 7.7
Histologic section with hematoxylin eosin stain showing the xenograft particles (Bio-Oss®) surrounded by de novo bone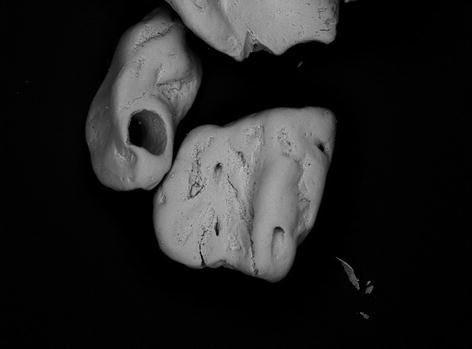 Fig. 7.8
Scanning electron microscopy (magnification ×80) of a mineral bovine bone (OCS-B®) composed of crystalline hydroxyapatite
Nevertheless, the use of nonresorbable BS results in a composite of newly formed bone and BS, not in a homogenous bone structure (Merkx et al.
2003
; Petrungaro and Amar
2005
).
Although this material appears to lack osteoinductive properties, it still undergoes physiologic remodeling and becomes incorporated into the bone over time (Hislop et al.
1993
). Mixed clinical results with this bovine bone product have prompted some clinicians to recommend its use only as a composite graft with autogenous or allogenic bone (Gross
1997
).
On the other hand, ABB appears to undergo slow or no resorption (Meijndert et al.
2005
). Histologic studies based on clinical biopsies confirmed the presence of remaining ABB particles after 4.5 years (Ewers et al.
2004
), 6 years (Schlegel and Donath
1998
), and even 14-year post-grafting (Lezzi et al.
2007
). The incomplete resorption of the ABB particles after a long period might be due to the high calcium concentration present on the biomaterial surface that could inhibit the osteoclastic resorption (Yamada et al.
1997
).
Conflicting data are present in the literature about the performance of ABB over the long term, and human histologic reports are quite rare in the literature (Hämmerle et al.
1998
). Resorption or a decrease in the density of the grafted area has been reported to occur over time (Sartori et al.
2003
; Wallace et al.
1996
), whereas other researchers found a lack of breakdown of the material (Artzi et al.
2005
; Ewers et al.
2004
; Merkx et al.
2003
; Piattelli et al.
1999
; Schlegel and Donath
1998
; Skoglund et al.
1997
; Valentini and Abensur
1997
).
A highly purified bovine xenograft characterized by preservation of the type I collagen matrix associated with spindle-shaped hydroxyapatite crystals (Laddec® T650 Lubboc®, BioHorizons, Birmingham, USA) (Chappard et al.
1993
; Poumarat and Squire
1993
) has been also successfully used in SFE but showed the highest residual bone resorption 6 months when compared to AB (Papa et al.
2005
).
Another study (Butz et al.
2011
) demonstrated that a xenograft in the form of a putty material (PepGen P15® Putty can be used successfully for maxillary sinus augmentation.). It comprises a cell attachment peptide (P-15) that is irreversibly bound to anorganic bone matrix particles (Osteograf/N300); sodium hyaluronate (the putty) serves as a carrier material.
Referring to the authors, implant placement may be possible even after only 2 months of healing, based on histomorphometric results indicating no statistically significant difference in the newly formed bone fraction in the biopsy specimens analyzed at 2 months (21.3 % ± 2.33), at 4 months (21.9 % ± 8.9), at 6 months 28.5 % (± 6.9), and at 9 months (29.8 % ± 11.8).
Wheeler et al. (
1996
) found an increase in novo-bone volume from 16.38 % after 4–10 months of healing to 45.30 % after 36 months in sinus augmented with porous hydroxyapatite alone. In a clinical case report, Wallace et al. (
1996
) documented the sequential healing process of a sinus (4, 8, 12, and 20 months) grafted with a composite 80 % ABB (OsteoGraf) and 20 % AB. They observed slow bone formation in the sinus cavity augmented: 12–20-month period was required to convert this composite graft into a vital bone. Similar conclusions were reported by Lundgren et al. (
1996
) with SFE with particulated mandible and by Froum et al. (
1998
) with ABB.
Histological and histomorphometric studies demonstrated a better bone-to-graft contact for the ABB group compared to other BS (BCP). ABB appears to have a high osteoconductivity (Cordaro et al.
2008
).
Moreover, the use of Xenografts in the sinus has been well documented in the literature. (Artzi et al.
2002
; Del Fabbro et al.
2004
; Hallman et al.
2002
; Valentini and Abensur
2003
; Wallace and Froum
2003
), and numerous practitioners consider this material, alone or in combination with AB, as the BS of choice in SFE procedures. In fact, 8 published evidence-based systematic reviews concluded that the results with xenografts are the most favorable and complete (Aghaloo and Moy
2007
; Del Fabbro et al.
2008
;
2004
; Esposito et al.
2010
; Jensen and Terheyden
2009
; Nkenke and Stelzle
2009
; Pjetursson et al.
2008
; Wallace and Froum
2003
).
On the other hand, implant survival rates with ABB have been reported to be as high as or higher than those achieved with AB (Del Fabbro et al.
2008
; Wallace and Froum
2003
). An evidence-based review (Wallace and Froum
2003
) of SFE using xenograft alone or in combination with AB or mixed with PRP showed that the survival rate of the implant placed in xenograft was statistically the same as for implant placed in particulate AB grafts. Del Fabbro et al. (
2004
) reported an average SR of 87.7 % of implants placed in AB, significantly lower than the 84.9 % SR of implants placed in a mixture of AB and Xenograft, and 96 % SR of implants placed in Xenograft alone. Other studies (Hallman et al.
2002
; Valentini and Abensur
2003
) confirmed the previous results with higher survival rates (100 %) for implants placed in sinuses using pure xenograft compared to AB or AB + xenograft.
While a main concern about AB bone resorption when used in SFE was reported at 3 years, the use of xenograft seems on the contrary to reduce the volumetric resorption as demonstrated in the Sinus Consensus Conference in 1996 (Jensen et al.
1998
). Moreover, there is no evidence that this residual BS adversely affects osseointegration and, ultimately, ISR; its continual presence does not lessen the adaptive capability of the newly formed bone. The stability of the regenerated area seems to be a very important factor for the patient (Schilling et al.
2004
). This is in contrast to AB, which, after 8 months of healing, have shown resorption of >50 % of the original volume (Hallman et al.
2001
). It is also possible that the mechanical properties of the bone formed around the xenograft particles will improve over time in relation to bone remodeling and to the replacement of woven bone by lamellar bone (Hallman et al.
2001
; Valentini et al.
1998
). (Figs.
7.9
,
7.10
, and
7.11
)
To summarize, xenografts (ABB) has been demonstrated to be resorbed very slowly (Iezzi et al.
2007
; Meijndert et al.
2005
; Piattelli et al.
1999
); no clear evidence indicates whether this situation is an advantage or a disadvantage. As a possible advantage, this structure could represent a type of protection against bone resorption, guaranteeing the maintenance of the physical dimension and long-term stability of peri-implant bone within the augmented maxillary sinus.
However, a more recent study (Schmitt et al.
2014
) evaluated the 5-year ISR after SFE with ABB and ABB plus AB with a ratio of 1/1 and found leads to a comparable amount of newly formed bone for both following SFE.
Considering that ABB is a nonresorbable BS, it can be hypothesized that this leads to stable bone over time and long-term implant success. Importantly, in the sole use of ABB, AB grafting and therefore donor site morbidities can be avoided.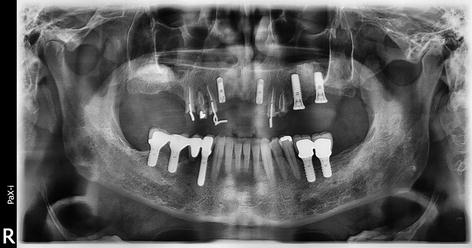 Fig. 7.9
Panoramic radiograph showing at 6 months sinus radiopacity after a bilateral SFE using a mineral bovine xenograft (Bio-Oss®, Geistlich-Parma AG, Switzerland)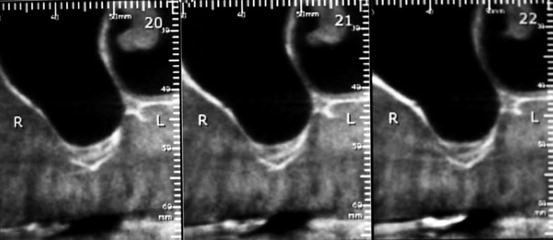 Fig. 7.10
Preoperative CBCT radiograph showing the sub-sinus residual bone volume prior to SFE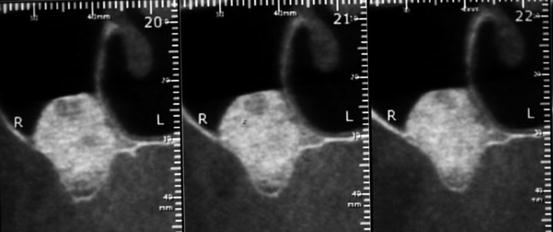 Fig. 7.11
Postoperative CBCT radiograph at 6 months showing the high density of the mineralized bovine bone (Bio-Oss, Geistlich Pharma AG, Switzerland)
7.5.3

Alloplastics (Synthetics)

There are several types of alloplastic substances in clinical use nowadays: calcium phosphate-based (CaPs), other ceramics (e.g., Hydroxyapatite – HA), biphasic calcium phosphate (BCP), tricalcium phosphate (TCP), calcium sulfate, and biocompatible composite polymers.
7.5.4

Adjunctives, e.g., PRP, PGRF, BMPs, Others…

Development of the bioactive surgical additives is one of the great challenges of clinical research, which has been used to regulate inflammation and increase the speed of healing process.

Several SFE studies including the addition of adjunct materials such as growth factors (GF), platelet-rich plasma (PRP), fibrin glue, or venous blood were evaluated in the literature.

Growth factors (GF) have demonstrated their efficiency in bone regeneration and can be added to all BS to promote bone regeneration. GF are present at low concentrations in bone matrix and plasma and are essential mediators of tissue repair through their stimulatory effects on angiogenesis, cell differentiation, cell proliferation, and matrix synthesis.

Numerous studies have demonstrated better results regarding the amount and rate of new bone formation when these agents were compared with traditional BS (Nevins et al.

2009

;

2005

).

The incorporation of GF such as transforming growth factor (TGF-βs), insulin-like growth factor (IGFs), fibroblast growth factor (FGFs), and platelet-derived growth factor (PDGFs) into the sinus graft is used as a method to reduce the healing time and enhance bone formation within the subantral environment.

The commercial availability of these growth factors (GF) has given oral and maxillofacial surgeons an additional option for the reconstruction of bony defects, but despite their potential usefulness, GF are still not available for routine use in practice.
7.5.4.1

PDGF

Among the numerous GF, recombinant human platelet-derived growth factor (rhPDGF) has received the most attention and is a well-characterized tissue GF.

PDGF is a wound-healing hormone that is naturally produced by the body at sites of soft tissue and bone injury. It has been proven to be safe and effective in a series of well-controlled human clinical trials as well as in patient use for nearly 10 years (Camelo et al.

2003

; Howell et al.

1997b

; Lynch et al.

1989b

; Nevins et al.

2003

).

The inclusion of rhPDGF in the SFE protocol used along with Bio-Oss has been associated with enhanced clinical results (Nevins et al.

2009

).
7.5.4.2

Platelets-Rich Plasma (PRP)

Platelet gel allows access to autologous GF, which are capable of accelerating the normal processes of bone regeneration. PRP has been proposed as a useful instrument for increasing the quality and final quantity of regenerated bone in oral and maxillofacial surgery. However, the literature is conflicting with respect to the adjuvant use of PRP in SFE. The use of PRP is based on the theoretical premise that by concentrating platelets, the effects of the released growth factors (PDGF, TGF-β, IGF-I, and IGF-II) will increase. PRP growth factors do not induce osteoprogenitor cell differentiation, as is seen with the bone morphogenetic proteins, but instead act via stimulation of chemotaxis, mitogenesis, and angiogenesis of surrounding cells, acting as a catalyst in the very early phases of bone remodeling.

It is clear that further studies are needed to evaluate the effects of PRP on different grafting materials in SFE.
7.5.4.3

Platelet-Rich Fibrin (PRF)

Platelet-rich fibrin (PRF) is a fibrin matrix in which platelet cytokines, growth factors, and cells are trapped and may be released after a certain time and that can serve as a resorbable membrane (Naik et al.

2013

). It belongs to a new generation of platelet concentrates, with simplified processing and without biochemical blood handling. Although PRF belongs to a new generation of platelet concentrates, the biologic activity of fibrin molecule is enough in itself to account for significant cicatricial capacity of the PRF. The slow polymerization mode confers to PRF membrane as a particularly favorable physiologic architecture to support the healing process. The use of platelet gel to improve bone regeneration is a recent technique in implantology. However, the biologic properties and real effects of such products remain controversial. PRF proved a slower release of growth factors than PRP and observed better healing properties with PRF (Dohan et al.

2006

).

PRF was used as an additive in SFE studies. Histologic analysis in sinuses grafted using a mixture of FDBA and PRF demonstrated a reduction of healing time (to 4 months) prior to implant placement (Choukroun et al.

2006

), but large-scale studies are still necessary to validate these results. Only a perfect understanding of its components and their significance will enable us to comprehend the clinical results obtained and subsequently extend the fields of therapeutic application of this protocol (Naik et al.

2013

).
7.5.4.4

Bone Morphogenetic Proteins (BMPs)

Nevertheless, the appropriate dosage and delivery vehicles for SFE have been debated since the selected dosage of rhBMP-2 (from 1.8 to 3.4 mg) showed insufficient amounts of new bone to allow placement of dental implants; therefore, higher doses were suggested.

Based on these findings, the behavior of rhOP-1 delivered via a collagen carrier is insufficiently predictable in SFE. Further investigation is needed to demonstrate its efficiency instead of other BS.

Nowadays, BMPs are regarded as effective and safe products to enhance bone healing in SFE and will gain more and more importance in the treatment of bone defects.

However, the wide variation in results may lead to a more careful use of BMP-7 in SFE.
7.5.4.5

Hyaluronic Acid

Hyaluronic acid (HyA) is a natural polymer that has shown to be clinically advantageous due to its excellent biological properties (Lisignoli et al.

2001

; Manferdini et al.

2010

). In a recent study Stiller et al. (

2014

) mixed hyaluronic acid with β−TCP and compared this mixture with β−TCP alone in the sinus. HyA material enhanced the handling properties of the β−TCP. They concluded that both TCP grafting materials actively supported bone formation and matrix mineralization 6 months after SFE. Histomorphometric and radiologic results of TPC with HyA expressed statistically significant differences, compared to TCP alone, in terms of volume reduction, volume stability, and bone formation. Immunohistochemical osteogenic marker expression displayed also a higher tendency for TCP with HyA.

To summarize, the role of adjunctive materials in enhancing the bone graft maturation and reducing the healing time has not been completely elucidated yet. ISR in sinuses grafted with AB with adjunctive materials was 81.2 %; AB combined with allograft and adjunctive materials showed 95.3 % ISR; alloplast with adjunctive materials showed a 95.1 % ISR; and xenograft with adjunctive materials showed a 96 % ISR (Aghaloo and Moy

2007

).
7.6

Graft Remodeling After the Use of Bone Substitutes

Although numerous SFE procedures have been performed to date, only a few controlled trials have addressed the healing process and the tissue changes encountered following SFE.

Therefore, resorption of AB and subsequent repneumatization have been mentioned as reasons to choose nonresorbable or slowly resorbable BS in SFE.
7.7

Implant Survival Rate (ISR) After SFE with Different Grafting Materials

A systematic review (Del Fabbro et al.

2004

) of ISR in SFE including 6,913 implants revealed an overall ISR of 91.49 %: 87.7 % when AB alone was used, 94.88 % when AB was combined with other BS, and 95.98 % when BS were used alone.

Numerous reviews demonstrated equal or better ISR with BS than those achieved with AB.