Gene symbol
Primer sequence
Forward 5′-GGAGCGAGATCCCTCCAAAAT-3′
Reverse 5′-GGCTGTTGTCATACTTCTCATGG-3′
Forward 5′-ACCTGGCATACGACCTGAAC-3′
Reverse 5′-TCCATCGAGCCCGATTTGTG-3′
Forward 5′-CACTCAAGATTCAGGTGGCAG-3′
Reverse 5′-TCTGAGATGCGAGACTTCCTAAA-3′
Forward 5′-ATGGGATGGGTGTCTCCACA-3′
Reverse 5′-CCACGAAGGGGAACTTGTC-3′
Forward 5′-CACTCCTCGCCCTATTGGC-3′
Reverse 5′-CCCTCCTGCTTGGACACAAAG-3′
Forward 5′-GTGCGATGACGTGATCTGTGA-3′
Reverse 5′-CGGTGGTTTCTTGGTCGGT-3′
16.2.6

Western Blotting

The expression level of of NFIC and DSP proteins were measured by western blot. Total protein was extracted from tissues and cells using radioimmunoprecipitation assay (RIPA) lysis buffer containing a protease inhibitor cocktail (Applygen, Beijing, China), according to the manufacturer's instructions. Protein levels were calculated using a bicinchoninic acid (BCA) protein assay kit (Thermo Scientific, Beijing, China). Equal amounts of protein samples were separated by electrophoresis through a 12 % SDS polyacrylamide gel and transferred onto polyvinylidene difluoride (PVDF) membranes (Millipore, Billerica, MA, USA). Blots were blocked with 5 % skim milk, followed by incubation with the following primary antibodies: mouse anti-NFIC (Abcam, Cambridge, UK), goat anti-DSP (Santa Cruz Biotechnology, CA), and mouse anti-GAPDH (Abmart, Shanghai, China). Blots were then incubated with goat anti-mouse or anti-goat secondary antibodies conjugated to horseradish peroxidase (Origene, Beijing, China) and visualized by enhanced chemiluminescence (Applygen).
16.3

Results
16.3.1

NFIC Expression in Tooth Tissue

To determine the expression pattern of NFIC during molar root formation, we conducted immunohistochemical staining for human molar root. NFIC expression was restricted within odontoblasts and preodontoblasts of the developing root (Fig.

16.1

).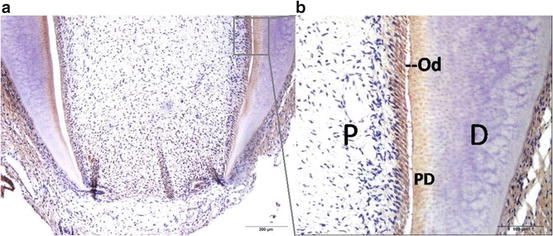 Fig. 16.1
Immunohistochemistry shows NFIC expression in developing root of a human third molar (
a
). Figure (
b
) is a higher magnification of the boxed region of Fig (
b
).
D
dentin,
Od
odontoblasts,
PD
predentin,
P
pulp
In order to quantify NFIC expression in different parts of human dental pulp, the coronal pulp, root pulp and apical papilla of young permanent teeth, as well as crown pulp and root pulp of mature permanent teeth were isolated and western blot was performed. The results showed that NFIC expressed in apical papilla at a very low level, and the amounts of NFIC protein in coronal pulp were more than that in root pulp in both young and mature permanent teeth. The expression of NFIC in coronal pulp of young permanent teeth was extremely strong (Fig.
16.2
).

Fig. 16.2
Quantification of NFIC expression in coronal pulp, root pulp and apical papilla by western blot. (
a
) Young permanent teeth. (
b
) Mature permanent teeth
16.3.2

NFIC Expression in hSCAPs Transplantation

To study the expression of NFIC during odontoblast differentiation in vivo, the hSCAPs with hydroxyapatite carrier were transplanted into immunocompromised mice. Eight weeks after transplantation, the hSCAPs generated dentin-like structures. The odontoblast-like cells lined a layer along the surface of dentin-like structures and displayed protruding cytoplasmic processes into the dentinal matrix, which interfaced with a pulp-like interstitial tissue infiltrated with blood vessels. Odontoblast-like cells were positive to NFIC immunohistochemistry straining in dentin-pulp complex formed ex vivo (Fig.

16.3

).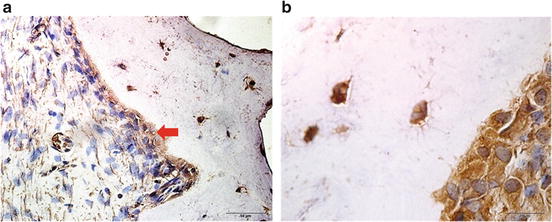 Fig. 16.3
Immunohistochemical straining of NFIC in dentin-pulp complex ex vivo at 8 weeks after hSCAPs transplantation into the dorsum of immunocompromised mice (
brown
indicated positive staining). (
a
) The dentin-like structure (d) surfaces are lined with a layer of odontoblast-like cells (od), surrounding pulp-like tissue with blood vessels (bv). (
b
) Odontoblast-like cells displayed protruding cytoplasmic processes into the dentinal matrix
16.3.3

The Expression of NFIC and Odontogenic Related Genes During Osteogenic Differentiation of hSCAPs

During tooth development, SCAPs differentiate into odontoblasts and form root dentin. In order to determine how the related genes express when hSCAPs differentiate in vitro and gain insight into the mechanism of differentiation, the cells were cultured in mineralization medium for up to 3 weeks and the expression of odontoblast differentiation markers were analyzed by western blot and real-time polymerase chain reaction (PCR). The formation of mineralized nodules was evaluated by alizarin red-S staining.