Fig. 10.1
Hess [
76
] intricacies of canal anatomy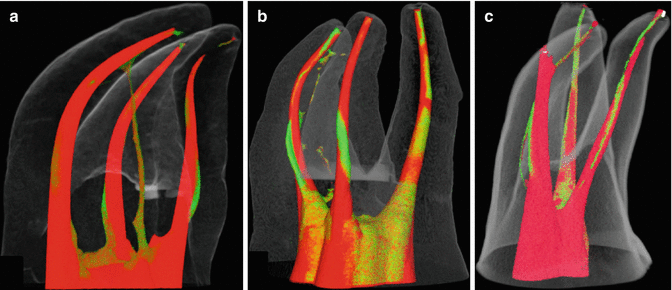 Fig. 10.2
Micro CT scans of canals following rotary file instrumentation (
red
) overlaid preoperative scans (
green
) [
126
]

Fig. 10.3
Cross section of mesial root of mandibular molar demonstrating remaining tissue following root canal preparation utilizing NiTi rotary files [
73
]
The ability of an irrigant to dissolve pulp tissue, kill bacteria, and remove smear layer are well known and reported in the literature. Some irrigants are better suited for some jobs than others. Research has shown that the preparation (hand files and/or rotary NiTi files) of an infected root canal with standard needle irrigation (using sodium hypochlorite – NaOCl) and even placement of calcium hydroxide greatly reduces the number of viable bacteria in the canal [
29
,
30
,
31
,
38
,
39
,
46
,
53
,
121
,
125
,
132
,
138
,
142
,
144
,
145
]. However, it does not eliminate all of them. Removal of biofilm is also limited, especially in the isthmuses and canal ramifications [
28
].
The flow characteristics of various size and shaped needles (open-ended versus side-vented) have also been described in the endodontic literature. Shen et al. [
140
] described how the velocity of fluid flow is affected by the needle design. Open-ended or beveled needles deliver fluid at a quicker pace than side-vented needles. This increase in velocity may aid in removing debris from the canal walls. The side-ported needles have their maximum velocity at the site of the port and the energy dissipates apically. Open-ended/beveled needles deliver irrigation solution about 1–2 mm past the end of the needle. This is a benefit if the needle cannot reach the apex of the root canal but a drawback if it does (potential irrigation accident). The side-ported needles allow solution to only reach about 1 mm past the end of the tip and still have similar risks and benefits of the open-ended needles. Shen et al. [
140
] also calculated the fluid pressure of the irrigant. This pressure may be of benefit in cleaning the canal walls by dislodging material such as biofilm. Of course the three dynamic parameters (fluid flow pattern, velocity, fluid wall pressure) are all affected by the fluid flow rate placed into the needle. Unfortunately, research has continuously shown that traditional needle irrigation fails to clean isthmuses, lateral canals, and cul-de-sacs to any extent ([
15
,
22
,
69
,
73
,
74
,
82
,
94
,
112
,
151
,
170
]). Activation of the endodontic irrigant appears to be a necessary step in the more complete cleaning of the root canal system. A survey conducted by Dutner et al. [
65
] on the use of irrigants and adjunctive devices to aid irrigation found that almost 50 % of respondents use some type of irrigation aid. Of that group, 48 % used ultrasonics and 34 % utilized some form of sonic (subsonic) activation.
Ultrasonic Activation
Passive Ultrasonic Irrigation (PUI)/Ultrasonically Activated Irrigation (UAI)
The terminology for the activation of irrigating fluids in root canals can be a bit confusing. Weller et al. [
168
] compared the efficacy of ultrasonics as a primary method of instrumentation and as an adjunct to hand instrumentation versus hand instrumentation alone. The authors concluded that ultrasonic instrumentation is not an alternative to hand cleaning but acts as an aid to increase debridement efficacy after hand instrumentation. In this study, the ultrasonic instrument was still used as an adjunct in canal preparation. Later research [
12
,
36
,
69
,
74
,
82
,
94
,
112
] looked at the use of ultrasonic instrumentation in a more passive manner, that is, it was utilized after hand instrumentation and without the intent to enlarge, instrument, or impact the walls of the root canal. Thus, the term passive ultrasonic irrigation (PUI) came to be. The "passive" portion indicated no active or intentional removal of dentin. Unfortunately, even though no intent is made to contact or alter the root canal walls, contact of the oscillating ultrasonic instrument on the wall occurs (see above). Due to this, the phrase ultrasonically activated irrigation (UAI) was recently suggested by Boutsioukis et al. [
26
]. Unfortunately the reader must be aware that these terms can and will be used interchangeably in the dental literature and that they represent the same general technique.
Research into PUI/UAI has looked at the ability of the technique to remove tissue and debris, bacteria, biofilm, calcium hydroxide and other medicaments, and smear layer. Research has also looked at the impact of using PUI/UAI in curved canals, the use of a smooth instrument versus an endodontic file, and the effects the size of the instrument and canal preparation size have on cleaning/debridement results. In general, PUI/UAI consists of the use of a size 15 or 20 endodontic-type file or wire attached to an ultrasonic handpiece from which ultrasonic energy is supplied. The depth of the file within the canal and the manner in which irrigating solution is supplied during the process has also been evaluated.
Available products that a clinician can utilize to provide PUI/UAI include file-holder tips (Brasseler). These tips allow for the insertion of a hand file (k-type file, r-type file, spreader, etc.) or a specially designed hand file-type inserts (diamond coated, fluted, smooth-sided, etc.) and secured for use in the canal (Fig.
10.7
). Also available is the Irrisafe™ ultrasonic tip (Fig.
10.8
) produced by Satelec Acteon which comes in different lengths and diameters and includes a port for the delivery of irrigating fluid, and the Sonofile tips (Fig.
10.9
) by Satelec which are similar to the Irrisafe™ files but without the irrigation port.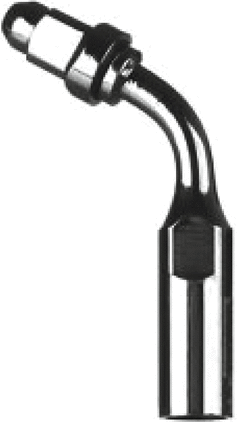 Fig. 10.7
Brasseler file holder E12 (Brasseler)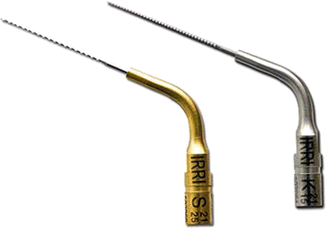 Fig. 10.8
Satelec Acteon Irrisafe™ tips. Note serrated wire with non-cutting sides and irrigation port near attachment hub (Satelec)

Fig. 10.9
Satelec Sonofile with no irrigation port (Tulsa Dental Products)
Debris and Smear Layer Removal
Bacteria/Biofilm Removal
The removal or reduction in the number of bacteria within the root canal system is one of the primary goals of endodontic therapy. The utilization of ultrasonically activated irrigation to achieve this goal has been researched. A large number of studies have reported a significant reduction in the number of bacteria (as measured by colony forming units – CFU's) following the use of PUI/UAI [
6
,
16
,
32
,
60
,
81
,
103
,
146
,
147
,
158
] when compared to needle irrigation. Only one study failed to show an improvement in CFU reduction [
143
].
The above studies concentrated on the reduction of free bacteria (planktonic) and not the removal of biofilm. The impact of PUI/UAI on removing biofilms has also been evaluated, but to a lesser extent. Bhuva et al. [
17
] reported no improvement in removal when utilizing an artificially produced biofilm of
E. faecalis
. Shen et al. [
140
] reported an increase in killing of artificial biofilm when PUI/UAI was utilized with chlorhexidine on dentin discs. Case et al. [
40
] reported similar results when testing ozone – PUI/UAI helped reduce
E. faecalis
biofilm. Gründling et al. [
71
] reported that PUI/UAI helped reduce
E. faecalis
biofilm only when NaOCl was used as an irrigant. Joyce et al. [
86
] looked at the mechanism of action of ultrasonics on biofilm and stated that PUI/UAI caused deagglomeration of the biofilm via the cavitation effect.