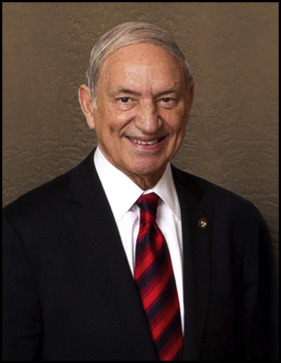 People, People who need people, Are the luckiest people in the world.
Robert L. "Slick" Vanarsdall Jr was a person who needed—and loved—people. He thrived on personal interaction: sometimes agreeably, sometimes controversially, but anyone who knew Slick immediately realized his need to be among, and in contact, with others. His enthusiasm for life and his passion for orthodontics were unequalled. He fervently challenged residents and orthodontic icons with equal respect. Through his unique "whole-patient approach" to therapy, he continually catalyzed the thinking process. His life revolved around the University of Pennsylvania (Penn) and orthodontics, enriching both as he devoted his time and effort in abundance. He engaged in public discussion about matters both dental and ordinary, and could charm any person or crowd with his humorous, often self-deprecating, and frequently hilarious stories. He was an accomplished practitioner, lecturer, and world traveler until his death. As easy as it is to "friend" somebody with a click of a button on social media today, Slick could friend people from across the globe with just his wit and charm—long before "friending" was coined. Whether it was a speaking engagement in Australia, a dinner in Italy, a convention in South America, or simply a local Christmas party with his Penn residents, he was always comfortable when smiling and laughing in the company of people.
Slick's loyalty was unparalleled; as a friend he was "always there," despite his consuming involvement in writing, practicing, lecturing, and administrating. He treated all people equally. I recall when one of his residents detected an ominous physical growth on himself, a sign of a potentially serious illness. Slick was practicing on a busy afternoon with a full waiting room, but upon learning of the resident's dismay, he abruptly arose from the dental chair and phoned an oncologist friend to arrange for an immediate examination of the resident. The lesion was later diagnosed as benign, but Slick's prompt prioritization of the issue impressed the entire department. This is just 1 example of his dedication to helping mankind; there are numerous stories of similar episodes of devotion and loyalty. All of his benevolent acts were performed without his request for anything in return.
Slick was born in Crewe, Virginia, to a family of modest means. He received his undergraduate degree from the College of William and Mary, where he met the love of his life, Sandra Hoffman, whom he married in 1962. He served as lieutenant in the United States Navy as a line officer, travelling the world by sea. He then earned his dental degree from the Medical College of Virginia, completed his postdoctoral specialty training at the University of Pennsylvania, and became board certified in both orthodontics and periodontics. He served as chairman of the Department of Periodontics, and later the Department of Pediatric Dentistry at Penn, was appointed chair of the Department of Orthodontics in 1984, and transitioned to emeritus status of the orthodontic department in 2009. He remained as a full professor in the department and maintained a private practice in orthodontics until his final days.
His academic achievements were numerous. He served as editor-in-chief for the International Journal of Adult Orthodontics and Orthognathic Surgery for 17 years, in addition to other editorial board responsibilities. He coauthored the classic text Orthodontics: Current Principles and Techniques , from the third edition to the latest volume, as well as Applications of Orthodontic Mini Implants , with J. S. Lee, J. K. Kim, and Y. C. Park in 2007. He published chapters in 12 other textbooks and over 100 scientific articles and abstracts. Dr Vanarsdall served as program chairman for American Association of Orthodontists (AAO) Annual Meetings in 1994 and 2002; he was on the AAO Council on Scientific Affairs and served as its chairman. He was chosen president of the Philadelphia Society of Orthodontists and the Eastern Component of the E. H. Angle Society of Orthodontists (2005). He served as an examiner for the American Board of Orthodontics (2009). He delivered thousands of lectures in Europe, Africa, South America, Australia, New Zealand, Canada, Mexico, the Middle East, and the Far East. Slick was honored to present many special lectures such as the John Valentine Mershon Memorial Lecture (1992) and the Jacob A. Salzmann Lecture (2000) for the AAO. He was a member of Alpha Sigma Chi, Sigma Zeta, Omicron Kappa Upsilon, American College of Dentists, International College of Dentists, Philadelphia College of Physicians, Stomatological Club of Philadelphia, and National Academies of Practice. He is listed in Who's Who in America , Who's Who in Healthcare , and Who's Who in Science and Engineering . He was also named visiting professor at the University of Sydney and the University of Adelaide. He was due to receive the Joseph Jarabak International Teaching and Research Award from the AAO Foundation at the upcoming AAO Annual Session in San Diego in April 2017.
Dr Vanarsdall is survived by his son Lee and wife Rachel, daughter Leslie Vanarsdall, daughter Ashley Vanarsdall Burke and husband Brendan, 5 grandchildren, brother Joseph, and sister Barbara. He was preceded in death by his beloved wife of 50 years, Sandra Hoffman Vanarsdall.
The late Dr J. Henry O'Hern Jr., a revered Penn orthodontic faculty member for over 50 years, captured the persona of Slick Vanarsdall with these words: "Slick was the embodiment of enthusiasm. As a pioneer has put it: 'Enthusiasm is the yeast that makes your hope rise to the stars—it puts the sparkle in your eye—the swing in your gait—the grip of your hand—the irresistible surge of your will and the energy to execute your ideas. Enthusiasts are fighters. They have fortitude. They have staying qualities.'"
Slick was that fighter with fortitude, right to the very end. He epitomized enthusiasm, a passion for orthodontics, and the need to be with—and love—people.
People who need people. These are the luckiest people in the world. Robert L. Vanarsdall Jr. was indeed one of them.