Do you want new patients, a larger referral base, easier access to the practice, or more patient referrals? How much is each new lead worth and what is your budget?
• Brand
A consistent brand will not only convey a more professional appearance, it can also be effective in unifying your marketing channels to become a more recognizable local entity.
• Website
Your website should be the foundation of all your marketing and enhance the value of your practice.
• Social Media Channels
Social media channels are an important public relations platform for promoting your brand, engaging your patient/referral base and creating a personal resource for prospective patients to better understand your practice philosophy.
• Business Listings — Search Engine Optimization (SEO)
Consistent and correct business listings help Google properly grant your website authority and help you rank more effectively in search results and map listings.
• Google AdWords
Whether or not AdWords (or pay-per-click marketing) is right for your practice depends on how competitive your market is and what procedures you would like to promote. For competitive markets, AdWords may be the best way to get instant exposure while your other marketing efforts mature.
Goals and Budget
To help determine your objectives, first determine the needs of your practice: Are you hoping to establish new patients or gain referrals? For busy practices, receiving new patients may not be the main goal, but rather staying in touch and engaging existing patients. Some practices may find it most important to market high-production cases. For others, the objective may be to increase the visibility of their brand in a new location.
Establishing your goals is the most important step in assessing your budget. Cheaper is not always better. Hiring professionals who are experts and are able to spend their time working on your campaign may be your best investment. While the objective of this chapter is not to create guidelines for defining your budget, the recommended allocation of practice production spent on marketing is normally three to five percent. But for a new practice, seven percent is your best reference. Therefore, a marketing budget (depending on your goals) would be determined by your projected annual production.
Where to Begin With Website Design
Choosing a Website Designer
There are three factors to consider when choosing a website design company:
1. Involvement. How involved do you want to be in the process?
2. Experience. An experienced web design company understands that there is an important balance between the needs of the practice, the patient and the search engines.
3. Examples. Look at their other clients. Do the sites look pleasing? Are they engaging, educational and ranking well on Google and Bing? Are these practices happy with the customer service of their designers?
Often people are concerned about the price of a website and want to save money by creating one themselves. However, a few classes in HTML is not enough to develop a quality website that will rank highly in search engines and professionally represent your practice.
What is the opportunity cost of creating your own website and what is the value of your time and that of your staff? Could your time be better spent seeing more patients or enjoying time at home? Ultimately, you may not save any money and the end result could be a lower quality website.
How Much Content Do You Want to Write?
Many practices forget about the importance of content provision. Content is one of the most important elements of a quality website. Not only does it educate potential patients about your practice, it also informs search engines about the services provided.
A good website should have at least one page for every procedure your practice provides, dentist and staff biographies, patient information pages and a compelling homepage mission statement.
Don't forget to factor the cost of producing this content when pricing out a website. Options include designers that provide a full website with custom content ($$$), stock content that can be customized by the practice ($$), and those that provide no content at all ($). Be very careful about infringing upon the copyrights of others. (For more information on copyright, see Chapter 9: Legal Considerations for Digital Internet Marketing.)
Inevitably, your time may be best utilized evaluating which design firm best meets your needs, working with your designer so they understand your branding requirements, and editing content to correctly reflect your philosophies.
Experience Counts — A Poorly Built Website Can Do More Harm Than Good
A more experienced website design firm may offer multiple benefits to your practice:
• A core competency in dentistry and dental marketing
• Utilization of the latest technologies to accommodate ongoing shifts in:

Design

Function

Access (mobile devices, etc.)

Search engine algorithms
• Patient viewing habits
• Provision of value added services that enhance office productivity (secure registration forms, scheduling, etc.)
• Longevity — an established company with a proven track record of happy clients.
Content is one of the most important elements of a quality website. Not only does it educate potential patients about your practice, it also informs search engines about the services provided.
Work Examples — Take a Look at the Designer's Portfolio
A reputable website design firm should have a portfolio available for you to view. Some things to look for include:
• Do you like the designs?
• How do they look on mobile devices?
• What features are built into the site?

Content

Content management system (website editor)

Contact forms

Social media integration

Testimonials

Secure online registration
• How do the websites rank in Google? (Don't just search for "dentist")

Search by procedures (i.e., teeth whitening, dental implants, etc.)

Check locations

Search for the doctor's and the practice name
Ask your member association who they recommend or endorse for website design and search engine marketing.
Designing a Website
There is a delicate balance between design expectations, patient engagement and search engine optimization.
A well-designed website should be user friendly — making common actions and educational content easy to access to engage both the patient and search engines.
Two items to avoid when designing your website include:
• Having no content ("A clean look"). Without content, search engines can't index data.
• Meaningless, keyword-stuffed content. This is an outdated spam technique and can ruin your chances for ranking high on search engines.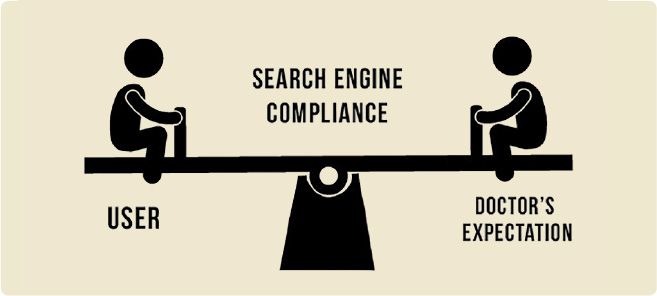 Engage the User — Connect to Your Audience
A professionally-designed website should be visually appealing. It should properly reflect the branding of your practice, your mission and, most importantly, relate to the demographics of the community you serve.
• Connect emotionally. Images of local landmarks or patients in your primary demographic can help to connect the patient with your practice.
• Create a strong call to action. An easily visible phone number and call to action, such as a contact form, will encourage patients to reach out.
• Social links. Social links such as Facebook, Twitter and Pinterest buttons encourage patient interaction.
• Promotional Incentives. Incentives, such as new patient specials, are powerful tools in facilitating user engagement.
Content — Make Sure Users Can Find What They Are Looking For