Fig. 8.1
During the formation of the root, the apical part is widely open at the onset of root formation (
a
) and gradually restrained in the three successive stages (
b
–
d
). Cementum (
C
) deposition contributes to apexification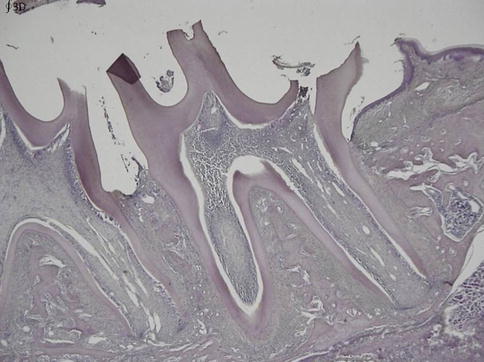 Fig. 8.2
At date 21 the full length of the root is achieved, but there is still a gradual reduction in width of the pulp, together with an increased dentin formation in the root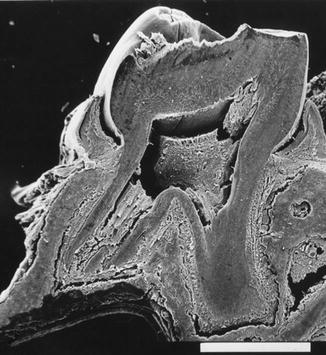 Fig. 8.3
Scanning electron microscopy (SEM). Longitudinal section of a mandibular molar during the formation of roots. Bar, 1,000 μm
In the root, tubular orthodentin formation is seen in the labial and lingual parts, whereas fibrodentin is added in the mesiodistal surfaces of the root canal lumen. This age-related variation gave the root canal lumen an oval profile. The dentin heterogeneity leads to a smaller pulp volume in the elderly (Fig.
8.4
).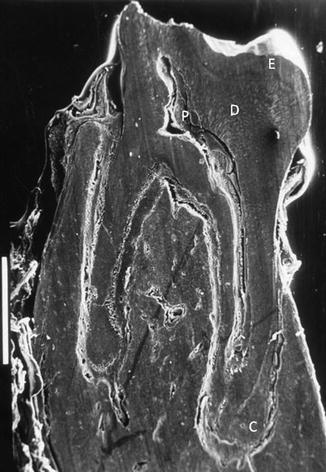 Fig. 8.4
SEM. Longitudinal section of a mandibular molar. The roots are totally formed. The dentin (
D
) thickness is maximal, and the pulp (
P
) volume is reduced. Cementum (
C
) extends and is observed in the apical part of the roots
During aging, the dental pulp is enriched gradually by fibrous bundles of collagen. Noncollagenous proteins located in the so-called ground substance are somehow restricted, whereas the pulp is enriched in lipidic inclusions and pulp stones. The pulp response time is increased in older people, whereas pain intensity decreases.
With age
odontometric changes
have been noted with respect to pulp cell density, pulp area, and dentinal thickness. Cell density of odontoblasts, sub-odontoblasts, and pulp fibroblasts is decreasing. There is also a decrease of age-related changes in the root, which is more pronounced than in the crown. Cell density in the crown was greater than in the root (Fig.
8.5
). Dentinal deposition is greater in the root compared to the crown [
3
].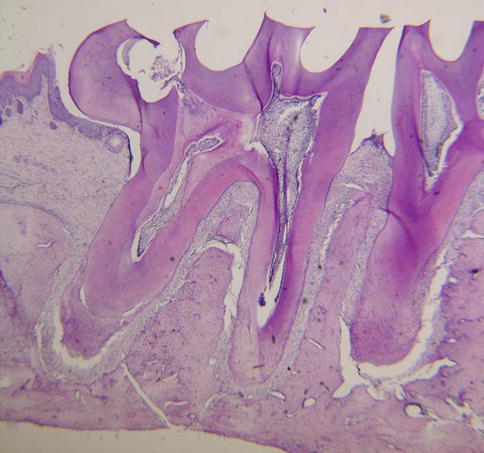 Fig. 8.5
Three-month-old rat. The apical part of the root is closed
8.2

Age Determination

Using microarray and RT-PCR, age-related changes in the expression and composition of third molar pulps of young subjects (age group 18–20 years) were compared to older patients (age group 57–60 years).

In young dental pulp, growth factors such as bone morphogenetic protein, TGF, growth factor differentiation family, platelet-derived growth factor α, vascular endothelial growth factor α, and FGF family were highly expressed, suggesting that they regulate the genes controlling cell proliferation and cell differentiation, and were responsible for signaling of many key events in tooth morphogenesis and differentiation.