Fig. 10.1
List of foods and drinks with erosive potential and recommendations for prevention of erosion [
3
]
An important step towards management of dental erosion in a patient is determination of the dental erosion risk status of the patient. Through the process of risk assessment, the diet and the dietary factors predisposing the patient to the risk of dental erosion will be identified. So in this chapter we should first discuss the tools and procedures that can be used during the risk assessment exercise to enable identification of the dietary factors causing the patient's dental erosion. Then we should discuss the dietary advice to prevent development of new erosion lesions or progression of existing erosion lesions in a patient.
10.2

Identification of Dietary Factors Associated with a Patient's Dental Erosion
10.2.1

Food History

Taking a food history is vital in determining the source of the dietary factors predisposing the individual to the risk of dental erosion, including the type and frequency of intake of the food and drink. This is very important as the preventive advice can only be effective if it is personalized and directed towards the information obtained from this history. To be precise in capturing accurate information, a clear instruction, as shown in Table

10.1

, should accompany the forms for collecting 3-day dietary history. A typical food history should include week and weekend days, and this can be achieved using either a Dietary Food Record (Table

10.2

) or a Food Frequency Questionnaire (Table

10.3

) described below.

Table 10.1

Typical food recall instructions

Do not change your eating habits while keeping your food/drink record

Record what you really eat and drink

Fill in the information

NOW

instead of relying on your memory

Keep a 3-day food record (including 1 weekend day)

Write down

EVERYTHING

(no matter how small)! Keep your form with you all day long and write down everything you eat and drink. A piece of candy, a handful of pretzels, a bottle of soda, or a small donut may not seem like much, but it's important that your dietitian knows about all foods and drinks that you have during these 3 typical days

Do it now! Don't depend on your memory at the end of the day. Record what you're eating as you go

Be specific. Make sure you include "extras," such as gravy on your meat, cheese on your sandwich, or vegetables, butter, and salad dressings

Estimate amounts. If you have a bowl of cereal, measure out or estimate the actual amount (rather than writing "bowl" of cereal). If you eat at a restaurant, just estimate as closely as possible

Be specific in how the foods were prepared (baked, broiled, fried etc.)

Include the brand name of the product used

If eating away from home, include the name of the place or restaurant

Be specific, for example, include salad dressings, gravy, and or sauces

Estimate amounts (hand and fingers can be used as measuring devices)

Write legibly, but don't worry about your spelling!

Your food record will help the clinical team understand which foods and how much you are actually eating right now. In other words, we need your help understanding your diet, in terms of what is

TYPICAL

and what is

TRUE

. It is very important to follow the guidelines below in order to help us. We really appreciate your help!

Don't change your eating habits

while keeping your food record (this is the

TYPICAL

part)

Record what you really eat

(this is the

TRUE

part)

You have been given enough copies of the food record form to record 3 days of dietary intake (including 1 weekend day). There are extra sheets so you will have plenty of room to write everything down

Please call or email one of your dietitians if you have

any

questions

Be sure to bring your completed 3-day food record with you to your next clinical appointment

Table 10.2

Three-day food record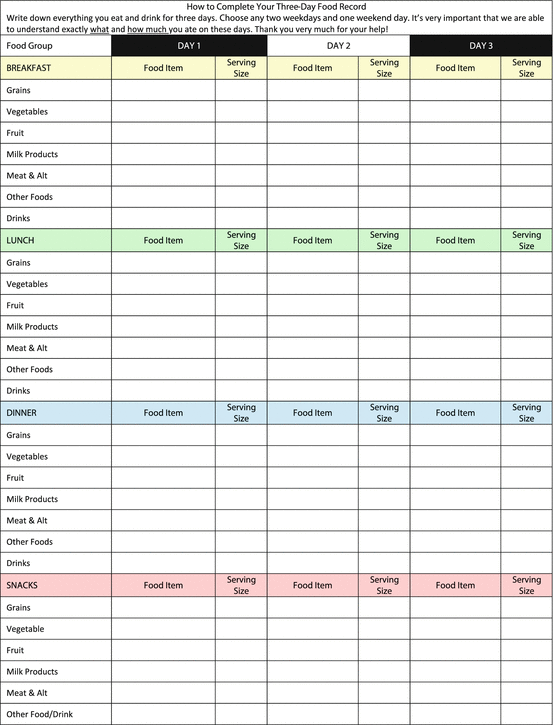 Table 10.3
Food Frequency Questionnaire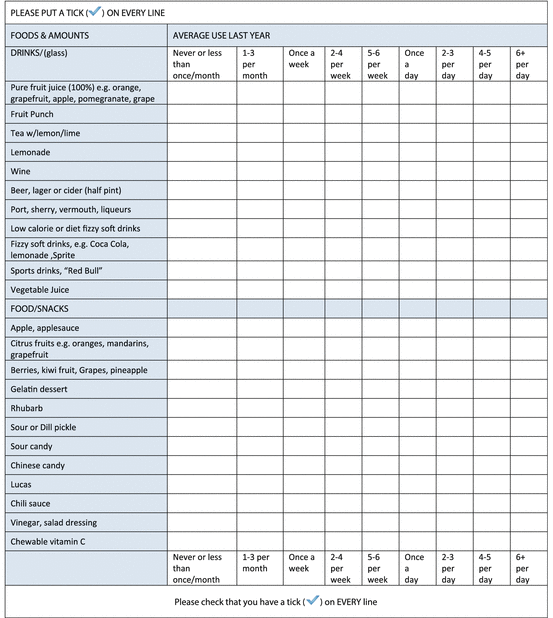 10.2.1.1

Dietary Food Record

The Food Record (Table

10.2

) is a method of collecting dietary information in diary format over a 3-day period, typically 2 weekdays and 1 weekend selection. It is well known that diet changes from the structure of weekdays to variability of weekend activities. Thus collecting a 3-day record gives a picture of food choice habits. Food information, including the quantities, should be recorded immediately or as soon as practicable. The food quantity can be estimated using the method shown in either Fig.

10.2

or

10.3

. Some problems occur when patients do not fill in the diary as they go but instead depend on recall from the previous day. A major advantage of the 3-day food record is that the patient's personal daily eating patterns are revealed. Disadvantage will always be the inaccuracy or misrepresentation of the recorded intake. One way to collect the information from the patient is to have it mailed to the dental office before the next visit. In this way the dentist may review and determine the source of the problem prior to the appointment.