For patients with signs of erosive wear, the third step is then to use the
Dental erosive wear risk assessment
(DEWRA) form (Table
7.2
), where the patient's responses to more in-depth history-taking regarding dietary and oral hygiene habits, social, and lifestyle habits, and general health conditions, guide the clinician to choose low, medium, or high risk factor categories. The last part of the DEWRA form uses information from the clinical examination, as well as saliva measurements to choose patient clinical risk categories. The risk level for each risk factor in DEWRA is noted in the right-hand column of the form, and a summary for each patient is written in the open field at the end of the form. An example of a completed DEWRA form is included (Table
7.3
).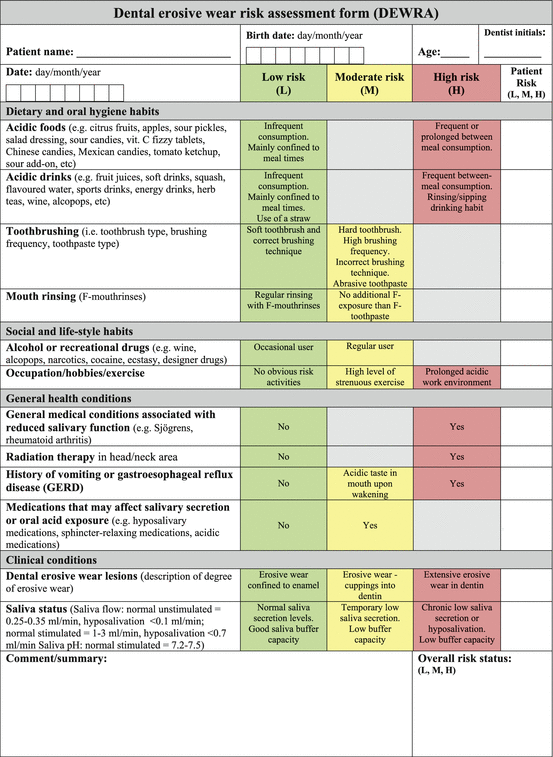 Table 7.3
Sample of completed DEWRA form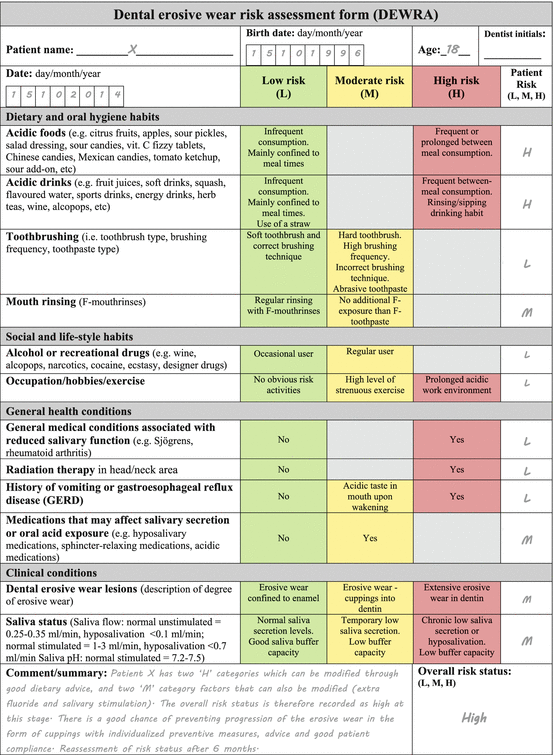 The dentist should now be in a position to categorize the dental erosive wear risk status of the patient following use of the DEWRA form together with a detailed clinical recording of erosive wear lesions using the BEWE or other scoring system. Knowledge of the risk and protective factors as they relate to the individual patient serves both diagnostic and prognostic purposes, and forms the basis for the preventive portion of the treatment plan, while the overall dental erosive wear risk status forms the platform for the integrated, personalized treatment plan for the individual patient. It may be of great use to the dentist in explaining the erosive wear lesions that are present. This is useful because some factors need to be modified in order to reduce risk; exaggerated oral hygiene and frequently consumed acidic drinks or foods are good examples of this. Other factors cannot be modified, and this may affect the preventive management regimen and the prognosis. For instance, a patient with reduced salivary flow due to Sjögrens syndrome is, and will remain, at high risk for dental erosive wear. Furthermore, the dentist might like to make the following prediction: "This patient may develop new erosive wear lesions within the next 12 months unless something is done to prevent it." However, because dental erosive wear is a multifactorial disease, it is probably not surprising that it is difficult to predict accurately. Clinical examination and medical and dental history are the most important sources of information. Thus, a person with no active lesions and no obvious risk factors may safely be designated as currently at low risk. On the other hand, a person with multiple active lesions, and one or more risk factors may be designated as being at moderate or high risk. This means that instead of concentrating on predicting the future, dentists should concentrate on controlling the dental erosive wear lesions their patients have at present. Initial placement of a patient in a high or moderate risk category means that the dentist is responsible for following up the patient's individual preventive treatment plan at recall visits 6–12 months later. Re-assessment of the risk status of the patient needs to be performed at recall visits, and re-adjustment made if necessary [
1
].
The fourth step involves filling out the
Dental erosive wear preventive treatment plan
(Table
7.4
), consisting of a list of the preventive care options from which the clinician can develop a personalized preventive plan for each patient, including also restorative treatment of the erosive wear when necessary. The patient should then receive an individualized letter of advice (
Patient letter
), explaining the results of the risk assessment and the necessary advice for prevention and treatment. An example of such a letter is provided (Table
7.5
). As support to the clinician, the final part of this chapter provides a brief explanation of the various risk factors that are included in the DEWRA form with reference to other chapters in this book (Chapters
3
and
4
) [
2
,
5
].
Table 7.4
Preventive treatment plan guide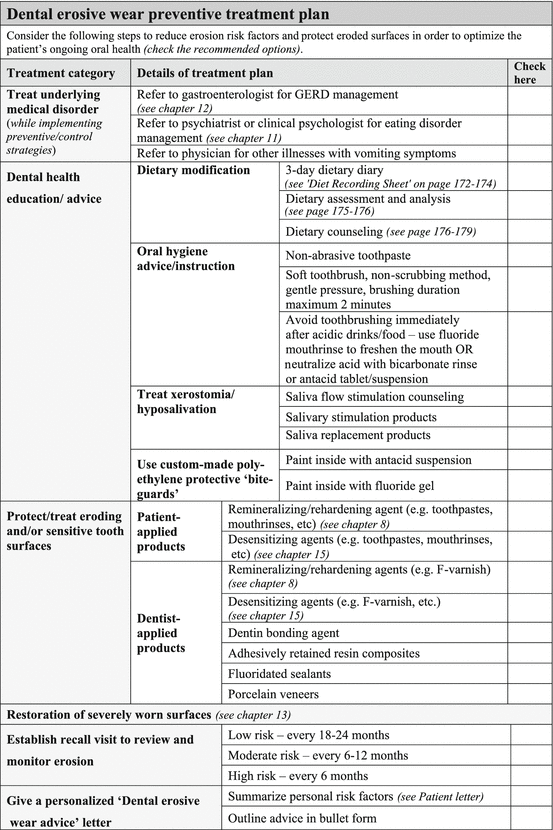 Table 7.5
Sample patient letter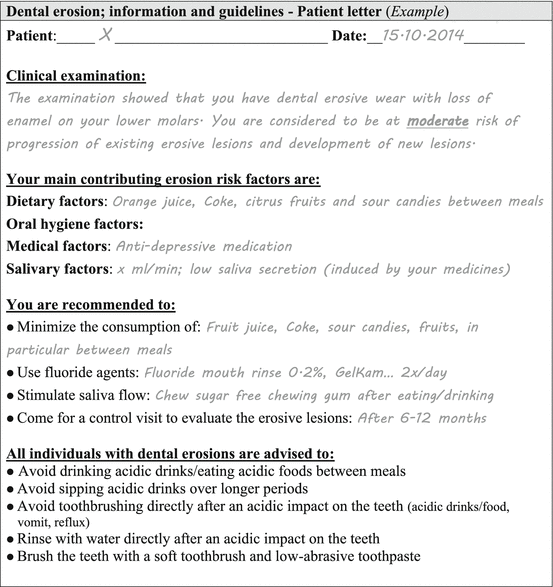 7.3

Dental Erosive Wear Risk Factors
7.3.1

Dietary and Oral Hygiene Habits
7.3.1.1

Diet

A thorough dietary analysis is extremely important in patients presenting with dental erosive wear lesions, whether confined only to the enamel or obviously into the dentin. The clinician should not only focus on current dietary habits but ask the patient about previous habits regarding both amount and frequency of intake of acidic dietary foods and drinks [

3

,

5

]. The manner that dietary acids are introduced into the mouth (e.g., gulping, sipping, use of a straw) and the timing (e.g., with meals versus between meals), frequency and duration of exposure will affect how long the teeth are in contact with the erosive agent, and are therefore of paramount importance. It is also relevant to ask if the patient has a vegetarian diet, since it may often consist of acidic food and also food with high fiber content that can increase erosive tooth wear, in particular raw food diet [

4

].