Fig. 3.1
(
a
) Radiograph of implant and associated cement. (
b
) Clinical picture after surgical flap elevation. Cement on the surface of an implant with extensive bone loss associated with this disease. (
c
) Implant is removed with cement residue
A common misconception is that it is only the type of luting cement used that either results in an implant disease process or not. Any cement can lead to destruction around an implant, although in truth some cements may have more issues than others; the disease process, like most diseases, is multifactorial.
Factors such as understanding why implants are vulnerable to cement-induced disease process due to biology, depth, environment, implant materials, cement properties, cement application, abutment design, and maintenance are all important if peri-implant diseases are to be prevented.
Dentists are familiar with dealing with the natural dentition and as such have taken many of the concepts and techniques used when restoring a tooth with a cemented restoration and transferred them to the cemented implant restoration. This must be considered an error. Teeth and implants have very different requirements with respect to how the tissues attach, the depth of margin placement, the disease susceptibility, and the core materials of the abutment (enamel and dentine for the tooth versus ceramics, zirconia, or metal for the implant; Figs.
3.2
and
3.3a–c
).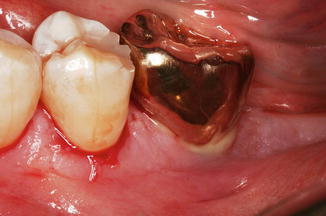 Fig. 3.2
This case shows the effects of residual excess cement resulting in peri-implant disease with suppuration a common finding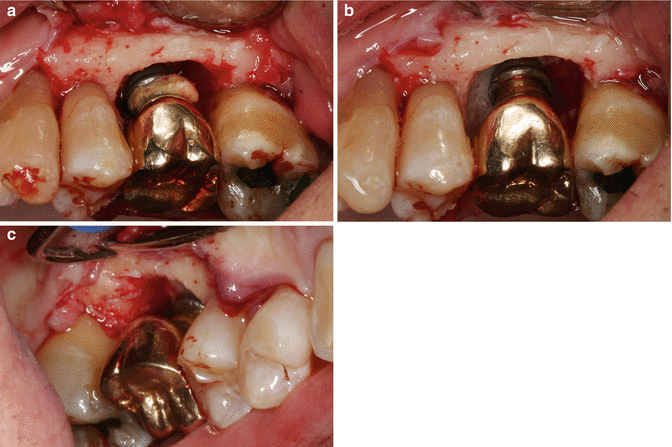 Fig. 3.3
(
a
) Bone loss in a classic crater-type form; excess cement is noted on the implant body. (
b
,
c
) The crater is noted to extend 360°, with bone loss evident (Photos courtesy of Amy Fuller, DDS, and Brian Fuller, DDS)
Current Understanding of Peri-implant Disease and Residual Excess Cement: Etiology
It is unclear why the cement should cause an issue, as well as to what role the cement plays in this process. It is possible that the cement is simply passive and acts as a physical bacterial trap, rather like an overhang on a restoration or calculus effects on the natural dentition (Fig.
3.4
). It is also possible that the cement plays more of an active role, as the destruction of the peri-implant tissues (hard and soft) is frequently aggressive and extensive (Fig.
3.5a, b
). The disease may be different between patients, and even within the same patient. It may be due primarily to one major factor or a combination of factors (Figs.
3.6
,
3.7
, and
3.8a, b
).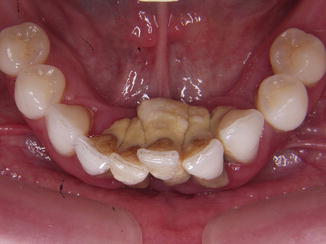 Fig. 3.4
Calculus around these teeth presents an issue due to bacteria associated with it. In itself, it may be considered having more of a "passive" than "active" role in periodontal disease

Fig. 3.5
Facial (
a
) and palatal (
b
) photographs of a site affected by residual cement. The resultant disease process is clear. Can this response truly be considered passive like an overhang, or did the cement somehow contribute to the breakdown and have an "active" role?

Figs. 3.6 and 3.7
A deep probing noted around these implants. Surgical evaluation with remnants of excess cement noted on these two failing implants. Is it possible so much destruction would have occurred if the cement were simply a passive component in the disease process like an overhang?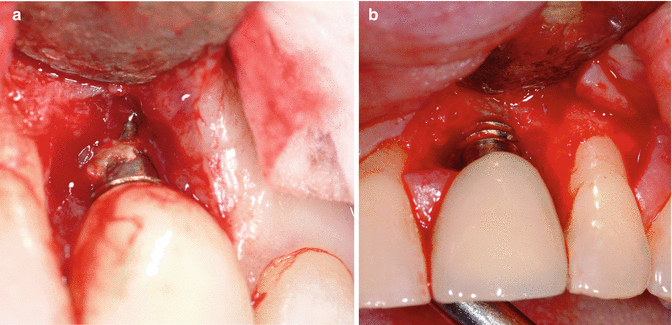 Fig. 3.8
(
a
) Was there always going to be an issue with this implant and the cement is simply there as a result, or did the cement get into the site and cause the problem? (
b
) Debrided site
There are currently four potential causes of peri-implant disease as it relates to residual cement: microbiology, foreign body reaction, allergic response, and alterations in implant surfaces.
Microbiological
Wilson suggested that the disease process he noted may be microbiological in nature. This was in part due to the time it took for signs and symptoms to develop. This ranged from 4 months to 9.3 years after the cement-retained implant restoration was placed.
The study involved the University's graduate periodontal and microbiology departments and formed the basis of Dr. Neal Raval's Master's thesis. To the authors' best knowledge, this is the first data on evaluation of cements with these specific microbes.
To measure the planktonic effect of the cements, optical density of the solutions was used. In essence, a light beam (wave length 600 nm) was passed through the solution and the opacity measured, which gave an indication of bacterial loading. The opacity of the solution was directly related to the quantity of bacteria present.
Once it was established that differences among the cement samples existed with respect to how they may change the microbial environment into which they are placed, the second study was done. This was to evaluate if there was a difference in adhesion of these Gram-negative bacteria to the cement disk. All the disks were made in a similar manner under aseptic conditions by mixing the cement on sterile pads according to the manufacturer's instructions. The cement was carefully loaded into identical dimension matrix washers then placed between two sterile glass plates and allowed to set. The aim of the glass was to produce similar surface details macroscopically for the test cements. It was understood that the microstructure would differ significantly due to individual cement type differences. The two test cements evaluated were TempBond (having the greatest inhibitory effect on planktonic growth) and Multilink Implant cement (the least inhibitory effect). To determine how many bacteria existed on the cement disks, they were removed from the media after 48 hours incubation, washed in sterile media, and then placed in an Eppendorf Tube with 200 μl of fresh media. The disks were then agitated vigorously to remove the more tightly adherent bacteria. The media was collected and plated on agar plates and incubated under anaerobic conditions.