DEFINING GOALS
Successful office design is the product of many factors. These include the practitioner's goals and expectations and the resources, both financial and material, available to that practitioner. These, of course, will vary tremendously for different oral and maxillofacial surgeons. Nevertheless, there are some general guidelines that are useful when considering the creation of a new facility in which to practice oral and maxillofacial surgery or in the remodeling or renovation of an existing one. If you consider this process as a journey, then these guidelines serve as a road map to take you from your current position to your desired one.
Before beginning your journey, it is paramount that you enumerate your reasons for making the trip. You may be a recent graduate of a training program and establishing a new office. You may have practiced for many years and wish to relocate or renovate. The reasons for this may be many. You may be dissatisfied with the quality of the existing physical plant or its location. The treatment rooms may be too small. There may be a lack of storage or insufficient parking. You may desire to own, rather than lease, or wish to establish a satellite office to enhance your referral base.
The point is that your first step should be to establish a list of what you hope to accomplish. What are your goals? These goals should be further divided into short-term and long-term. What do you want your practice to be like in 1 year, 5 years, or 10 years? How do these goals impact upon office location and design?
Time should be taken to develop a worksheet that defines your specific goals and prioritizes them. Completion of this first step is absolutely critical to ensure a successful outcome.
Once your goals and objectives are established, you must ask how to position yourself to accomplish these objectives.
CREATING A ROAD MAP
The first steps taken to achieve objectives often involve the factors of location, new construction versus existing construction, square footage required, and lease versus own. If you are considering renovating existing office space, you must ask whether this will satisfy your stated objectives. Can you work within the existing space limitations or acquire adjacent square footage? Can you achieve better office efficiency and patient flow? Are you satisfied with current parking and neighboring businesses? Are the expenditures of renovation offset by the gains made in personal satisfaction? What is the projected downtime for the renovation, and how will that impact your cash flow and referrals?
If you are relocating versus renovating, you must gather demographic information about suitable options. Much information can be obtained from local governmental agencies and community organizations. Information regarding population growth, age of residents, and income statistics should be considered in addition to zoning regulations, projected highway development, trends in new building construction, and availability or occupancy of office space. Certainly, the potential referral sources in the geographic area should be considered. Once this information is obtained, you must see how it fits with the objectives you have set.
The decision to lease or to own your office space must be considered. This is perhaps most impacted by the current amount of funding available to you and by your short- and long-term goals. Advantages and disadvantages of each should be enumerated. Input from your CPA, lawyer, and financial advisor should be sought. Legal advice with regard to lease negotiations should be used.
In conjunction with decisions about location, you need to develop a plan addressing what you require in square footage. This can be approached by listing each room or component you anticipate, for example, waiting room, business office, operatories, etc., and then list a projected size in square footage for each room. Included must be hallways, wall build-out requirements, and mechanical room requirements. You must also allow for handicapped square footage and code requirements for your particular location.
At this point, you should be able to arrive at an approximate amount of square footage required to satisfy your current and future objectives for your practice. How does this figure work with the space available in the locations you are considering? Can you make a match? You must also ask if it fits in with certain requirements you might have. For example, northern natural light, the need for a separate personnel entrance, and a separate patient exit different from the reception room entrance and exit. Have you included adequate storage facilities, or does the building have a basement?
FINANCIAL PROJECTIONS AND FEASIBILITY
As you combine thinking about location and overall square footage requirements, you must add financial projections to the mix. Financial projections will include cost per square foot, property taxes, common area maintenance costs, utilities, equipment costs, surgical supplies, business office equipment, and office furniture. It is usually possible to obtain an estimate of build-out cost per square foot for your geographic area. A good source for this information is your local dental-surgical equipment supplier or salesperson. Other sources are local builders and lending officers from local banks. Equipment and surgical supply cost can be obtained from your local suppliers. You should ask several vendors to supply you with competitive bids for your business. The same should be done with suppliers of office furniture and office equipment.
A financial summary and feasibility document must now be assembled. It should include the financial projections noted above, but also include such business overhead projections as monthly rent or, if owning, monthly mortgage payments, projected monthly utility expenses, anticipated payroll expenses, insurance expenses, and local, state, and federal taxes. For example, it is extremely important to include sales tax when working on projections of equipment, surgical supplies, and business office furniture and equipment. Offsetting these projections of expenditures will be projections of anticipated gross revenue. Responsible financial planning will be expected of you as you approach potential lenders for funding. This will most likely be a bank and will, again, most likely be a long-term relationship. Choose your bank wisely and engage your accountant in the decision. How much money can you borrow? What is the best interest rate available? Should it be a variable or fixed rate? Can you defer principal payment? What best fits your financial projections?
At this point, you have established a statement of your goals and what you wish to accomplish. You have selected a location for your facility. You have determined an overall size for the physical plant of your facility. You have projected the financial expenditures necessary to build and equip your facility. You have established projections of anticipated gross revenue generation and anticipated overhead. You have identified a lender willing to provide you with the capital necessary to achieve your goals. It is now time to … STOP. Are you being realistic? How does your personal lifestyle and personal expenditures impact on the scenario generated? Are they compatible? Have you accounted for, as much as possible, the unexpected? Are you comfortable with the degree of risk you are undertaking? Reassessment before moving forward should be part of the overall plan for success. It is a good time to review your plans with your accountant, attorney, banker, and other trusted persons whose opinions you respect and value. Once reassessment is satisfactorily completed, it is time for moving forward.
Let us look at some of these issues in more detail.
▪
OFFICE DESIGN: OVERALL FLOOR PLAN
The typical oral and maxillofacial surgery office must accommodate areas of space dedicated to the accomplishment of certain tasks. These can be listed as:
•

Surgical treatment area

•

Pretreatment area (consultation, radiology, conference)

•

Posttreatment area (recovery)

•

Sterilization and infection control area

•

Patient reception, waiting area, checkout, and exit area

•

Business office area

•

Restrooms

•

Physician's office area

•

Laboratory area

•

Lunchroom area

•

Staff office area
These areas designated to a specific task should also be arranged in a pattern that will provide for efficient patient, staff, and surgeon traffic flow. The patient reception area, waiting room, checkout area, and patient exit should be isolated from the surgical treatment and posttreatment areas. The pretreatment area should be located between the patient reception or business office area and the surgical treatment area. It should be possible for a patient to enter the office, be received by the business office personnel, be escorted to the radiology suite, then to the consultation room, and back to a checkout area of the business office without physically or visually encountering the surgical treatment area or posttreatment area.
This is important for minimizing patient anxiety, protecting patient privacy, and for infection control purposes. It is strongly recommended that a separate exit be provided for patients who have had surgical procedures and that this exit is located away from the reception area. The surgical treatment area and posttreatment area and the sterilization and infection control area should be centrally located. Traffic flow within this area should not impinge on traffic flow in the pretreatment area.
The private areas of the office, consisting of the physician's office area, staff office area, laboratory area, lunchroom, staff locker room, and restrooms, will have no patient flow and be located the farthest away from the reception room area. A separate entrance for staff located close to the locker room should be strongly considered, and a private entrance for the physician's office area is also beneficial.
Surgical treatment area: This area drives not only the practice but also the office design. It is where the surgeon will spend the bulk of his or her time while in the office. When designing this space, the number of surgeons that will be working at the office, the type of surgery that will be done, the type of anesthesia that will be used, and whether or not the surgeon will be seated or standing should all be included in the design process. These factors will all impact on the number of surgical operatories that will be required and the size of each. Two operatories and a consult area should be considered for each surgeon. This will be impacted by the type of surgery being provided. It is a good rule of thumb for practices weighted toward dentoalveolar procedures. Other surgery, such as cosmetic, implant, or orthognathic or distraction, may require designated and modified operatories. These operatories require additional space for anesthesia machines, lasers, additional Mayo stands, personnel, etc.
Space for a standard operatory should approximate 144 square feet. Special procedure operatories may require 300 to 400 square feet. In the standard operatory, two sinks for hand washing should be considered: one sink for the surgeon and one for the assistant. They are not expensive to install if included in the original floor plan and can save 2 to 3 minutes per patient encounter. If the surgeon sees 20 patients per day, this can free up to 3 to 5 hours per week.
If designated surgical areas are required, a separate scrub sink area is necessary. The operatory should be as uncluttered as possible, and cables and cords should be kept off the floor. An uncluttered appearance is also less intimidating to the patient. Designating the wall behind the long axis of the seated patient for the delivery system and monitoring equipment is a good way of accomplishing this. It should also be remembered that operatories should be of sufficient size and design to accommodate a crash cart and resuscitative efforts ( Figure 20-1 ).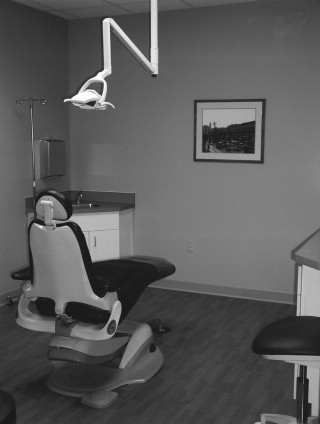 Pretreatment area: The pretreatment area consists of the consultation and examination room, radiology suite, and conference room.
Consultation room: This room is a modified version of the operatory. It contains a patient chair and track lighting, but no delivery system is required. Only one sink area is required. It can be smaller than the operatories, but must be able to accommodate at least two seated persons (e.g., the parents of the patient and the surgeon and patient) ( Figure 20-2 ).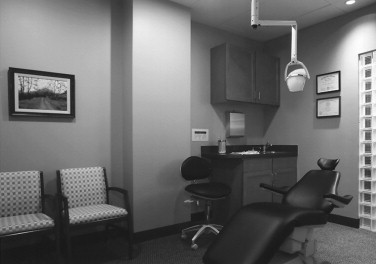 A minimum space of 100 square feet is required for this room. This room should be:
•

Located close to the radiology area

•

Equipped with intraoral radiology capabilities

•

Soundproof

•

Close to the business office

•

Isolated from the surgical area
It should be remembered that this room will be part of the patient's first impression of your office and practice. It should be decorated and furnished accordingly.
Radiology suite: A transition in design of this area is ongoing as a result of advances in technology. The standard radiology techniques are being replaced by digital radiology techniques and cone beam 3-D imaging. This technology should be included in the design, if not for immediate implementation, then for future transition. A minimum space of 100 to 144 square feet should be provided for this area. This space should provide for easy wheelchair maneuverability. It should be located close to the consultation room and business office. It will also form one of the first impressions your patient has of the office and should be designed accordingly. If conventional radiography techniques are being used, a separate darkroom area with a deep well sink will be required. This can generally be 20 square feet in dimension. When designing this space, however, you may wish to consider possible future use of this space if film developing will not be required in the future. For example, you may wish to make it large enough for a future recovery room or storage area.
Conference room: A separate conference room can serve many purposes. It can be an area to discuss treatment plans with patient and family outside the consultation room. It may be used as an area for business office personnel to discuss financial arrangements with patients. It can be used as an area for staff to review postoperative care with caregivers before discharge of patients who have undergone sedation. It can be used as an area for clinic supervisors to meet with sales representatives without disturbing the patient flow. This room need only consist of a table with chairs. It should be located near the consultation room and business office and out of the busiest patient flow area. It should be soundproof and requires 85 to 100 square feet ( Figure 20-3 ).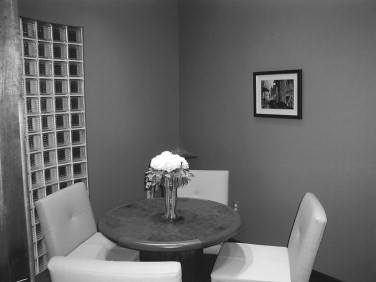 This entire pretreatment area should be located close to the business office and reception area and away from the surgical treatment area. Patient flow should be designed to accommodate patients entering the reception area, interacting with the business office staff, being escorted to radiology, then to the consultation room, and back to the business office and reception area without encountering the surgical area or recovery area. This is important for minimizing patient anxiety and for infection control. A patient restroom located in or near this pretreatment area should be considered. It must be handicapped accessible and will require 50 to 70 square feet.
Posttreatment area: This is the recovery area for patients receiving general anesthesia or sedation. The number of recovery rooms depends on the number of surgeons and the number and type of anesthetic procedures performed. Providing two recovery areas for each surgeon is a good rule of thumb. If short-acting sedative techniques are used and excellent scheduling principles used (e.g., alternating sedation procedures with those requiring local anesthesia only, or consults), patients may be recovered in the operatories and discharged directly from there. Recovery areas must be equipped with suction, oxygen, and monitoring equipment. Patients in the recovery room area require continuous monitoring by trained personnel and should be located close to the operatories to minimize transport time.
Sterilization and infection control area: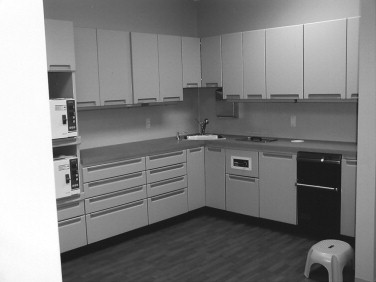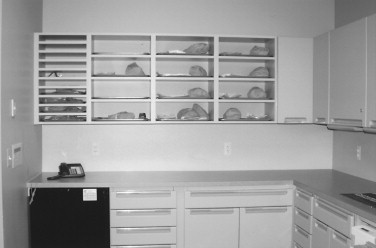 The sterilization area should be centrally located in regard to the surgical treatment rooms. It will be one of the busiest areas in the office and, consequently, have a busy traffic flow. A natural flow of traffic will exist within the sterilization area from contaminated to sterile. It should be laid out in a logical fashion to accommodate this flow. High usage of cabinets and drawers in this area dictates high-quality cabinetry built for durability and flexibility. High-volume practices should consider a commercial grade trash compactor in this area. The clean or sterile side of this area often houses storage of drugs used in patient treatment. Duel locking cabinetry is required. A small refrigerator is also located in this area for storage of drugs, film, etc. Sterile surgical packs and trays and anesthesia tray set-ups are often stored in this area.
Although the surgeon typically spends little time during the day in this area, his staff may spend a large part of their day here. It should be designed to accommodate this fact. A squared U shape provides for open flow in this area. A tendency to design this space with too little square footage is a common mistake. For a busy practice with two surgeons and six operatories, 125 to 150 square feet should be allocated for this space. This helps in traffic flow and aids in satisfying infection control principles.
Patient reception and waiting area: This is an area of the facility that the surgeon may not enter during the entire week. However, it is perhaps the busiest area of the facility and one of the things your patients or their families will remember most. It should be designed and furnished with this in mind ( Figure 20-6 ).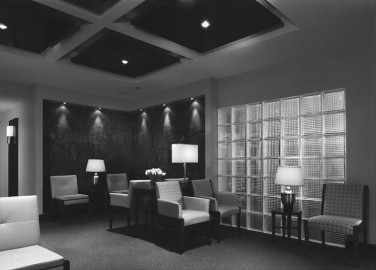 Patient numbers and the number of surgeons working must be considered in designing this space. Because many patients are sedated or receive general anesthesia during their visit, they will be accompanied by one or two others. Thus, for each patient seated in an operatory, you should plan on 2 to 2½ seats in the waiting room. You must also consider space for end tables, coffee tables, planters, art work, etc. Efforts to decrease patient apprehension should be considered in the design and color choices of the waiting area. This can be done by sets of cluster seating rather than perimeter-only seating, recessed incandescent lighting, rounded walls, soft color wall paint or covering coordinated with good carpeting, and appropriate music through ceiling speakers. In geographic locations that experience cool or winter weather, an entrance foyer with a coat rack and umbrella stand should be provided. This should have easily cleanable flooring, such as stone or tile, and floor mats that can be cleaned ( Figure 20-7 ).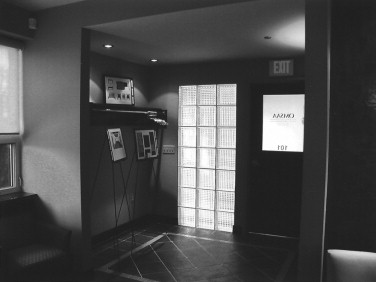 If such options in the building exist, natural outdoor lighting via windows should be incorporated in the design. In a facility with six surgical treatment rooms, the patient reception and waiting area should occupy 350 to 400 square feet.
Business office area: The business office should be located adjacent to the reception and waiting room area. There should be a designated area for greeting patients and a separate area for patient checkout. Depending on the size of the practice, more than one checkout area should be considered. At least one of these should be handicapped accessible ( Figures 20-8 and 20-9 ).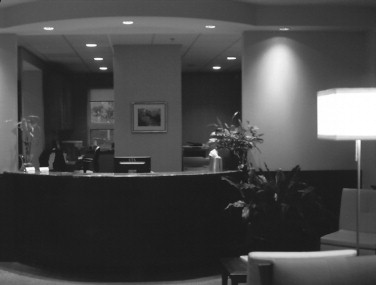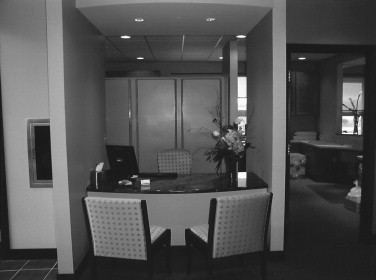 Keep patient privacy in mind when designing check-in and check-out areas. The design of the business office must be done in conjunction with your information technology (IT) coordinator and telephone system coordinator. Work stations or docking stations for computer terminals, network servers, telephone lines, fax lines, patient pay credit card machine, and electrical outlets must be included in the design process for this area. Consider mounting keyboards on retractable trays beneath the counters at the computer work stations. Cabinetry and storage for supplies, forms, and other paper products will be required. There will typically need to be space for patient records; however, this is an area, like radiology, that is changing with technology. More and more new office designs will consider a "paperless" approach. It is unclear how much space this will actually save. These issues should be discussed with your software professional during the design process. The number of work stations will depend on the size of the practice. For each surgeon, there should be at least two work stations. One of these stations can also be used for either the reception station or patient exit station. An estimate of 90 to 100 square feet per employee in this area is reasonable. If you anticipate having a business office staff of four persons, then your space requirement will be in the 350- to 400-square feet range. Estimate 9 lineal feet of counter space for each front desk staff person.
Restrooms: The number of restrooms will vary according to personal preference. However, there will typically be designated restrooms for the physicians, staff, and patients and their families. Even if your building has public restrooms in an adjacent foyer, atrium, or hallway, it is a good idea to have a patient restroom within your facility. This should be located near the junction of the "front" and "back" portions of your office. The reference to the "front" portion of the office refers to the reception and waiting room area, business office, consultation room, radiology suite, and conference room. The reference to the "back" portion of the office refers to the sterilization area, operatories, and recovery area.
Generally, all restrooms, including staff and physicians, will be required to be handicapped accessible, providing handrails and wheelchair maneuverability. Your contractor will be knowledgeable in this area. You should be aware of local interpretations of the Americans with Disabilities Act and plan on 60 to 65 square feet for each restroom. Depending on overall office image concepts, you may wish to upgrade features in the patient's restroom. This may include upgrading the floor and wall covering, lighting, sink and faucets, etc. ( Figure 20-10 ).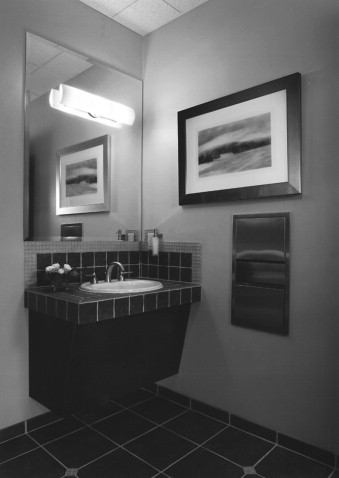 Physician's office: The inclusion and design of a private physician's office is a personal preference and will vary greatly. The surgeon will spend the majority of his or her time outside of this space. However, there are times when privacy is required, and work space that ensures privacy is desired. There are also times when the physician may be at the office outside of normal business hours to work on business matters that cannot be accomplished during the day or week because of patient demands. A personal office is ideal for this. The office should be able to accommodate seating for two other persons for private meetings with staff, business advisors, sales representatives, etc. Consideration for a private entrance directly into the physician's office should be made. This allows for evening and weekend access without opening the entire office. A separate alarm zone for the physician's office allows access to this area without disarming the rest of the office. The physician's office will generally have a separate restroom and closet. If multiple physicians are present, this can be an open space with appropriate desk numbers, or individual offices can be considered ( Figures 20-11 and 20-12 ).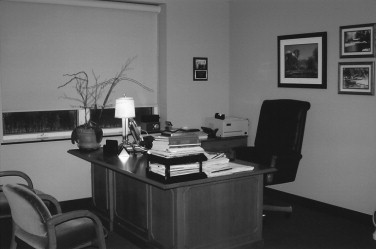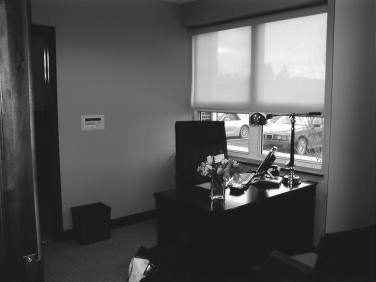 Laboratory: The amount of space required for a laboratory is dependent on the type of surgery being done. The area should accommodate the anticipated number of persons using it at a given time. It will typically require countertop space, a deep base sink and plaster trap, a lathe, and model grinder. It should be in an area of the facility remote from the front area and as far from the operatories as possible and, if possible, be soundproof. If only one person will be in the lab at a time, then a space of 70 to 100 square feet should be adequate.
Lunchroom: This area can add greatly to staff job satisfaction. Soliciting staff input into its design can add to this. It should be large enough to accommodate your number of employees and be away from the flow of the office. It will typically house a microwave, sink with garbage disposal, dishwasher and refrigerator, and a table and chairs for staff ( Figure 20-13 ).