Fig. 13.1
Nacre microstructure showing platelike structure containing calcium carbonate platelets and protein interface helping good fracture toughness
13.7

Marine Skeletal Proteins in Regenerative Medicine

It has already been shown that coral and marine sponge skeletons can support self-sustaining musculoskeletal tissues and that extracts of spongin collagen and nacre seashell organic matrices promote bone mineralisation. Use of ready-made organic and inorganic marine skeletons is one of the simplest potential remedies to major problems hindering the future development of regenerative orthopaedics such as providing a richness of framework designs and now a potentially rich, accessible source of osteopromotive analogues and biomineralisation proteins. This should not be surprising given that the pivotal biomineralisation proteins, which orchestrate bone morphogenesis, are also found in the earliest calcifying marine organisms. In support of this notion, it has emerged that BMP molecules— the main cluster of bone growth factors for human bone morphogenesis—are secreted by endodermal cells into the developing skeleton. In addition, the regenerative signalling proteins are also present in early marine sponge development and instrumental to stem cell activation in Cnidarians. Based on this match between vertebrate and invertebrate main developmental proteins, we have published the nature and extent of this evolutionary relatedness and use it to support the development of a new strategy, which is to my selected marine origin organic matrices for novel metabolic signalling and structural proteins/peptides and protein analogues to apply in regenerative orthopaedics, particularly when using adult stem cells [

9

,

38

]. To support this we showed the early-stage evidence gathered in our own laboratory the presence of fibrinogen fragments and early osteopromotive effects of a coral organic matrix extract on stem cells [

39

]. In practice the discovery of new osteopromotive and osteo-accelerant protein analogues will require the use of traditional chromatography techniques, osteoactivity assays to hone in on potential proteins of significance and advanced proteomic tools to provide accurate sequencing, determine the mechanisms and molecular pathways involved in osteoactivation and determine the efficiency and effectiveness of marine skeleton-derived protein modulation of the stem cell (MSC) proteome. As more analogues are discovered using proteomic tools, skeletal organic matrices may have ever-increasing utility for regenerative orthopaedics [

9

].
13.7.1

Marine Sponge Skeletons
13.7.2

Echinoderm Skeletal Elements
13.7.3

Coral Skeletons

Natural coral exoskeletons have been used widely as a bone replacement in orthopaedic, maxillofacial, dental and neurosurgery owing to their combination of good mechanical properties, open and interconnected porosity and ability to form chemical bonds with bone and soft tissues in vivo [

49

,

50

]. Infect corals have the best mechanical properties of the porous calcium-based ceramics and resorb at a rate equivalent to host bone formation (Fig.

13.5

).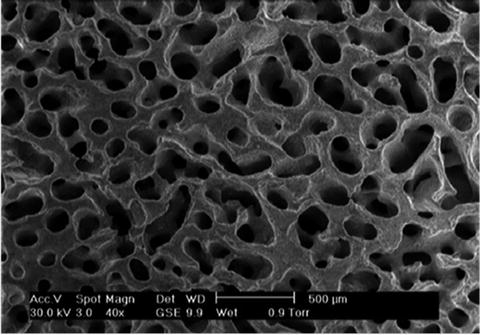 Fig. 13.5
Coralline apatite converted by hydrothermal process showing interconnected porous structure
The beginning of the coral life cycle starts with the polyps which absorbs the calcium ions and carbonic acid present in the seawater to produce the calcium carbonate in the form of aragonite crystals. The remaining composition consists of trace elements of magnesium, strontium, fluorine and phosphorus in the phosphate form [
51
]. Once implanted in the human body, these elements play a critical role in the bone mineralisation process and in the activation of key enzymes associated with bone remodelling cells. Strontium has been shown to contribute to the mineralisation process by stimulating osteoblasts while inhibiting osteoclasts [
52
]. Similarly, fluorine helps bone formation through similar stimulatory effect on osteoblast proliferation. Magnesium is also long known to be beneficial in bone remodelling as it has been shown to increase the mechanical properties of newly formed bone [
53
].
The organic composition has an important part to play in coral biocompatibility. The abundance, conformation and composition of the organic matrices are responsible for successful biological integration of natural coral with human host [
38