Mesiodens is the most common type of supernumerary tooth found in the premaxilla. It might be discovered by the orthodontist by chance on a radiograph or as the cause of an unerupted maxillary central incisor. The genetic transmission of supernumerary and impacted teeth is poorly understood. The occurrence of identical unerupted maxillary central incisors and mesiodentes in monozygotic twins suggests that genetic factors might influence the etiology of this problem. In this case report, we discuss the treatment of unerupted maxillary permanent incisors caused by mesiodentes in monozygotic twins.
Delayed of eruption of a permanent maxillary incisor (due to a supernumerary tooth) is a problem encountered occasionally by an orthodontist. These supernumerary teeth, located in the premaxillary region, are known as mesiodentes. The prevalence of mesiodentes has been estimated at 0.15% to1.9% in the population. Although there is no significant sex distribution in deciduous supernumerary teeth, males are affected about twice as frequently as females in the permanent dentition. Mesiodentes have been reported to cause delay or failure of eruption of the permanent incisors in 28% to 52% of reported cases.
Brodie first reported delayed eruption of central incisors in 1936 using radiographic records of a 10-year-old boy with a mesiodens. He noted mesiodentes in 3 other members of his family. Since then, several patients with a mesiodens have been reported, and various theories such as hyperactivity of the dental lamina, a phylogenetic relic of extinct ancestors who had 3 central incisors, and a dichotomy of tooth buds, one of which is the mesiodens, have been proposed as the etiology of mesiodentes. Although genetic origin is thought to contribute to the development of a mesiodens, the familial pattern of occurrence and mesiodens in twins strongly supports genetics. Autosomal dominant inheritance with incomplete penetration has been the proposed genetic theory.
Many twins have bilateral occurrence, and unilateral mesiodentes can be mirror images. The aim of this report was to illustrate the orthodontic treatment of unilateral mesiodens in monozygotic twins with identical malocclusions.
Diagnosis and etiology
The patients, AY and UY, are monozygotic twin brothers. They were referred to our clinic when they were 10.5 years old for orthodontic treatment of impacted maxillary left central incisors. Their medical histories showed no systemic diseases, and the dental histories showed no facial trauma or other developmental anomalies. Each had a balanced facial profile ( Fig 1 ). Clinical analysis showed that both children were in the mixed dentition, and their left central incisors were missing. Space loss and midline shift of the right central incisor had occurred, and the left lateral incisors had drifted mesially in both children ( Figs 2 and 3 ).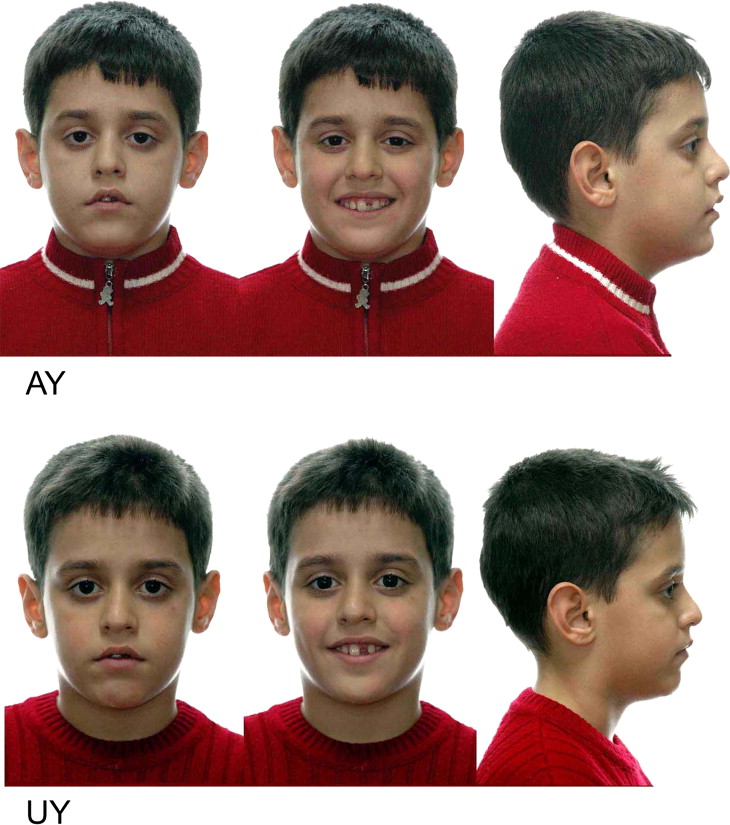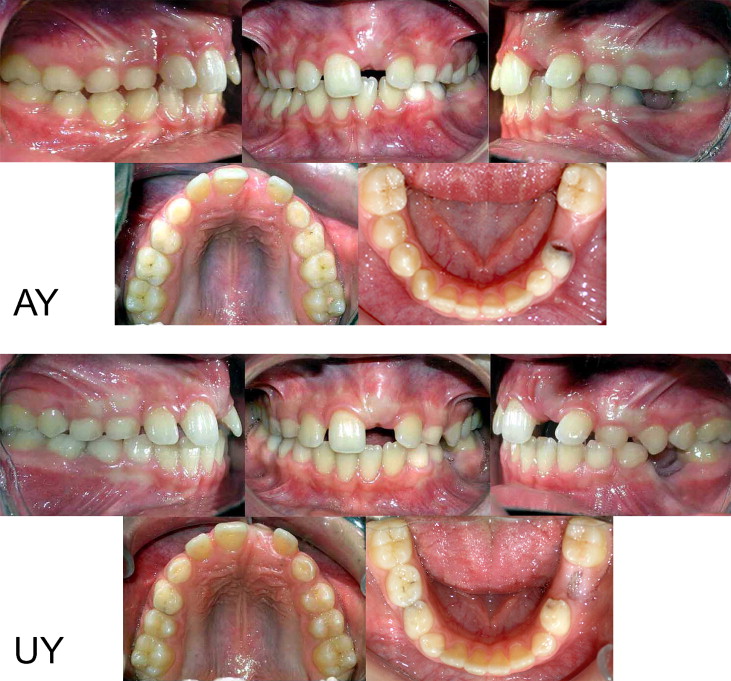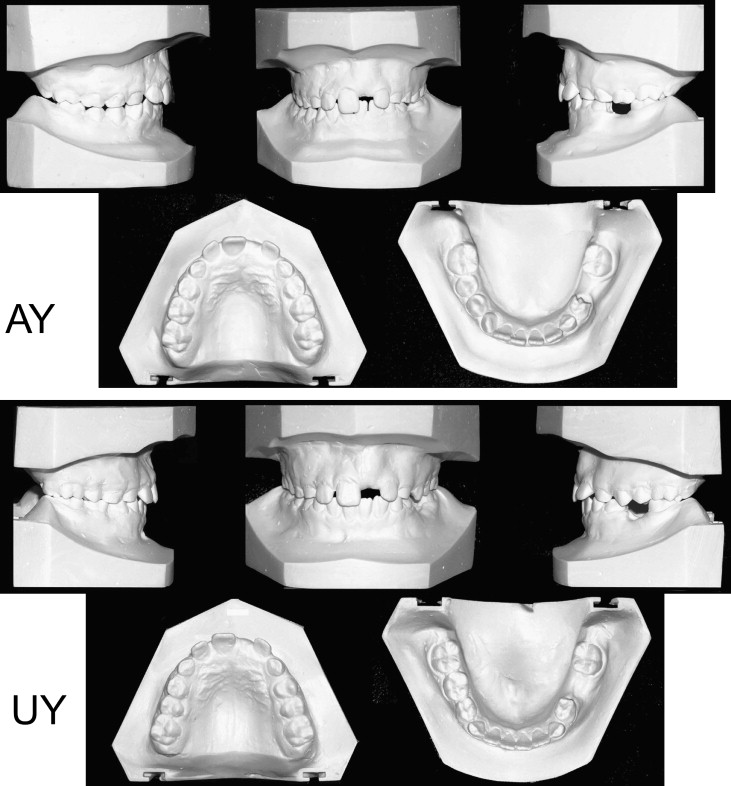 Radiographic examinations showed that a mesiodens was preventing the eruption of the maxillary left central incisor in both twins ( Fig 4 ). Maxillary anterior occlusal and periapical radiographs showed that the mesiodentes were palatal to the impacted central incisors ( Figs 5 and 6 ). Cephalometric analyses showed a Class I skeletal relationship, with a normal growth pattern ( Fig 7 , Table ). They had similar clinical, radiographic, and cephalometric characteristics with a similar clinical appearance, so their treatment objectives and alternatives were the same, as was the treatment progress.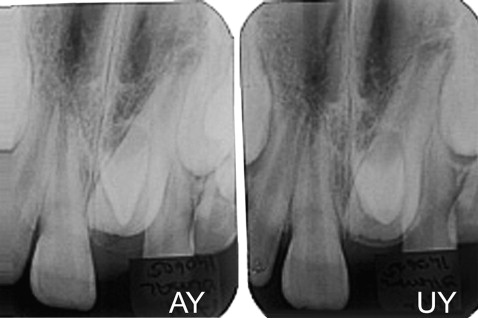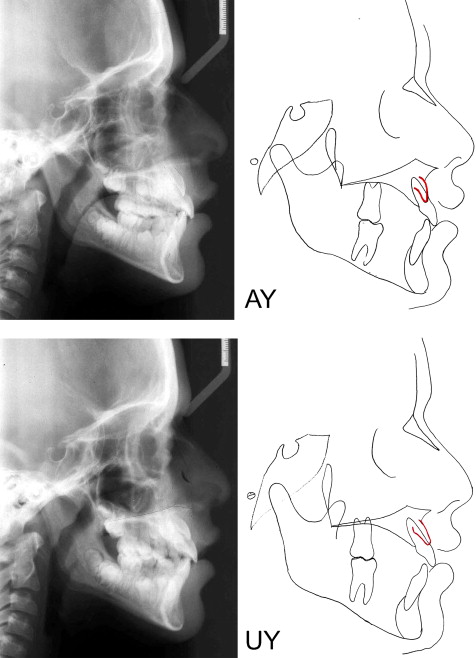 Table
AY
UY
Measurements
Initial
Final
Initial
Final
SNA (°)
78
78
78
79
SNB (°)
74
75
75
77
ANB (°)
4
3
3
2
GoGN-SN (°)
41
42
42
43
U1-SN (°)
98
104
102
104
IMPA (°)
86
89
85
84
U1-L1 (°)
135
126
129
129
U1-NA (°)
20
19
24
25
U1-NA (mm)
3
5
4,5
4
L1-NB (°)
22
25
24
23
L1-NB (mm)
3.5
4
4.5
4