Fig. 4.1
Long-term implant survival decreased in patients with a history of severe periodontitis (From Levin et al.
2011
)
Reviews of these clinical studies highlight that patients with no history of periodontitis demonstrated a better outcome of long-term stability in implant treatment and that the failure rate in patients with the history of periodontitis tended to be more prominent at the prosthetic phase (Klokkevold and Han
2007
; Ong et al.
2008
). These studies did not provide the possible cause of implant failure and the qualitative nature of peri-implant tissue evaluations were often less informative. However, it may be postulated that a combination of genetic and environmental factors that had initially caused severe periodontitis could later contribute to the implant failure.
4.3.2

Quantity and Quality of Alveolar Bone

The extensive review of published data by Esposito et al. (

1998

) suggested a distinct trend of higher failure prevalence in implants placed in the maxillary molar region (Esposito et al.

1998

). This may not be simply due to the factors associated with a maxillary location (Eckert and Wollan

1998

) but rather due to the quantity and/or ­quality of bone tissue at the maxillary molar site of implant placement, which may be attributed to one of the etiologic factors for dental implant failure (Jaffin and Berman

1991

). Leckholm and Zarb (

1985

) proposed an index describing the operators' subjective assessment of alveolar bone quantity and quality (Lekholm and Zarb

1985

) (Fig.

4.2

).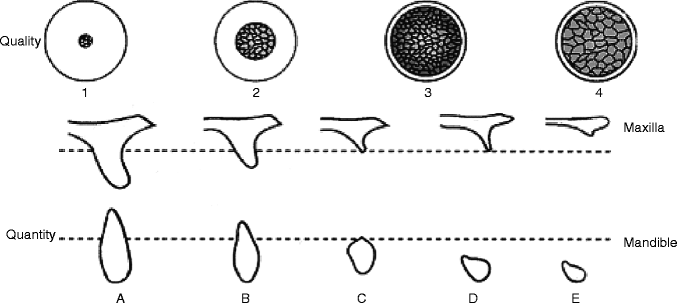 Fig. 4.2
Bone quality classification (Leckholm and Zarb) and bone quantity classification (Atwood)
Clinically, the maxillary posterior residual ridge was often classified as type 4 bone, depicting the thin cortical bone thickness with a less developed trabecular pattern. Therefore, it has been postulated that poor quality of alveolar residual ridge is a risk factor. In a retrospective cohort study of 4,680 implants over a 21-year period, Moy et al. (
2005
) reported the poor bone quality to be one of the associated factors for the increased implant failure (Moy et al.
2005
).
In a retrospective study, Hardt et al. (
2002
) reported that patients with a history of periodontitis appeared to develop poorer bone quantity (index D) but not bone quality (Hardt et al.
2002
). The biological parameters contributing to the poor bone quantity and quality of alveolar residual ridge are still debated (Jahangiri et al.
1998
; Kingsmill
1999
). Nonetheless, it is highly conceivable that the genetic and environmental factors that contributed to the loss of quantity and quality of alveolar bone may also affect the long-term stability of implant osseointegration.
4.4

Implant Failure and Periodontitis-Associated Genes

With the advent of the human genome project and the successful completion of the entire genetic sequence of individuals with different ethnic backgrounds, the sequence mismatch between those individuals has generated a new concept of genetic contributions to common disease. Genetic diseases caused by genetic mutations such as craniosynostosis syndromes occur in less than 1 % of a given population by definition. On the contrary, genetic variations resulting from the gene sequence mismatch between individuals can occur more frequently, and thus, single gene sequence mismatch should not cause serious problems in an ordinary environment. However, when seemingly unrelated genetic variations are combined, the individual may develop a so-called common disease. It is also postulated that the combination of genetic variations and environmental conditions may collectively manifest the increased susceptibility.

Variations in the DNA sequences are small in humans; however, they have been shown to cause diseases; to respond differently to pathogens, drugs or vaccines; and to determine the success and failure of certain treatments. A single-­nucleotide polymorphism (SNP) presents the most frequent sequence variation (Fig.

4.3

). SNP occurs approximately 1 in every 300 base pairs (bp) of human genome, which contains three billion bp. Along with the completion of more genetic sequences, increasing numbers of SNPs are updated in the publically available databases.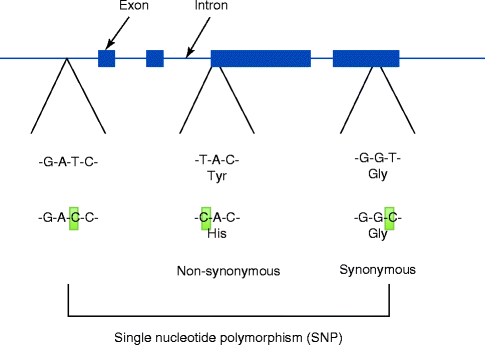 Fig. 4.3
Single-nucleotide polymorphism (SNP) presents the most frequent genomic variations. Some SNPs were found to modify the encoding amino acids. For example, TAC encodes for tyrosine. When T is substituted by C, CAC now encodes histidine. This type of SNP is called a non-synonymous SNP. Other SNPs such as GGT vs. GGC do not change the encoding amino acid (glycine), which is called a synonymous SNP
Many SNPs are found in protein non-coding domains or between active genes. Therefore, it is highly conceivable that these SNPs do not cause any serious problems. However, SNPs that are found in the protein-coding region may present profound manifestations. An amino acid unit of a protein is encoded by three base pairs (bp) of DNA, and an SNP within this region may result in an amino acid substitution (non-synonymous SNP). As a result, the variant of protein sequence may lead to an altered structural and functional property potentially causing a significant effect. Among all SNPs, however, non-synonymous SNPs form a small fraction.
Synonymous SNPs are also found to occur within the protein-coding domain called the exon in chromosomal DNA. This type of SNP does not contribute to any modification in the protein sequence and thus is considered a "silent" SNP. The majority of SNPs are found in the non-­coding domains such as introns, promoter regions and 3' regions. The putative effect of these SNPs has not been fully elucidated. It is possible that the function of chromosomal DNA, such as the rate of gene transcription, may be affected by SNPs located in the promoter region.
When the genetic material is inherited by offspring, parental DNAs are not admixed randomly but rather transferred as large sections. There is a strong tendency that even after many generations, these large sections are maintained in the chromosomal DNA of the offspring. The surviving large sections, called the "haplotype," may contain the protein-coding sequences and their adjacent DNA sequences. Therefore, SNPs within the haplotype should show significant homology between the family members and to a large extent within the same ethnic groups. These SNP haplotypes provide useful information for elucidating the inheritance of a certain trait.
A simple oral rinse gives rise to an ample amount of chromosomal DNA from the patient, which may be applied for polymerase chain reaction (PCR) analysis of target SNPs. Statistical association between SNPs in the target genes and patients' phenotype (implant failure) has ­established a new platform of investigation in dentistry (Nishimura and Garrett
2004
).
4.4.1

Interleukin-1 (IL-1)-Related Genes