Fig. 5.1
Fluorescent-labeled risedronates were injected into 9-week-old rats and 24 h later, the tibia was harvested. Thin layers of the fluorescent activity were observed at the bone resorption lacunae (
arrows
) (From Roelofs et al. (
2012
))
The common structure of BPs contains two phosphates atoms connected by a hydroxycarbon backbone, which can form a structure responsible for the strong affinity to calcium ions. One remaining side chain (R2 chain) represents the molecular and functional variations of BPs. The current generation of BPs contains a nitrogen atom in the R2 chain and thus is called a nitrogen-containing BP or aminobisphosphonate (Fig.
5.2
).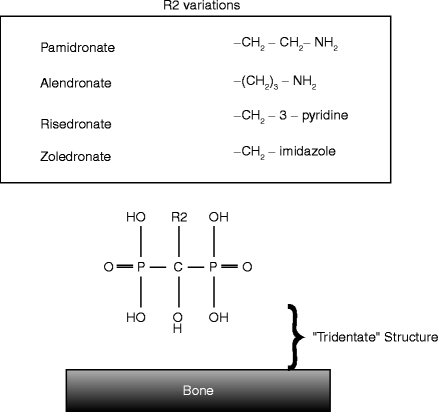 Fig. 5.2
The common structure of nitrogen-containing BPs. The strong affinity to hydroxyapatite is accommodated by two phosphates and hydroxyl R1 chain. The R2 chain varies among different BPs; however, the current generation of BPs contains a nitrogen molecule
The first experimental use of BP in humans was to treat a fibrodysplasia ossificans progressiva (FOP) patient. FOP patients carry rare genetic mutations in activin-like kinase-2 ­associated with BMP type 1 receptor, which causes heterotopic ossification in soft tissues such as thoracic muscles. Once the chest muscles are calcified, patients experience difficulty in inflating their lungs and may die from the resulting complications. The application of etidronate appeared to control the patient's ectopic bone formation (Bassett et al.
1969
).
Later, BP compounds became commercially available and were used for treating Paget's ­disease (Altman et al.
1973
) and osteoporosis (Harris et al.
1999
). Daily or weekly oral administration of BP was well accepted. However, due to side effects affecting the esophagus, intravenous infusions of BP have become available. While different BP compounds were generated to treat these metabolic bone diseases, nitrogen-containing BPs were found to be far more effective in decreasing bone resorption. They also controlled hypercalcemia caused by bone-residing or metastasizing tumors such as multiple myeloma and breast cancer. For these patient groups, high doses of BP are administered by intravenous infusion.
Bisphosphonates are released when bone is resorbed, but the released BP subsequently decreases the osteoclastic activity leading to a decrease in bone resorption (Fig.
5.3
). The molecular structure of nitrogen-containing BPs was found to be very similar with an endogenous compound, isopentenyl pyrophosphate (IPP). IPP is a metabolite in the mevalonate pathway synthesizing cholesterols in the cell. In order to maintain cellular functions and viability, IPP needs to be converted to farnesyl pyrophosphate (FPP) by FPP synthase. After BP is internalized in the cell, BP can inhibit FPP synthase due to its molecular similarity to IPP and effectively ­prevent the FPP synthesis. It has been demonstrated that FPP plays an essential role in functionalizing small GTPases by adding the lipid to these proteins. This process is called prenylation, by which small GTPases now become able to integrate in the cell membrane. These activated GTPases in the cell membrane are critical in organizing the actin ring of osteoclasts, allowing them to adhere to the bone surface and further develop the specific osteoclast morphology called the "ruffled border." The lack of FPP results in the inadequate development of the osteoclastic cell morphology, leading to premature dehiscence as well as apoptosis (programmed cell death) (Itzstein et al.
2011
; Li et al.
2011
).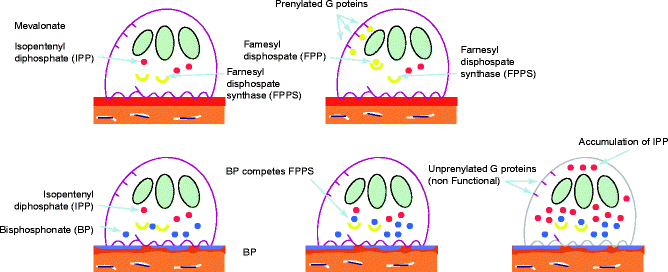 Fig. 5.3
Pharmacological effect of nitrogen-containing BP on osteoclasts. Osteoclasts maintain their viability through cholesterol prenylation of membrane-bound G proteins (
above
). Osteoclasts internalize BP through bone resorption and are thought to lose their viability due to the blocked mevalonate pathway by BP. BP presents a ­structural similarity to isopentenyl pyrophosphate (IPP) and can occupy farnesyl pyrophosphate synthase. As the result, the conversion from IPP to farnesyl pyrophosphate (FPP) is prevented (
bottom
). The lack of FPP significantly reduces GTPase prenylation and leads to premature termination of osteoclastic activities and cell death
5.2

Osteonecrosis of the Jaw (ONJ)
5.3

The Nonexposed Variant of Bisphosphonate-Induced ONJ

The American Association of Oral and Maxillofacial Surgeons has described the staging of bisphosphonate-induced ONJ and included a nonexposed variant. This stage is characterized by a lack of bone exposure but which may include a variety of nonspecific signs and symptoms such as alveolar bone expansion, dull jaw pain, and either bony sclerosis or osteolysis (Ruggiero et al.

2009

). Osteosclerosis may be an important radiological sign as it was present consistently in clinically symptomatic areas of one third of these patients (Hutchinson et al.

2010

). Other clinical symptoms associated with this condition include gingival swelling and a sinus tract, but their nonspecific nature makes it difficult to distinguish them from other dental infections. In a European study involving five centers, of those patients diagnosed with the nonexposed variant of ONJ, most (92 %) presented with jaw pain, about half (51 %) with a sinus tract, and about a third (36.4 %) with bone enlargement (Fedele et al.

2010

).
5.4

Implant Osseointegration in BP-Treated Patients
5.5

Implant Failure in Patients Treated with BPs

Despite the assurance from ADA supported by the published reports, implant failures in those treated with BP continue to appear in the literature (Tables

5.1

and

5.2

). The following are some of the highlights.

Table 5.1

Case reports in patients treated with BPs exhibiting implant failure prior to loading
Patient

Implant

Symptom

BP

Primary diagnosis

Biopsy

Treatment

Reference

Age

Sex

Location

Surgery

BP drug holiday

Service

BP

Route

Duration

63

M

#4, #12

One stage

None reported

None specified: No loading

Pain (#12) after implantation; probing depth 12 mm (#4)

Alendronate

Oral

>10 years?

Osteoporosis, erosive osteoarthritis, history of wrist and thoracic spine fractures

None reported

#12 removed in 4 days; #4 removed in 3 weeks followed by teriparatide 20 μg SQ

Narongroeknawin et al. (

2010

)

65

F

#18, #19, #20, #29, #30

Prophylactic antibiotics, acetaminophen, ibuprofen as needed

None reported

6 weeks post implantation

Fluctuant swelling, rediolucency and large bone resorption (#9, #20): after the corrective surgery, necrotic bone exfoliated but otherwise no symptoms

Alendronate

Oral

>10 years

Osteoporosis, arthritis, history of hip fracture

None reported

Drainage, antibiotics, CHX followed by open degranulation, human mineralized cancellous bone graft with tetracyline

62

F

#2, #3, #4, #6, #8, #9, #11, #13, #15

#2, #8, #9, #10, #11 extraction and socket preservation with freeze-dried bone; and sinus grafting prior to implant placement

None reported

2 month post implantation

Necrotic bone exfoliation at #11, #13, #15; bone defect at sinus floor; sinusitis

Risedronate (35 mg/week)

Oral

4 years

Osteoporosis

Biopsy, osteonecrosis, and chronically inflamed granulation tissue

Antibiotics, necrotic bone removal; open sinus exploration; #15 explantation

68

F

#21, #19, #18

None specified

None reported

1 year; 4 years

Pain, gingival bleeding 1 year after implant placement/ #9: gingival swelling, bleeding, radiolucency 4 year after implant placement

Alendronate

Oral

2 years at implant placement

Osteoporosis, rheumatoid arthritis

Biopsy, acute and chronic non-specific inflammation with necrotic bone fragment

Discontinuation of alendronate, curettage, antibiotics, CHX

65

F

#30, #31?

None specified

3 months