Chapter 5
Full coverage restoration for primary molars
Jane A. Soxman
Stainless steel crowns (SSCs) are the restoration of choice for primary molars of children with high-caries risk, after pulp therapy, for large, multisurface caries and interproximal preparation that extends beyond the line angle (American Academy of Pediatric Dentistry, 2014). The use of SSCs may reduce the need for repeated treatment with general anesthesia (Ohlimoba & Nelson, 2013). SSCs provide a good seal and a durable, reliable restoration (Mahoney et al., 2008).
Some parents/guardians find the appearance of the SSC to be unacceptable, so a SSC should be shown when informed consent is being obtained. With uncooperative behavior, an SSC is preferable to an esthetic crown, as an esthetic crown requires extensive tooth reduction that may create the need for vital pulpotomy and, in general, requires longer chair time. After administering local anesthesia and rubber dam placement, primary molar preparation and crown cementation for an SSC can usually be performed in less than 10 min.
Precontoured SSCs accurately duplicate the anatomy of the primary molars and require no buccal or lingual reduction during crown preparation. They provide a highly retentive "snap" fit. These SSCs are ready for immediate use, and unlike uncontoured SSCs, which must be customized with trimming and contouring for adaption, they significantly reduce chair time (Figure 5.1).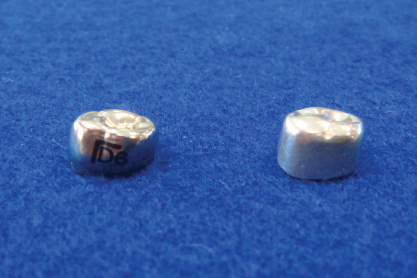 Procedure for SSC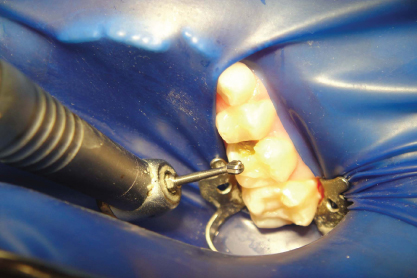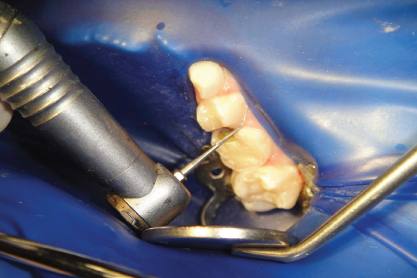 When prepping the distal of a second primary molar, use caution to avoid disking the mesial of the adjacent first permanent molar. A wooden wedge, placed between the first permanent molar and the second primary molar, will provide protection for the mesial surface of the first permanent molar. Cut just inside distal marginal ridge and the mesial side of the wooden wedge (Figure 5.4). Remove the wedge and check for a white spot lesion on the mesial of the first permanent molar (Figure 5.5). If decalcification is noted, fluoride varnish may be applied as a courtesy.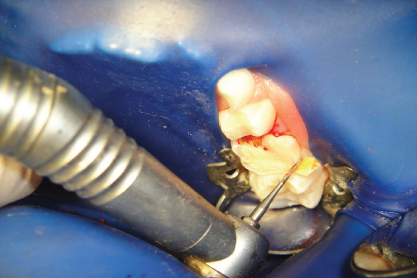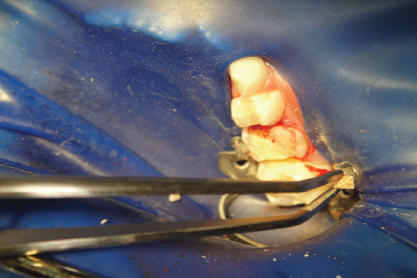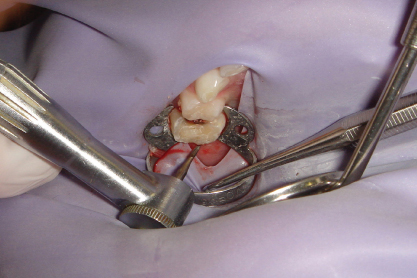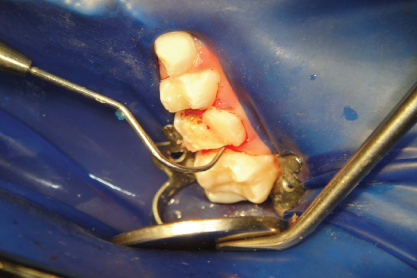 Measuring the mesial–distal width of the primary molar before preparation with a boley gauge may be helpful to select the correct size SSC. Using this measurement, an SSC is selected (Figure 5.8a and 5.8b). After performing the SSC procedure a few times, the clinician will be able to visually estimate the size, and measuring for size selection will no longer be necessary.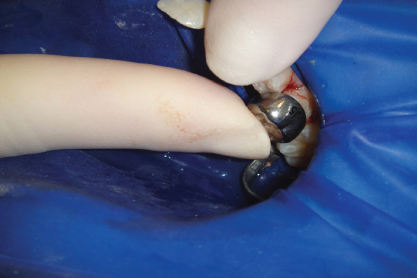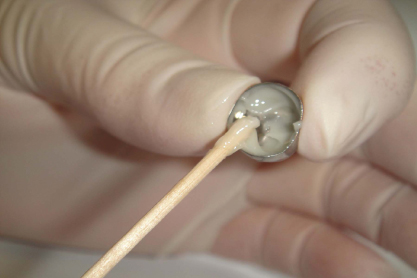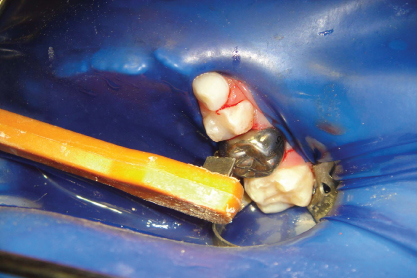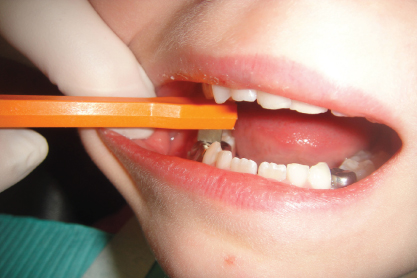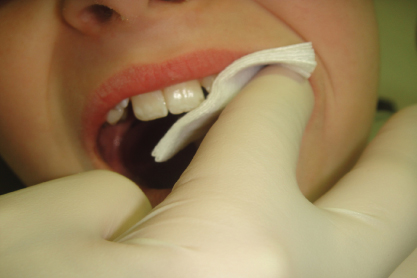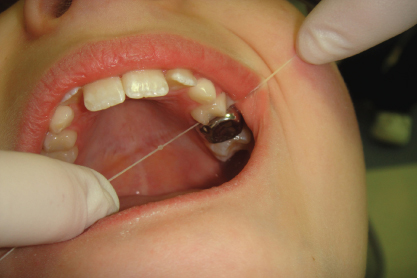 With difficulty fitting
If space loss has occurred as a result of caries, it may be necessary to reduce the size of an SSC mesial-distally with a Howe plier (Figure 5.15). Because SSCs are not available in half sizes; crimping may be necessary. Crown collars may be crimped with crown and band contouring pliers or band crimping pliers, which perform equally well (Figure 5.16a and 5.16b). If unable to find a crown to fit a first primary molar, try a crown from the opposite arch and opposite (contralateral) side. For instance, if unable to find a suitable fit for a maxillary right first primary molar, a crown for a mandibular left first primary molar may be a good fit.