Fig. 6.1
Scanning electron micrograph depicting the apical third of a human molar. Original magnification = ×5,000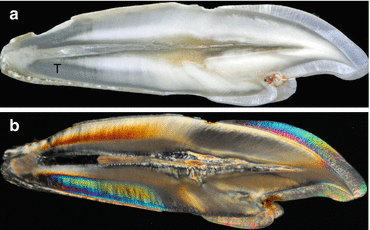 Fig. 6.2
(
a
) Longitudinal section of a mandibular canine with transparent dentin (
T
) forming on the apical third. In (
b
) the same section is shown in polarized mode

Fig. 6.3
Scanning electron micrograph depicting fractured dentin specimens. (
a
) Transparent dentin with tubules obliterated with mineral deposits; (
b
) normal root dentin showing patent tubules. Original magnification = x10,000
Table 6.1
Changes in dentin substrate with aging
The mineral concentration is higher in transparent dentin than in normal dentin
Obliteration of the dentinal tubules by increased deposition of peritubular matrix
Transparent dentin, unlike normal dentin, exhibits almost no yielding before fracture
Flexural strength and strain to fracture of dentin decreased significantly with age
Fracture toughness is lowered by roughly 20 % in transparent dentin
Aging results in an increase in the rate of damage initiation and propagation in dentin
Decrease in dentin permeability with aging
Older dentin contains less water than younger dentin
Hardness and modulus of elasticity of aged dentin are higher than those of young dentin
The density of odontoblasts and pulp fibroblasts decreases in older dentin
Transparent dentin accumulates in the apical third of the root resulting in and variations in tubule diameter and mineral deposits in the tubules
Fatigue strength of young dentin is greater than that of older dentin
Sclerotic and old dentin results in thinner hybrid layers, with short resin tags, and fewer lateral branches than normal dentin
6.2

General Principles for All Prefabricated Passive Posts

Fiber posts distribute stresses more uniformly along the cement–dentin interface and to the remaining tooth structure. In contrast, the moduli of elasticity of alloys used for cast posts are much higher.
6.3

Post Design
6.3.1

Post Length

As discussed in

Chap.​ 1

, Abramovitz et al. (

2001

) demonstrated that 3 mm of gutta-percha provided an unpredictable in vitro apical seal; therefore, at least 5 mm would be recommended (Fig.

6.4

). When posts were two thirds of the root length, many of the average and short root length teeth had compromised apical seals. When the post was equal to the crown length, an adequate seal was only possible on teeth with average or long root lengths. With short-rooted teeth, even the shorter post guideline of being equal to the crown length produced a compromised apical seal.

Fig. 6.4
Polarized imaged of an endodontically treated maxillary canine with a fiber post (
FP
) luted with a self-adhesive cement. The apical seal (
AS
) of gutta-percha is 5 mm long
Most principles currently applied to post length were introduced when prefabricated metal posts and cast dowels were the only options available. Sorenson and Martinoff (
1984
) reported 97 % success in mandibular molars if the post length equaled at least the crown length. Goodacre and Spolnik (
1995
) recommended a post length equal to 3/4 of root canal length. Posts with a length at least three fourths of the length of the root offered the greatest rigidity and least root deflection (bending). These posts were better than those that were one fourth or one half of the root length (Leary et al.
1987
).
When the tensile force required to remove a post from extracted maxillary lateral incisors was measured, posts that were three fourths or more of the root length were 20–30 % more retentive than posts that were one half of the root length or equal in length to the crown (Johnson and Sakumura
1978
). In a recent in vitro study, post spaces were prepared with a depth of 6 or 3 mm without or without maximal fit to the root canal walls (Büttel et al.
2009
) in severely damaged teeth without a ferrule. Both groups (with or without maximal fit) with fiber post insertion depths of 6 mm resulted in significantly higher mean failure loads than the groups with post-space preparation of 3 mm. Reduction of the post extension above the level of bone has been associated with increased dentinal stresses near the apex of the post (Al-Omiri et al.
2011
).
The fracture resistance of the endodontically treated tooth is influenced by post length.
6.3.3

Post Shape

Posts are available in a variety of shapes (Fig.

6.5

) – parallel with notched surface, parallel with smooth surface, parallel with threads, tapered with notched surface, tapered with smooth surface, and tapered with threads (Smith et al.

1998

). Notched parallel posts are the most retentive of the passive prefabricated metal posts.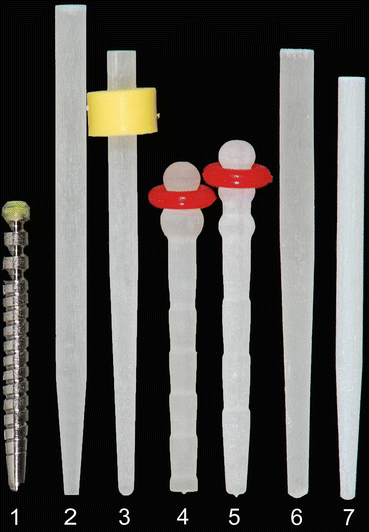 Fig. 6.5
Sample of prefabricated posts currently available
1
, Tenax (Coltene);
2
, GC Fiber Post (GC Co.);
3
, RelyX Fiber Post (3M ESPE);
4
, Parapost Fiber Lux (Coltene);
5
, Parapost Taper Lux (Coltene);
6
, White Post (FGM);
7
, Rebilda Post (VOCO GmbH)
Changing a post-hole preparation from tapered to parallel-sided weakens the tooth (Lang et al.
2006
). Although previous studies have implied that the retentive strength of posts increased with the use of parallel posts (Cohen et al.
1992
; Morgano
1996
; Teixeira et al.
2006
), a cylindrical post without convergence weakens the apical area of the root that could lead to root fracture (Morgano
1996
).
The use of
tapered fiber posts
over parallel posts is recommended.
6.4

Composition of Fiber Posts
6.5

Why Fiber Posts?

Some previous studies have focused on the effect of the fiber–matrix ratio (surface occupied by fibers per square millimeter) on the flexural properties of fiber posts. Zicari et al. (

2013a

) studied the structural characteristics of different fiber posts, including density of fibers, diameter of fibers, fiber–matrix ratio, and distribution of fibers. They found no correlation between these parameters and flexural strength. Grandini et al. (

2005

) reported no correlation between the fatigue resistance exhibited by fiber posts and their structural characteristics, which included fiber diameter, fiber density, and the surface occupied by fibers per square millimeter of post surface. Seefeld et al. (

2007

) found a strong and significant linear correlation between the fiber–matrix ratio and the flexural strength of fiber posts. The results of these studies were somewhat contradictory.

When comparing flexural strength of posts with similar dimensions, specific posts perform significantly better than others. For some of them, this might be due to the strengthening effect of zirconia fillers (Zicari et al.

2013a

) that are spread among fibers in some fiber posts currently available. When post-cement interfaces are observed under the backscattered field-emission scanning electron microscope (Perdigão, unpublished observations) (Fig.

6.9

), filler particles are observed in the matrix of specific fiber posts (Fig.

6.9b

) that correspond to those mentioned by Zicari et al. (

2013a

).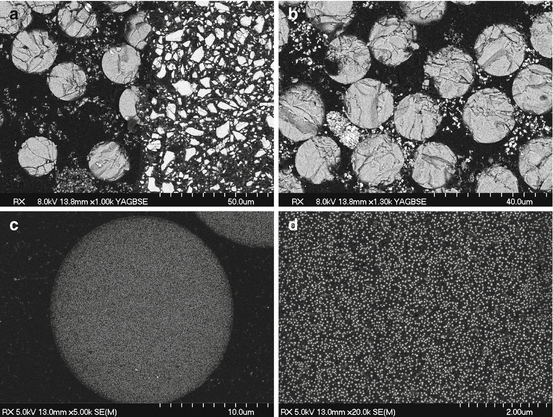 Fig. 6.9
(
a
) Scanning electron micrograph depicting an interface between a RelyX Fiber Post (3M ESPE) and a self-adhesive resin cement. Original magnification = ×1,000. (
b
) Scanning electron micrograph depicting a RelyX Fiber Post (3M ESPE). Original magnification = ×1,300. (
c
) Scanning electron micrograph depicting an individual glass fiber in a RelyX Fiber Post (3M ESPE). Original magnification = ×5,000. (
d
) Higher magnification of the individual fiber shown in C. Original magnification = ×20,000
6.5.1

Fiber Posts Versus Metal Posts
6.5.2

Fiber Posts Versus Zirconia Posts

Asmussen et al. (

1999

) compared some physical properties of carbon fiber posts with those of zirconia and titanium posts.

The stiffness of zirconia posts was five times greater than that of carbon fiber posts

. The authors described zirconia posts as being brittle without ductility. Carbon fiber posts were described as having elastic limits that were "lower than the strength value, indicating a certain amount of plastic behavior."

Akkayan and Gülmez (

2002

) compared the effect of different prefabricated posts (titanium, quartz fiber, glass fiber, and zirconia posts) on the fracture resistance and fracture patterns of crowned endodontically treated teeth. Posts were luted with an etch-and-rinse adhesive and a dual-cure resin cement. All teeth were restored with composite cores; metal crowns were cemented with glass–ionomer cement. Teeth restored with quartz

fiber posts

resulted in significantly higher failure loads compared to teeth restored with the other three posts.

Repairable fractures

were observed in teeth restored with

fiber posts. Zirconia posts

induced more

catastrophic root fractures

, while teeth restored with

fiber posts were less prone to fracture

than teeth restored with titanium or zirconia posts (Akkayan and Gülmez

2002

).

The survival rates and fracture strength of endodontically treated maxillary incisors with moderate coronal defects restored with different post-and-core systems and fatigued in the artificial mouth were significantly lower for zirconia posts with composite cores, which led the authors not to recommend zirconia posts for clinical use (Butz et al.

2001

). The survival rate of zirconia posts was significantly lower than that of fiber posts (Mannocci et al.

1999

). In this study, fiber posts reduced to a minimum the risk of root fractures of teeth restored with composite cores and ceramic crowns. While only one fracture occurred in each fiber post group, six failures were observed (one crown fracture and five root fractures + post fractures) in the zirconia post group after intermittent loading in a wet environment (Mannocci et al.

1999

).

Fiber posts reduce the risk of root fractures of endodontically treated restored teeth.
6.6

Surface Treatment of Fiber Posts