Fig. 15.1
Difference between revascularization and pulp regeneration in immature teeth. (
a
) The revitalization/revascularization procedures of filling of the canal space with blood clot. (
b
) The pulp regeneration procedures of filling of the canal space with stem cells with homing/migration factor
15.3

Ectopic Approach for Pulp Regeneration

The concept of pulp regeneration is distinct from revitalization/revascularization. The tissue engineering triad of stem/progenitor cells, morphogenetic signaling molecules, and extracellular scaffold is utilized for pulp regenerative therapy [

4

,

17

] (Fig.

15.1a

,

b

). The first evidence for de novo pulp regeneration has been demonstrated in ectopic tooth transplantation approach in which human tooth slices or root fragments were injected with stem cells/scaffolds into the root canal and were subsequently transplanted into the subcutaneous space of immunocompromised mice [

18

,

19

] (Fig.

15.2a

). The ectopic transplantation approach has advantages to neglect a direct blood supply essential for regeneration. It is a useful model to examine regeneration of pulp tissue and dentin by dental pulp/progenitor stem cells and its mechanisms (Fig.

15.3a

,

b

). It may also allow for the study of molecular and cellular events involved in the fate of stem cell therapy [

19

]. Pulp-like tissue is induced in a tooth slice model (1-mm-thick tooth slice (cross sections)) by filling of pulp stem cells and dentin matrix protein 1 (DMP1) together [

20

] or stem cells from exfoliated deciduous teeth (SHED) only [

21

]. SHED can differentiate into functional odontoblast-like cells that generate tubular dentin along the dentinal wall and angiogenic endothelial cells in the tooth slice model [

22

]. Similarly pulp-like tissue is regenerated in subcutaneously transplanted tooth root fragment (6–7

–

mm long) with an enlarged root canal (2–3 mm in diameter) with one end sealed with mineral trioxide aggregate (MTA) cement. In this root fragment model, it is unlikely to occur shortly after transplantation that the blood vessel growth into the end of the canal space provides nutrients for the stem cells. Thus, the cells not only survive well but also regenerate tissue by the nutrients which are able to diffuse into the canal space [

23

]. PLG poly(DL-lactide-co-glycolide) scaffolds seeded with stem cells from apical papilla (SCAP) or DPSCs are injected into the root canal. Three to four months after transplantation, the canal space is filled with vascularized pulp-like tissue, and a newly generated dentin-like layer is deposited onto the existing dentinal walls and the MTA cement surface [

23

]. The regenerated dentin-like tissue has less continuity and thickness in DPSCs transplantation with PLG compared with that in SCAP transplantation with PLG [

23

]. More recently, full-length human roots injected with scaffolds (PuraMatrix

™

(3-D Matrix Medical Technology, Waltham, MA) or recombinant collagen) containing SHED are transplanted subcutaneously and resulted in pulp-like tissue regeneration with odontoblasts capable of generating new tubular dentin throughout the root canals [

24

].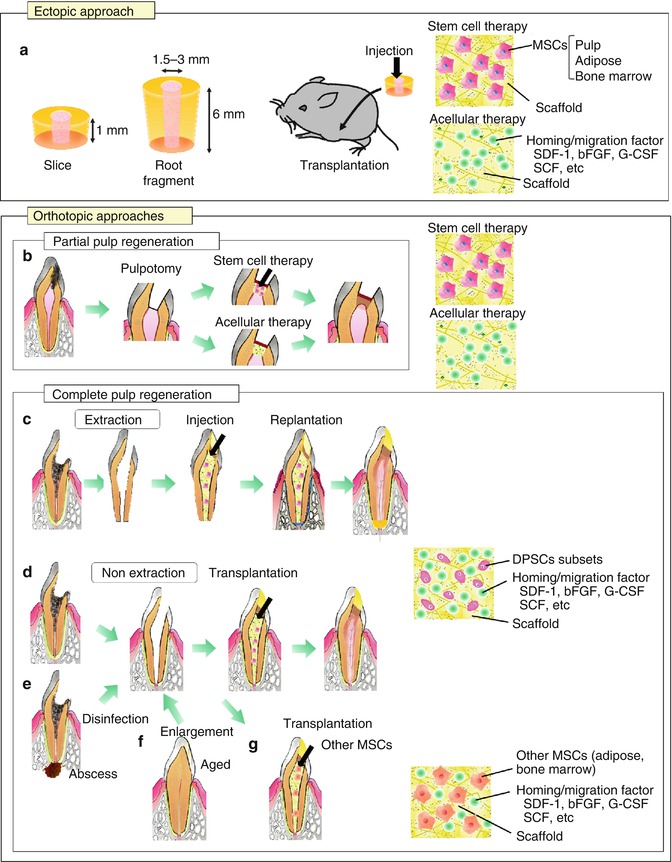 Fig. 15.2
Experimental in vivo approaches for pulp regeneration. (
a
) Ectopic approach. (
b
–
g
) Orthotopic approaches. (
b
) Partial pulp regeneration model. (
c
–
g
) Complete pulp regeneration model.
c
Tooth extraction model in case of pulpectomy. (
d
–
g
) Tooth non-extraction method in case of pulpectomy. (
e
) Complete pulp regeneration with periapical disease. (
f
) Complete pulp regeneration in the aged. (
g
) Complete pulp regeneration harnessing MSCs from other tissue sources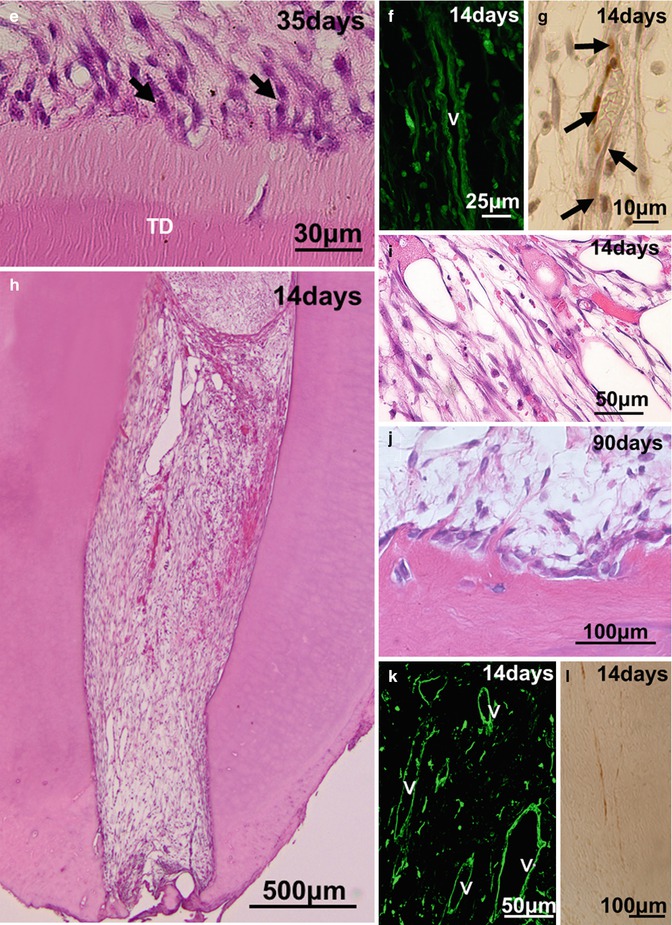 Fig. 15.3
Experimental in vivo approaches of pulp regeneration. (
a
,
b
) Ectopic pulp regeneration after transplantation of CD31
−
/CD146
−
SP cells with tooth root into subcutaneous sites of mouse. (
c
) Partial pulp regeneration in the cavity of the amputated pulp of dogs 14 days after autologous transplantation of CD31
−
/CD146
−
SP cells of a three-dimensional pellet with type I and type III collagen. (
d
–
g
) Complete regeneration of pulp-like tissue after autologous cell transplantation in the extraction model of dogs. (
d
) Fourteen days after CD31
−
CD146
−
SP cell transplantation with 10 ng/μl SDF-1. (
e
) Thirty-five days after CD105
+
cell transplantation. Odontoblastic cells (
arrows
) lining to newly formed dentin. (
f
) Immunostaining with BS-1 lectin on day 14. v: Newly formed capillaries. (
g
) Immunostaining with PGP 9.5 on day 14. Neuronal process (
arrows
). (
h
–
l
) Complete regeneration of pulp-like tissue after autologous CD105
+
cell transplantation with 10 ng/μl SDF-1 in the non-extraction model of dogs. Fourteen days after transplantation. (
j
) Ninety days after transplantation. Odontoblastic cells lining to newly formed dentin. (
k
) Immunostaining with BS-1 lectin on day 14. v: Newly formed capillaries. (
l
) Immunostaining with PGP 9.5 on day 14
15.4

Orthotopic Model for Pulp Regeneration in Mature Teeth