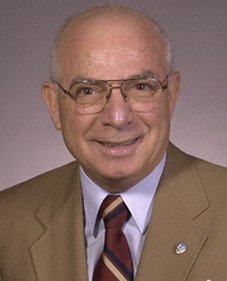 Dr. Samir E. Bishara died on October 8, 2010, at age 74. At the time of his death, he was a Professor of Orthodontics at the University of Iowa College of Dentistry. Born in Cairo, Egypt, on October 31, 1935, Dr. Bishara received a BDS degree and a Diploma in Orthodontics from Alexandria University. After practicing dentistry for 11 years in Egypt, he traveled to New York, where he completed a fellowship in Pediatric Dentistry at the Guggenheim Clinic. He moved on to the University of Iowa, where he obtained his DDS and MS in Orthodontics. He joined the faculty of the College of Dentistry of the University of Iowa in 1968 and served as a professor there since 1976. He also became visiting professor at the University of Manitoba and Alexandria University.
During a professional career of more than 45 years, he earned an international reputation for his excellence in the specialty. He participated in numerous continuing education activities not only in North America but also all over the world. His favorite topics included impacted canines, Class III malocclusion, rapid maxillary expansion, serial extractions, oral habits, tooth ankylosis, transposition of teeth, and tooth autotransplantation.
Some of Dr. Bishara's proudest accomplishments include the Guggenheim Fellowship, Presidency of the College of Diplomates of the ABO, the Founder's Award of the College of Diplomates of the ABO, the Helen and B.F. Dewel Award for the best clinical article to appear in the American Journal of Orthodontics and Dentofacial Orthopedics in 1995, and most recently the Michael J. Brody Award for Faculty Excellence in Service to the University and the State of Iowa. In addition, he was awarded an Honorary Doctorate Degree from Aristotle University of Thessaloniki in Greece and was due to receive it on October 18, 2010.
Dr. Bishara received the World Federation of Orthodontics (WFO) most prestigious recognition and he was unanimously elected as honorary fellow of the WFO in recognition for his service and contributions to the science and specialty of orthodontics worldwide. He was awarded the honors of the British Orthodontic Conference in 2001, was a life member of the Iowa Dental Association, the American Dental Association, and the American Association of Orthodontists. He was a Diplomate of the American Board of Orthodontics. He received honorary memberships in the Arab, Colombian, Egyptian, Greek, and Serbian Orthodontic Societies, the Guadalajara College of Dentists, and the Mexican Board of Orthodontics.
A true university teacher in orthodontics and dentofacial orthopedics, Dr. Bishara taught generations of undergraduate and graduate students at the University of Iowa and supervised numerous Master's and PhD theses, including several international studies. He served on the editorial boards of the American Journal of Orthodontics and Dentofacial Orthopedics , Angle Orthodontist , Seminars in Orthodontics, World Journal of Orthodontics , Egyptian Orthodontic Journal , Hellenic Orthodontic Review, Journal of Marmara University , Orthodontic Journal of Serbia , and Journal of the Bulgarian Orthodontic Society , and reviewed articles for many other scientific publications, including the American Journal of Dentistry , American Journal of Physical Anthropology , Cleft Palate and Craniofacial Journal , European Journal of Oral Sciences , Journal of Dental Research , Journal of the Academy of General Dentistry , Journal of the American Academy of Pedodontics , Odontology Journal of the Nippon Dental University , and Special Care in Dentistry .
A prolific researcher and writer, Dr. Bishara published more than 200 scientific articles and abstracts in scientific journals, including 100 articles in the AJO-DO. One of his main research interests was growth and development, and he cofounded the biannual International Symposium on Dentofacial Function and Development, which completes its 13th term in 2010. In addition, he was editor of two textbooks and contributed chapters to many others. His Textbook of Orthodontics was published in English, Italian, Portuguese and Spanish.
Dr. Bishara's active, extensive, and long relationship with many orthodontic organizations and colleagues throughout the world inspired his vision for the creation of a world network of orthodontic societies, and his many personal contacts in different countries helped in the successful accomplishment of this goal. His charisma, his eagerness to understand other cultures, his cosmopolitan background, and his sincere, polite, and friendly character were very much appreciated by many colleagues all over the world. As a genuine university teacher he always encouraged students and young orthodontists everywhere, was never too busy to talk with them at any time, and devoted a significant amount of his time to guide and support the academic and professional career of his pupils. One of his greatest joys was in seeing the progress and success of others with whom he had worked.
Dr. Bishara was a loving and devoted son, husband, father, brother, and grandfather. His wife Annie and the rest of his family will dearly miss him. His many friends from our scientific and professional community will always remember him as a leader, a mentor, and a friend with great contributions and lifelong dedication to orthodontics.
Dr. Samir E. Bishara, better known to his students as "Dr. B" and to his friends as "Sam," died on Friday, October 8, 2010, at the age of 74, after losing his battle against lymphoma.
Samir was born October 31, 1935, in Cairo, Egypt, the son of Edward and Georgette Bishara. He studied dentistry and orthodontics at Alexandria University and was a staff member at Moassat Hospital in Alexandria, Egypt, before his studies brought him to the United States.
At the University of Iowa, Dr. Bishara met the late Dr. George F. Andreasen, who encouraged him to pursue an academic career in orthodontics; he joined the faculty of The University of Iowa College of Dentistry but also earned an international reputation for his excellence in the specialty of orthodontics. As a teacher, he touched the lives of over 200 orthodontists; as a national and international lecturer, he touched the lives of countless other orthodontists.
Samir was a devoted husband, father, and family man. He is survived by his mother Georgette Bishara of Charlottesville, Va.; his wife, Anne; three daughters, Dina Bishara and William Hacker of Conway, Ark; Dorine and Colton Edmiston of Vancouver, Wash; and Cherine Bishara and Ian Shanklin of Omaha, Neb; stepdaughter, Christine and Todd Timney of Columbus, Ohio, and a large extended family across the US and in Egypt.
Abraham B. Lifshitz, D.D.S., M.S.
Fort Lauderdale, Florida