Canada is home to a number of excellent orthodontists. There are 6 well-established graduate programs, all directed by insightful, innovative, and accomplished educators. The Canadian programs, for the most part, are similar to the American programs in their structure and curricula. But whereas the United States is home to numerous people known internationally as leaders in the field, Canada has arguably had but one: Donald Garth Woodside ( Fig 1 ). Dr Woodside passed away on July 19, 2013, at his beloved home on St Mary's Island, Nova Scotia, at the age of 86.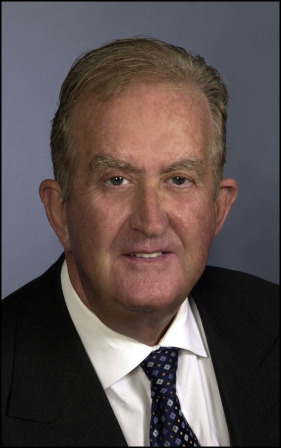 Donald Woodside was born on April 27, 1927, in Pittsburgh, Pennsylvania, but obtained Canadian citizenship early in life; he was raised as a Canadian in the provinces of Nova Scotia and Prince Edward Island. Don obtained his bachelor of science degree at Kings College, Dalhousie University, Halifax, Nova Scotia, in 1948. While an undergraduate student, he was the recipient of both the King's College Foundation and the Kellogg Entrance Scholarships. Don entered the Dalhousie dentistry program upon graduation and quickly established himself as a leader. Although he was awarded numerous prizes and awards throughout his dental training, he distanced himself from the field by winning the Gold Medal in Dentistry for academics and the Malcolm Honour Award for his contributions to extracurricular life on campus. Don graduated with his dental degree in 1952 and immediately went to work for the Nova Scotia Department of Public Health, providing dental care to schoolchildren.
Don began his specialty training in 1953, entering the graduate orthodontic program at the University of Toronto. He successfully defended his master of science thesis entitled "An electromyographic and cephalometric study of normal five to eight year old children" and graduated in 1956. This program initiated Dr Woodside's lifelong affiliation with the University of Toronto, and it was this affiliation that launched his international career.
Dr Woodside held a variety of academic positions, all at the University of Toronto. As early as 1955, while enrolled as a graduate student, he was an associate in dentistry, entitling him to act as a clinical instructor for undergraduate and graduate dental students. A short 2 years after obtaining his master's degree, Dr Woodside was promoted to assistant professor and acting chairman of the department. A year later, he was promoted to associate professor, and in 1961 he was again promoted, this time to full professor and head of the Department of Orthodontics, a position he held until his retirement in 1992. Upon his retirement, he was made a professor emeritus in orthodontics. He was involved in full-time academia for 32 years.
Dr Woodside had many research interests, but his 2 main foci of study were the particulars of mandibular growth and the effect of the determinants of muscular influence on the developing skeletal bases. He was the recipient of multiple National Research Council Grants (Canada) to study the unique patterns of mandibular growth. In 1970 and 1971, he received a United States Department of Health, Education and Welfare Grant to conduct a serial study of the rate of mandibular growth. From this study, Dr Woodside developed the mandibular growth charts used until the present day by scores of Canadian graduate and undergraduate dental students when analyzing and working up their orthodontic cases. This work earned Dr Woodside the Milo Hellman Research Award of Special Merit from the American Association of Orthodontists in 1970.
In 1980, Dr Woodside secured a grant from the Medical Research Council of Canada to study the effect of muscle activity on bone formation. This grant was the genesis for a long-term collaboration with Professors Sten Linder-Aronson and Anders Lundström from the Karolinska Institutet, Stockholm, Sweden. Together, this team studied the influence of airway obstruction in primates to better understand the effect of the environment on malocclusion. Dr Woodside's unique understanding of the role of tonsillar and adenoid hypertrophy in malocclusion gave him the background to develop an in-depth understanding of the true mechanism of action of functional appliances. He was instrumental in raising North American interest in the series of removable appliances from Europe including the Fränkel, the activator, and the bionator. Dr Woodside's insight into what would improve patient compliance led to design modifications that increased treatment efficiency and overall outcome. The activator that bears his name is a testimonial to his skill in this realm.
Dr Woodside was a prolific author; he was the first Canadian to significantly contribute to the orthodontic literature. He wrote numerous book chapters in texts authored and edited by Moyers, Graber, McNamara, Salzmann, and Petrovic, among others. Dr Woodside was a clear and concise writer. His findings were based on solid scientific studies, and because he was a clinician as well as an academic, he approached his writing from a unique clinical perspective. His texts were easily understandable and profoundly coherent when explaining complex concepts. His chapter entitled "Cephalometric roentgenography," written for J. W. Clark's book, Clinical Dentistry , is still the go-to source for both undergraduate and graduate students at many Canadian universities when solidifying the basic concepts of the lateral cephalogram.
In conjunction with his numerous graduate students, Dr Woodside, during his tenure, published regularly in many peer-reviewed journals. His work appeared in the American Journal of Orthodontics and Dentofacial Orthopedics , the Angle Orthodontist , the European Journal of Orthodontics , the Journal of Clinical Orthodontics , and the International Journal of Orthognathic Surgery , as well as many other symposiums and collections. Many of the studies made use of the Burlington Growth Study housed at the University of Toronto. This collection of full orthodontic records from untreated patients over successive years serves as an unmatched control group for orthodontic research. Now that the records have been fully digitized, the collection is easily used by researchers around the globe.
Where Dr Woodside really excelled was as a presenter. He was an articulate, eloquent, soft-spoken man whose passion for orthodontics was evident to whomever he was speaking. Ever a sought-after speaker, he continued to lecture to undergraduate dental students with the same dedication to the profession as if he was on stage speaking to a room full of experts. Three screens were the norm, showing records and results from all directions. Dr Woodside was hard of hearing from a young age. He often had some difficulty hearing questions from the floor, but rarely was there a question he could not answer. He had a no-nonsense approach that was the ideal mix of clinical experience, academic insight, and solid scientific backing.
The list of invited presentations and awards is long. He was a regular speaker at the American Association of Orthodontists Annual Session. Some of Dr Woodside's more memorable presentations include the Mershon Lecture in 1988, the Albert H. Ketcham Award in 1990, and the Jacob A. Salzmann Award in 1993. He presented throughout North America, Europe, Asia, and Australia. Other noteworthy talks were given at meetings of the Edward H. Angle Society, the Charles H. Tweed Foundation for Orthodontic Research, and the European Society of Orthodontists in addition to a plethora of engagements at various society and smaller organizational events. From early 1970s until the mid-1990s, Dr Woodside traveled the globe, putting Canada on the map as a leader in orthodontic research and innovation.
Dr Woodside was a forward thinker. He was an early user of self-ligating brackets. He had a close working relationship with fellow Canadian Dr Herbert Hanson, who developed the SPEED appliance. Dr Woodside saw early on some of the benefits of using self-ligating brackets in practice and taught the principles of self-ligation in his weekly clinic at the University of Toronto. He was a frequent member of panel discussions on self-ligation, giving presentations in the United States, Canada, Sweden, Italy, Switzerland, and Japan ( Fig 2 ).
Premium Wordpress Themes by UFO Themes
WordPress theme by UFO themes