Fig. 16.1
Injury of the lip frenulum
4.
The tongue may be squeezed, resulting of a blow to the jaw between the teeth by a punch against the lower jaw.
5.
Lesions of the mouth and nose
As a result of repeated microtraumata or a massive punch, the nasal cartilage breaks and causes severe restrictions of facial aesthetics (boxer's nose) (Fig.
16.2
).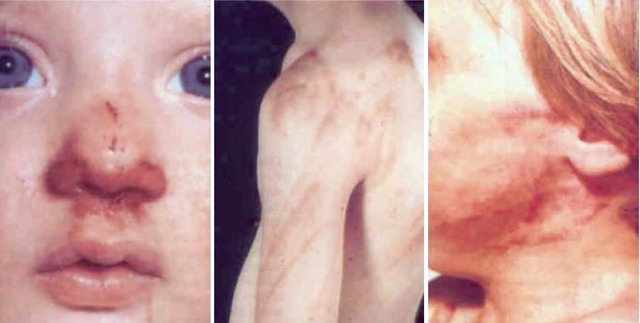 Fig. 16.2
Lesion by nose punch, flagellation, hematoma after slap
6.
Simple crown fractures to severe crown-root fractures after trauma.
7.
Failure to dental care and failure to treatments lead to multiple extractions, difficult food intake, and growth disorders.
16.6

Accompanying Medical Lesions

1.

The skin

1.1

Bruises and hematoma (see Fig.

16.2

).

1.3

Burns: about 10 % of abused children show burns by spraying or dipping in hot water.