Ira B. Lamster, DDS, MMSc; Nurit Bittner, DDS, MS; and Daniel Lorber, MD
A 62-year-old male presented with the chief complaint, "I want a check-up. I had a great deal of dental work three years ago, and now everything is coming apart."
He began to notice his teeth were shifting and his crowns were becoming loose about six months ago. The patient did not have any regular dental follow-up in the past three years. Three months ago he had an acute dental emergency, and a number of teeth were extracted.
Medical history
The patient was diagnosed with type 2 diabetes mellitus six months ago. At that time his HbA1c was 9.8%. He was given a course of treatment consisting of lifestyle changes (exercise and diet control) and metformin. He was also diagnosed with high blood pressure, with an initial blood pressure of 160/100 mmHg. He is taking lisiniopril and hydrochlorthiazide for his blood pressure. He also takes atorvastatin (Lipitor® 10 mg daily) for elevated cholesterol, but is otherwise well. At this time his HbA1c is 7.6%, representing improved metabolic control.
The dentist reviewed the patient's history, and discussed the patient's status with the treating physician. It was suggested that prior to the diagnosis of diabetes, the metabolic syndrome likely was present at the time of the prosthodontic rehabilitation three years ago.
The patient has smoked eight cigarettes a day for the past 25 years (10 pack years). He denies recreational drug use. He drinks alcohol socially (one glass of wine/day).
Dental history and history of the current problem
The mandibular anterior implant-supported fixed partial denture and the right maxillary first and second molar implant-supported crowns were completed six years ago. Ceramic crowns for the maxillary incisors were completed three years ago (Figures 1 and 2).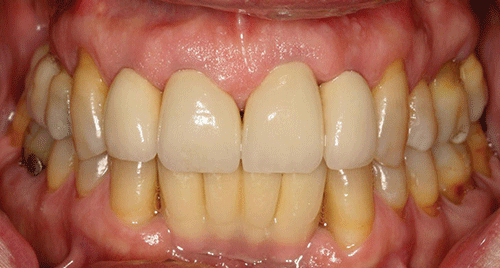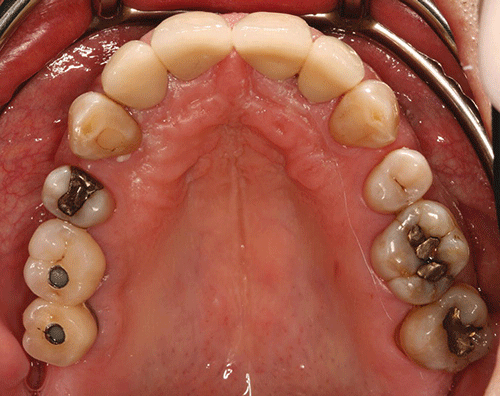 The last dental visit was three months ago. The patient did not have a regular dentist and went to a hospital dental clinic for emergency care. The maxillary lateral incisors and maxillary left first molar were extracted due to infection and advanced alveolar bone loss.
There were no significant findings on the extraoral examination. Muscles of mastication and facial expression were all within normal limits. The function of the temporomandibular joints was within normal limits. The intraoral examination of the soft tissues, including the tongue, floor of the mouth, hard and soft palate and buccal mucosa, did not reveal any abnormalities. The oral cancer screen was negative. The patient was partially edentulous, missing teeth #1, 2, 3, 5, 7, 10, 12, 14, 16, 17, 23, 24, 25, 26, and 32. Light plaque and calculus accumulations were present. The gingiva was fibrotic and demonstrated moderate inflammation. Two weeks after an initial scaling and root planning session, slight inflammation remained, generalized 3–4 mm probing depths, with some localized areas of 5 mm or greater, with bleeding on probing (Figures 3 and 4).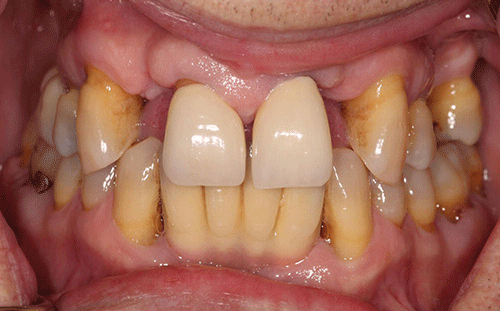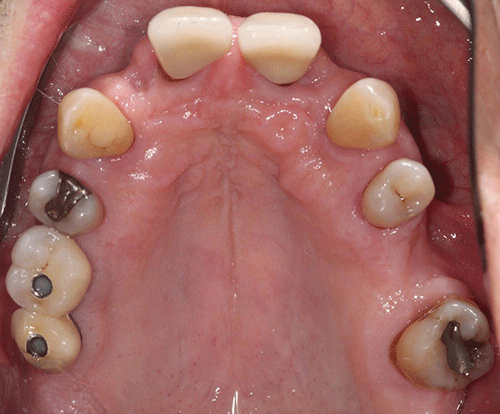 The maxillary central incisors presented with grade-two mobility. The maxillary left second premolar and the mandibular first molars demonstrated class 2 furcation involvement. No carious lesions were observed. The canine relationship was Class I Angle's classification. The occlusal scheme observed was anterior guidance in protrusion and canine guidance on lateral movements. There were no interferences observed on any of the excursive movements. The maxillary central incisors demonstrated fremitus.
Full-mouth series of radiographs were taken. Radiographic evaluation revealed generalized horizontal bone loss. The implants placed in the mandibular lateral incisors and the maxillary right first and second molar sites demonstrated bone loss of more than 2 mm, with a trough-like appearance.
Radiographs were obtained from three years ago, taken after the completion of care. Radiographs were taken after the recent extractions and demonstrated progression of bone loss in the three-year period (Figures 5 and 6).