Reversal of sexual dimorphism in the volume of locus coeruleus [
59
]
Enhanced brain steroidogenesis [
65
]
Altered synaptogenesis in hippocampal pyramidal neurons [
66
]
Deficits in the development of synaptic plasticity in the striatum [
67
]
Altered gene expression of c-fos, dopamine transporter (Dat1) and Hsp70 [
68
]
Altered monoamine levels in the brain stem, striatum and hippocampus [
70
]
Altered nitric oxide synthase expression [
71
]
Altered expression of retinoic acid receptors (RARa, RXRa) in cerebra and cerebellum, depending on the sex of the embryo [
74
]
Transiently increased expression of SRC-1 in the male pup hippocampus [
76
]
Altered basal and stress-induced corticosterone levels. Altered hippocampal GR levels in females [
83
]
Increased spontaneous motor activity [
68
]
Enhanced aggression in males [
39
]
Alterations in maternal behaviour [
97
]
Modifications in pain behaviour [
98
]
4.3.5

Effects on Other Systems
4.3.5.1

Effects in Metabolism

Estrogens have well-known effects on both peripheral and central energy homeostasis. During development, they regulate adipocyte number, whereas in adulthood they inhibit lipogenesis and adipose deposition exerting an anti-obesogenic action. Both estrogen receptors (alpha and beta) mediate estrogens' action in the adipose tissue, ERα being the principal modulator [

99

]. BPA, as a weak estrogen, is expected to mimic some of estrogens' actions on energy expenditure and adiposity.

BPA administered at high doses (4 or 5 mg/day) for 15 days in ovariectomised adult female rats had similar effects with estrogens on the reduction of body weight [

100

]. Another study conducted in adult mice [

101

] has also reported that BPA imitates the effects of 17beta-estradiol on blood glucose homeostasis through both genomic and non-genomic pathways, depending on the dose used. A single low dose (10 μg/kg) of either estradiol or BPA induced a rapid decrease in glucose levels with concomitant increase of plasma insulin. Longer exposures to estradiol or BPA at doses as low as 10 μg/kg/day induced an increase of insulin in pancreatic beta cells. Upon 4 days of treatment with either hormone, the mice developed chronic hyperinsulinemia, with altered glucose and insulin tolerance. These findings support an enhancing role of BPA, upon adult exposure, in the development of insulin resistance and consequently of type 2 diabetes, hypertension and dyslipidemia.

Fetal or perinatal BPA exposure has recently been proposed to be a potentially risk factor for the development of obesity and related disorders in adulthood [

102

]. BPA exposure during this period advances puberty onset [

103

] and increases body weight gain, adipose tissue mass and cholesterol levels later in life of the exposed mice [

35

,

104

]. However, more recent data do not support a programming effect of low BPA exposures in obesity-associated metabolic disturbances. Ryan et al. [

105

] reported that perinatal exposure to an ecologically relevant dose of BPA indeed resulted in heavier offspring at 4 weeks of age, compared to the controls, but these differences were no longer apparent when the mice reached adulthood, even when tested on a high-fat diet. These data suggest that perinatal exposure to low BPA doses leads to a faster rate of growth early in development, rather than in an obese, diabetic phenotype in adulthood.
4.3.5.2

Epigenetic Changes

Alterations in the pattern of DNA methylation at CpG-rich promoter sequences of a gene comprise a common epigenetic modification, which can activate (hypomethylation) or silence (hypermethylation) gene transcription. Search for methylation changes in the prostate gland of adult male rats, neonatally exposed to low BPA levels, revealed an altered methylation pattern in several genes involved in cell signalling [

49

]. One of these genes, the phosphodiesterase type 4 variant 4 gene, coding for an enzyme involved in cyclic AMP degradation, was highly hypomethylated and thus continuously expressed, compared to the controls. Importantly, overexpression of this gene was also detected in prostate cancer cells of neonatally BPA-exposed rats that were as adults treated with gonadal hormones. These findings showed for the first time that perinatal BPA exposure to human relevant doses can lead to epigenetic alterations in genes directly associated with preneoplastic prostatic lesions. In another study in mice, BPA exposure during early life also reduced DNA methylation in the reporter genes, implying a potential of BPA to cause epigenetic alterations in the genome [

106

]. In this study, the dose of BPA used was high (50 mg/kg of diet) that however is an order of magnitude lower than the dietary non-toxic threshold for rodents [

107

]. The above observations confer another mechanism of BPA action that directly affects fetal epigenome.
4.4

Concluding Remarks

Animal models provide a powerful tool for elucidating the in vivo effects of BPA exposure. There is evidence that low, human relevant, exposure of rodents during development can adversely modify several physiological functions. These include brain neurotransmission and plasticity, behaviour and neuroendocrine responses as well as normal growth of reproductive accessory organs (Fig.

4.1

). At low levels, BPA can also exert epigenetic modifications in the whole genome. Several of the observed adversities are reminiscent of human pathologies (Table

4.2

) and have sensitised both the public and the scientific communities. Apparently, there is need to revise the risk of such low exposures. However, further research should be conducted before we can safely extrapolate the knowledge from animal data to humans. First of all, the concentrations and kinetics of BPA in different tissues must be precisely determined, both in neonates and older animals, for oral and nonoral exposures. This will help to delineate the discrepancies of varying effects from the use of rodent species with different genetic backgrounds and sensitivity. Inclusion of appropriate positive controls, taking into consideration all mechanisms of BPA actions, will also facilitate conclusions on BPA properties. Finally, concerted actions for the determination of active BPA levels in human fluids and whenever possible in fetal tissues will allow more reliable comparisons between rodents and humans.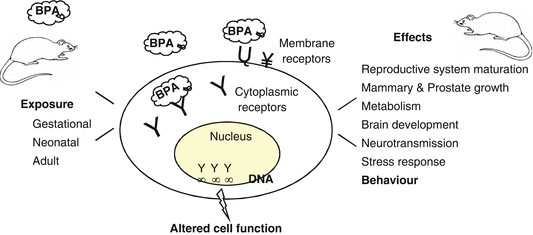 Fig. 4.1
Exposure of rodents to environmental relevant BPA doses during development or in adulthood can affect a number of systems in later life, including the reproductive and the central nervous system. At the cellular level, BPA binds to cytoplasmic receptors for gonadal steroids (ERα, ERβ, AR) and mimics or antagonises their actions. BPA can also bind to membrane receptors of steroid hormones or neurotransmitters, further modifying cell function
Table 4.2
Representative low BPA effects in laboratory rats or mice and their possible relevance for human health
Effect in rodents

'Translation' in human health

Developmental exposure

Abnormal development of brain cortex

Cognitive and neuropsychiatric disorders

Spontaneous motor hyperactivity, related to midbrain dopamine dysfunction

Attention deficit hyperactivity disorder (ADHD)

Increased scores in behavioural tests of 'depression'

Depression

Heightened plasma corticosterone and altered levels of glucocorticoid receptors in the hippocampus

Altered stress response

Enhanced sensitivity of mammary gland to estrogens, hyperplasia

Enhanced sensitivity to mammary hyperplasia

Increased prostate size and incidence for neoplasms

Enhanced risk for prostate neoplasia

Adult exposure

Decreased sperm production

Infertility

Impaired maternal behaviour

Postpartum emotional dysfunction

Senescence-like disruption of synaptic function in females

Brain aging

Enhancement of insulin resistance

Diabetes type II